Deshaun Watson Named AFC Offensive Player of the Week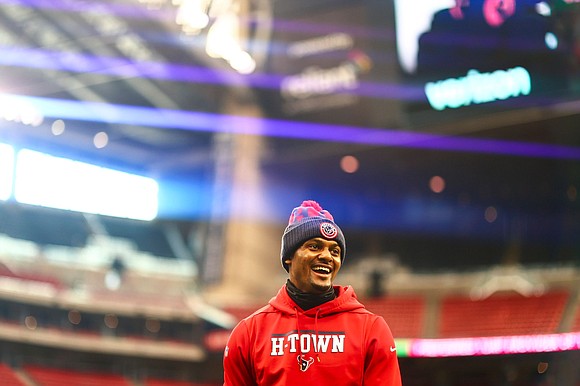 Houston Texans quarterback Deshaun Watson was named AFC Offensive Player of the Week by the NFL after Sunday's victory of the New England Patriots. Watson has now earned his fifth Player of the Week award in his career which ranks him second in franchise history behind defensive end J.J. Watt who has seven.
Watson added another stellar performance to his 2020 resume` completing 28-of-37 passes (75.7 percent) for 344 yards, two touchdowns, zero interceptions and a 121.9 rating. He also chipped in 36 yards rushing and one monstrous second quarter touchdown as he plowed over a Patriots defender.
Watson has now led the Texans to consecutive wins against the Patriots for the first time in franchise history and helped Houston become only the second team in the NFL to win consecutive games against the Patriots since 2017 (Kansas City).
The first-round pick for the Houston Texans in the 2017 NFL Draft also became the first quarterback in NFL history to record at least 11,000 passing yards, 1,500 rushing yards and 90 passing touchdowns within their first 50 games, doing so in only his first 48.