Be Fearless and Fierce in the Face of Breast Cancer
Angela Wright shares her story as a breast cancer survivor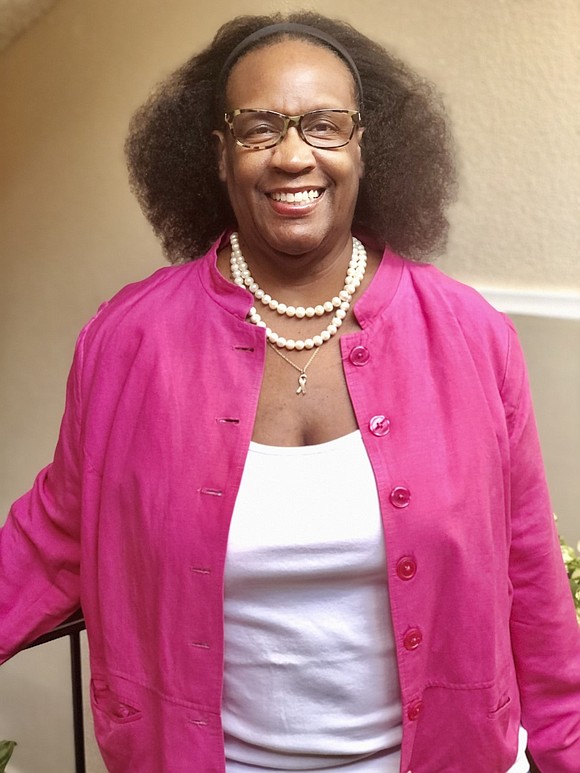 We all know that life can throw some twists and turns then there are a few times life throws a curve that almost takes our breath away.
Angela Wright had one of those times. She was a veteran teacher and partial administrator having worked in the Houston Independent School District for 30 years. Her eyes were looking towards retirement when she got the news that she had cancer. It came as a shock to her. Wright is the type that makes her health a priority. Since the age of 40, like recommend, she regularly had mammograms, in addition, to doing self-breast checks at home. She did not have a family history of breast cancer. In fact, she was the first one in her immediate family on her mother's side to be diagnosed. Plus, every test she had previously taken came back clear detecting no lumps. However, her annual breast routine got alter in 2009 when she had surgery unrelated to breast cancer. After she missed her breast exam in 2009 and recovered from surgery, Wright got back on her routine in 2010. It was during her annual well woman's exam that her doctor detected a lump. The lump proved to be cancerous.
After the initial shock Wright said there was only one thing to do in her mind, "I just kind of turned it over to the Lord." She changed her mindset and refused to have a whoa is me sympathy party.
Wright was diagnosed as having stage 2, T2NO, breast cancer. This means that the tumor found by her doctor was not larger than 2cm but no larger than 5 cm and the cancer had not spread to her lymph nodes. The odds for Wright's survival were high as the five-year survival rate for stage 2 breast cancer survivors is 93% according to the American Cancer Society. Needless to say, her treatments for carcinoma were still very aggressive and lengthy.
The first step was having surgery to remove the tumor and place in a port for future chemotherapy treatments. After 7 weeks of healing from both surgeries, Wright started with her four cocktails of various forms of chemotherapy taking one every three weeks for 16 weeks. She had 12 stages of chemotherapy. Radiation Monday-Friday for 12 weeks came next. Following that Wright had a five-year regimen of Tamoxifen with breast exams every month to once a year.
As a result of the treatments, Wright did lose her hair that once flowed past her shoulders. She never wore a wig. "I just went bald headed and was proud of my bald head." When her locks started to grow back the texture of hair changed from thick to soft and very fine and once again hung past her shoulders. Other than feeling ill and not wanting to eat, Wright said her symptoms from the treatments weren't too bad. She was able to continue working only taking off when she had to for chemotherapy treatments. She remained active as much as she could with a now compromised immune system.
With all that behind her, Wright said the only lingering effects are a numbness and nerve pain in her hands and feet. She gets a stinging tingling sinsation that feels like needles poking you constantly. Thankful she is on medication to help with that feeling and the numbness that sometimes occurs.
"It was tiresome on the body but with prayers from family and friends and the help of God, I am a survivor through His grace and mercy!" exclaimed Wright. It is that kind of faith and attitude that helped her to go through all she had to endure. "I knew I could do a lot of things but I never thought this would be one of them," Wright commented as she spoke about what she learned about herself from having had cancer. "I learned that I was stronger than I thought I was."
Reflecting on her cancer story Wright said that there is no real way to prepare oneself for a journey with cancer but in her opinion, there are at least three things needed to survive it. "You do have to have a lot of faith, you do have to have a good support system and a GREAT attitude."
Five years post-cancer; Wright naturally looks at life differently. She values life more by taking it one day at a time. "I take every day as it. Whatever comes comes. I don't let things stress me out," expressed Wright.
Wright, of course, continues having her annual breast exams. Every last one of them since her completed breast cancer treatments has been clear. That is the best news to hear during times like these when we are all growing closer to our families and each other. As a country, we all are valuing life more and trying to live it with no regrets. Thank you Angela Wright for sharing your story and for giving us another example as to why life is so precious.
This month we honor Angela Wright and the many who have survived, undergoing treatment, and tragically died from breast cancer. You are fearless warriors who fight/fought fiercely.