From Tough Loss To Tough Test
Texans face a very upset Green Bay team on Sunday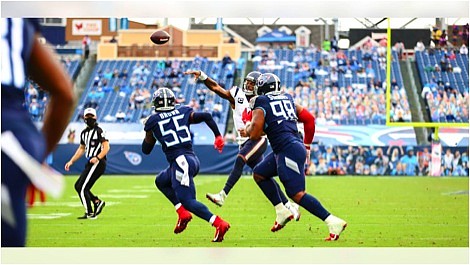 This past Sunday the Houston Texans had victory ripped right out of their hands as they lost to an AFC South divisional foe and undefeated team in the Tennessee Titans by a score of 42-36 in overtime in Nashville. Houston is now 1-1 under interim head coach Romeo Crennel after the Texans fired former head coach and general manager, Bill O' Brien.
Although the Texans offense looked great after putting up over 400 total net yards for the second consecutive week and with quarterback Deshaun Watson throwing for over 300 yards in that same time frame, it was the defense that gave up 21 points in the fourth quarter and overtime to help the Titans seal the deal.
"This is one of the tougher ones I've had," said Texans defensive end J.J. Watt on his team's loss. "This one really hurts. Offense played great. Offense played great, gave us opportunities to win the game, and we did not finish the game on defense. We had multiple opportunities and we didn't do it. And as leader of the defense, I put that squarely on my shoulders. So, this one is very difficult to take.
If the Texans were hurt over the victory slipping through their fingers, imagine how this week's opponent feels about losing the game by the palm of his hand. The Green Bay Packers stroll into NRG stadium this Sunday with a little bit of an attitude issue due to a humiliating loss to the Tampa Bay Buccaneers by over four touchdowns in a 38-10 Bucs blowout.
Future Hall of Fame quarterback Aaron Rodgers had one his worst games in his career throwing for a measly 160 yards and two interceptions which lead directly to two Tampa Bay scores. Green Bay never recovered after those interceptions after taking an early 10-0 lead. That's very depressing for a team that was previously undefeated and a quarterback who had not thrown an interception through four weeks of the 2020 NFL season and had completed 70.5 percent of his passes.
"I think we needed kind of a kick in the ass a little bit," said Rodgers. "There's a little bit of a wakeup to stop feeling ourselves so much and get back to the things that got us to this position. I think this would be…something we can really grow from."
Unfortunately for the Texans, they have to play a pissed off Rodgers that will be seeking to get his team back in the winning column and to redeem himself after the terrible performance against another future Hall of Famer in Bucs quarterback Tom Brady. It will be left up to Watt and the defensive unit to slow him down, but they know that it will be a very difficult task.
"The guy knows where to put his offense, he knows where to position guys, he knows the checks to make. He knows how to manipulate everything from the snap count to audibles to everything," Watt said in his weekly press conference. "You look forward to that opportunity as a defender to play against a guy at that level because you respect it, but you also look forward to competing against it."