Big Bats Help Reduce Astros Magic Number To One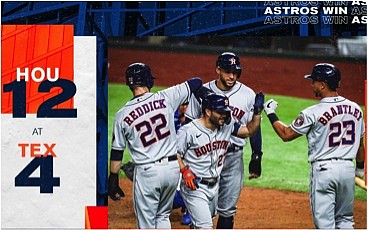 One thing I love about getting together with some of my old high school football teammates is the reminiscing we do about our greatest moments during our four-year careers. Some have more stories than others, but that is ok because we listen to all the stories with the same enthusiasm as the previous 50-times we heard them. For us it's just about reliving the moment.
I imagined that's how the Houston Astros felt on Thursday night as they went back to the glory years of 2017-19 where producing runs was an easy task for them. They defeated the Texas Rangers 12-4 in their first game at Globe Life Field. Houston reduced their magic number to one with three games left to play as they look to clinch a spot in the 2020 Major League Baseball playoffs.
"All the guys who had been struggling some had big nights," said Astros manager Dusty Baker on his team's offensive outburst. "It was big to break out like that and to keep scoring."
Scoring was the one thing that had alluded the Houston hitters who scored over five runs in a game one time in the previous 10 games. Their last game scoring double digits came in a victory over the Los Angeles Angels in which the produced 11 runs in the victory on Aug. 24. They went 28 games without reaching that mark again until Thursday night against the Rangers.
Third baseman Alex Bregman got the scoring party started in the top of the first inning when he hit a triple to left-center field to drive in Jose Altuve from first base. Bregman would end up scoring on a fielding error to put the Astros up 2-0. Center fielder George Springer would make his presence known in the top of the second inning when he hit a three-run homer to over the center field wall to put Houston up for good with a 5-0 lead.
"Up and down the lineup we strung together good quality at bats," said Springer who went 3-for-4 at the plate. "It was a good night for us offensively."
A welcoming site for the Astros was the return of Altuve's bat. He had his first three hit game in over a month and even added a homerun to finish the night with 3 RBI. It was his first homer since Aug. 6 in Arizona.
Houston's top of the lineup went 11-for-19 at the plate with three homeruns and 9 RBI. The three home run shots hit by Springer, Altuve, and Bregman reminded Astros fans of the "Good Old Days". The last time those three superstars all hit homeruns in the same game was against the Tampa Bay Rays in June 2018.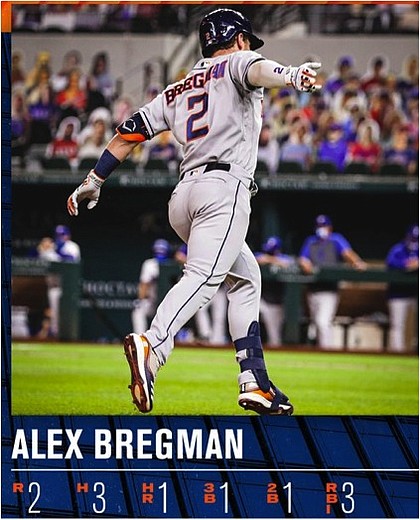 Another feat almost took place at Globe Life Field when Bregman came up a single shy from hitting for the cycle. He would have been the first Astro's player since Brandon Barnes did it on July 19, 2013 versus the Seattle Mariners.
"We have a very good offense, and I thought we could have felt sorry for ourselves after getting in at 3 a.m. [CST] after a tough series in Seattle, but that would have been the easy thing to do," Bregman said. "We're going to show up and play hard every day. I'm proud of everybody in there."