New Chief of Houston Police Department: Troy Finner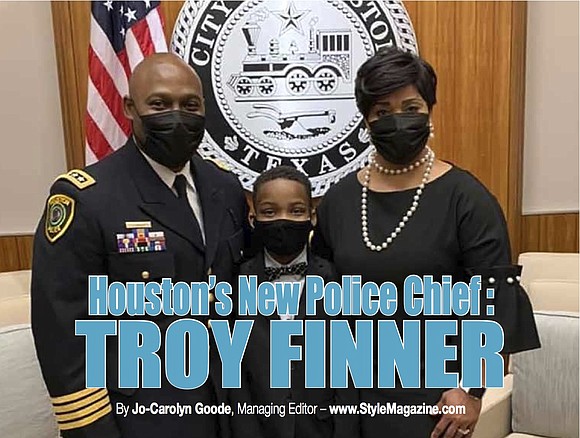 When outgoing police chief Art Acevedo announced his exit to run the Miami Police Department, Mayor Sylvester Turner knew he wanted his replacement to be someone who was fully capable to step into the role day one. The city needed someone who would be intentional about reducing crime. He could not have a found a more qualified officer to do that other than Troy R. Finner. After Houston City Council unanimously voted in favor Finner as chief, the official swearing-in could take place.
With his left hand on the Holy Bible held by his wife, Sherrian, Chief Finner took the oath of office while his children, parents, and other family and friends looked on. His ten-year-old son Wyatt took top honors, as he was able to pin the official badge of office on his father.
"It's time to work," said newly installed Houston Police Chief Troy Finner at his swearing-in ceremony this past week. Coming into office very clearly aware of the challenges that face him – a high homicide rate, an increase in violent, lawsuits about the botch raid that left couple dead and other police misconduct allegations hanging overhead. Finner also wants to build trust in the community as well as address the HPD reforms by directed by the mayor's policing task force." Tough roads are ahead of us," said Finner, who added that he has never walked away from a challenge.

As a 31-year veteran he has seen up-close the challenges the city has faced throughout his career. From the days when he worked the street to his rise in leadership to be the former police chief's #2 guy, Fin- ner knows Houston and the crime that plagues the city. He has faith that he, along with his team, can reduce crime in the city but it going to take everyone. Mayor Turner echoed Finner's comments," Public safety is the responsibility of everyone." The mayor added that if Finner is going to be successful all Houstonians will need to be engaged, committed, and focused to protect their neighborhood, community, and the city. "Troy Finner is not just from Houston, he is Houston," Mayor Turner once said about Finner. Getting the community support should come naturally for Finner since he is a man of Houston. Born in Fifth Ward, Texas and raised in Hiram Clarke, Finner is a product of hard work and determination that was cultivated right here Houston. He is one four children coming from the union of Nobia and Leroy Finner Jr. His sister died in 2004 after complications with Lupus. The Madison High School class of 1985 graduate is the first in his family to receive a college degree. Finner matriculated at Sam Houston State University earning a Bachelor of Science degree with a concentration in criminal justice and a master degree in the same subject from the University of Houston-Clear Lake. It was while pursuing that degree that he really fell in love with law enforcement in a class about serial murders. That pivotal moment sent him on a path to serve and protect. As Houston's new top cop Finner will manage 5300 officers and over 800 civilians at HPD to forge an alliance against crime. To help bud the necessary partnerships to effectively tackle crime, Finner plans to listen to those of the community and front liners. The goal is to build a trust and rapport with everyone to move together against crime. He is already widely known for his relationships with citizens. It was even recognized by Congresswoman Sheila Jackson Lee, who brought a congressional resolution from the U.S. Senate honoring Finner's boost and relationship. His biggest partnership is, between of course, the city of Houston with Harris County.
Calling himself the most blessed man in the world, Finner is a blessing to Houston as only the second African American in the history of the HPD to hold the office of chief. An appointment of this magnitude speaks to the character of the man as well as his work ethic to get to the top. One team, one family, one voice will help Houston become #1 in the lowest crime rate in the nation. Right now we are in the top 10 of the highest crime rates in the nation. That stat along with countless other acts of crime, including the death of two of his nephews who were killed as a result of gun violence, fuels Finner's passion daily to get the bad guys.
At the press conference following the ceremo- ny, Finner took no questions as the mayor reminded him that he has work to do to which he responded, "And that's what I intend to do."
We at, Houston Style Magazine, cannot wait to see how you and us show crime who's the boss and dramatically reduce it in the city. We stand in partnership with Chief Finner. Houston, will you stand with Chief Finner? Let us know on our www.Facebook. com/houstonstylemagazine, @HoustonStyle on Twitter and on Instagram @stylemagazinehtx.