Remembering Yolanda Pope: Houston Style's Resident Foodie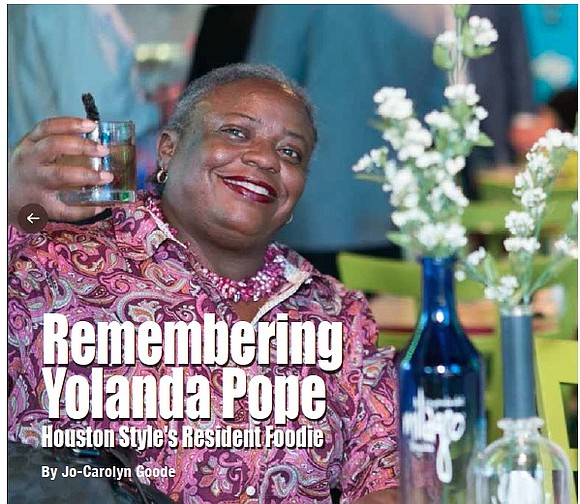 Writers are usually the ones who are never at a lost for words. However, this writer is finding it hard to use words to adequately describe Yolanda Pope. Her personality was welcoming. She didn't mind sharing her knowledge. The entire staff knew food, especially good food, was her weakness. Yolanda has had her last dish as she passed away peacefully in her sleep on August 16, 2021.
Looking at Twitter feed and you quickly learn that Yolanda loves food and sharing her eating experiencing with fans of her work. Her love of food was her claim. She wrote food reviews for a number of different media outlets, including Houston Style Magazine. Our readers came to love the quick wit of the talented writer. She invited readers to take a seat at her table to be her eating partner as both of you explore the delicious tastes of our city. Her taste buds were all over the place. She would have grilled red snapper for lunch and juicy, moist steak for dinner. She would try almost anything once unless it had shrimp in it. She had a shrimp allergy. Out of all cuisine I believe Mexican was her favorite. Who wouldn't like all that cheese? Succulent, decadent, spicy, smooth were adjectives used in Pope's reviews, which meant the food was exceptionally good.
When she wasn't even food, she was talking chop with chefs. She has introduced us to chefs just starting out, teen chef Chase Bailey, to seasoned celebrity chefs like Marcus Samuelsson. Her other favorite past time is going to food festival like the annual Sugar Land Wine & Food Affair. If it involves food, trust Yolanda has it covered,
Second to her love of food was her love of cats. Yolanda was the cat's meow. If you didn't know about Yolanda's great love of cats then you didn't know her at all. She spoiled Killer Bee and Patches (the name for her cats unapologetically. They were her children. Her Facebook page alone shows her adoration for her beloved cats, as there are a plethora of photos of her and her cat in various cuddle poses. Black cats are known to be unlucky. Not for Yolanda.
I even think thought her cat love and her food love might have tied together. A true foodie to her heart, sharing her culinary adventures with others was pure enjoyment for her. Succulent, decadent, spicy, smooth were adjectives, if used in Pope's reviews, meant the food was exceptionally good. This meant Pope's stomach was happy and full.
Even though she was known as a writer in her later years, she had an entirely different career when she first started out. A native Houstonian, Yolanda stayed close to home to get her education. She earned a BBA degree from The University of Houston and a Montessori Teaching Diploma in Lower Elementary Education from The North American Montessori Center. She taught reading, essay and creative writing and was a private language tutor. She also was an English Second Language Tutor for many years. The native Houstonian was a veteran of The United States Navy Reserves, a published poet and writer with Longridge Writers Group. In addition, she was experienced in Corporate Training: Microsoft Office Products & Business Communications. Moreover, Yolanda facilitated Creative Writing Workshops for The Houston Public Library, The Sugar Land Public Library & Rogers Elementary School.
Still Yolanda had another career in totally different arena - banking. Not feeling satisfied with her career, she once again transformed herself for another career path - writer. She took her shot at entrepreneurship in 1998 with The Third Eye. It was a newsletter to inspire others to pursue their dreams as she went off after her own. She featured many artists, writers, and small business owners.
Once news of her death, the tributes started rolling in.
"Yolanda Pope was a mentor to me for over 15 years," wrote #TeamStyleMag entertainment writer Keandra Scott-Tatum. "In fact, Yolanda introduced me to Houston Style Magazine and because of her incredible motivation. I've been able to spread my wings as an award-winning multi-platform contributor," She had such a vibrant spirit and I want to continue to honor her by following my dreams! She will be greatly missed. Get your rest Queen."
"You are such a special human. I'm so glad to have been able to be in your presence," said Gabrielle Garner.
One friend asked for peace to engulfed all who knew Yolanda
Still there is another who wrote, "You always make me smile."
People may remember what you id but they will always remember how you made them feel. Yolanda Pope left this earth leaving a legacy of love, joy, and peace.
A memorial service has been schedule to honor the life and legacy of Yolanda Pope on August 28, 2021 from 2:00-4:00 pm at Unity Church, 2929 Unity Drive, Houston, TX 77057. Everyone is asked to wear Yolanda's favorite color purple.
As the Houston Style Magazine's staff continues to mourn the passing of Yolanda Pope, we extend our deepest sympathy to have her family and friends.