Judge Hidalgo Defends the $11 Million Contract for Targeted Community Vaccine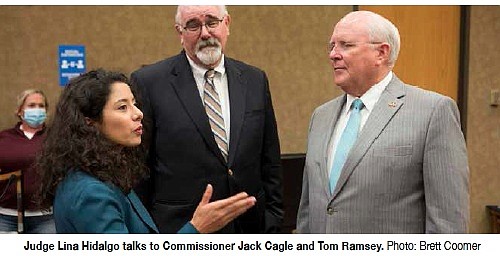 Harris County Judge Lina Hidalgo is facing heat over an $11 million contract to help certain communities get COVID vaccinated.
In recent weeks the COVID infection rate has increased greatly in Harris County causing the threat level to be raised to red. Judge Hidalgo has been focused on lowering the threat level by increasing efforts to encourage people to get vaccinated.
During an earlier meeting of the Commissioner's Court in June, Democratic Commissioners Rodney Ellis and Adrian Garcia sided with Judge Hidalgo to hire an outside group for a targeted community vaccine delivery. The group hired was Elevate Strategies, LLC, and they were to be paid close to $11 million for 12 months of outreach to the communities with the possibility for contract renewals.
What seems like the right step towards herd immunity is a red flag for some and they are calling foul. The controversy comes when diving deeper into the history of Elevate Strategies. Usually for a contract of this denomination and size, a firm that is more familiar and experienced in healthcare communications and has access to sizeable resources is chosen. Elevated Strategies has neither. Another glaring red flag is the fact that this company has a history of supporting Democratic candidates including former presidential candidate Hilary Clinton and current County Commissioner Adrian Garcia. The company's founder, Felicity Pereyra, is also the former director of data for the Democratic National Committee. Many are calling that a conflict of interests.
FoxHouston reported that during a most recent Commissioner's Court meeting, Commissioner Jack Cagle led the barrage of questions about who vetted the company and made the decision to contract them. While one resident questioned why the company was collecting such sensitive information. County purchasing agent Dwight Dopslauf informed those in the court that all decisions were made by those from Judge Hidalgo's office and the county's public health department.
Judge Hidalgo has defended the hiring of Elevate Strategies, as a much needed campaign to get the unvaccinated vaccinated.