The Reset of TSU with Dr. Lesia L. Crumpton-Young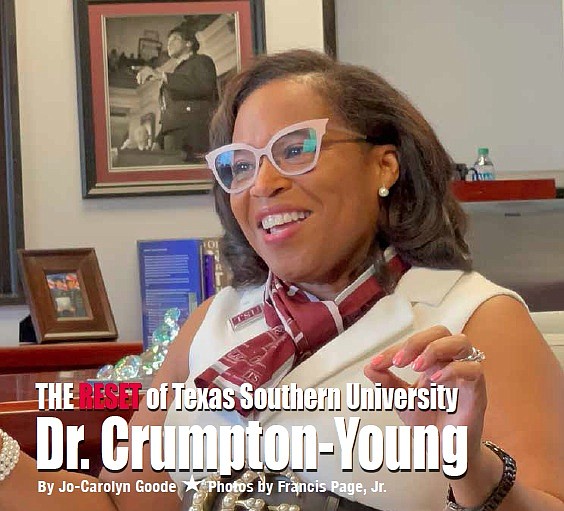 "What is the transformative thing that I am going to do today?" is the question that Texas Southern University President Dr. Lesia L. Crumpton-Young asks herself at the start of each day. It's a question that causes her to act intentionally for a defined purpose. This is how she will approach each day of the presidency of Texas Southern University. A working partnership with the students & staff, as well as alum, and the community with Dr. Crumpton-Young will be needed to make an effective change at the HBCU since it will require it a mind shift for all to let go of the negativity of past years and embraced the new era. With a clean slate, Dr. Crumpton-Young has a plan that focuses on the principles of innovation, transformation, and disruption to guide Texas Southern University into a new era to restart and reset.
"What I am asking the community to do is to give TSU an opportunity to reset and restart." Dr. Crumpton-Young continued, "What I want everyone to do with me in the Houston community is to let's restart. Give everyone a chance."
In what will be an era of transformation under the Crumpton-Young administration, a focus will be on such priorities as ensuring the safety of students & staff, increasing the graduation rate, forming more corporate partnerships, and being better neighbors to the community they serve in the ways residents need it most.
She answered the call
Being the president of a university is not just a job or advanced career move...it's a calling. In the opinion of Dr. Crumpton-Young presidents are called to a higher purpose. As the 13th president of Texas Southern University, she feels passionate and motivated by her purpose to transform the lives of students. For she knows that when she helps to transform the life of one student, she is helping to change the lives of the generations that follow in that family's legacy.
History can certainly reflect how true that statement is for many African American families. Just looking at my own family I know that on my father's side that his parents' education level did not exceed beyond the middle school level but they made sure their children's education exceed their own. In fact, it was my dad's oldest brother who made sure he was college educated since my dad became an orphan at a very young age. Under my uncle's watch, my dad became a graduate of Prairie View A&M University and a leader in education. My mother had a similar history. Her parents were not college educated either my grandparents made sure she was. She graduated from the very university that Dr. Crumpton-Young now oversees, Texas Southern. Like my father, she, too, had a career in education.
Education has always played a pivotal role in the success of an individual, especially in African American families. However, the opportunity to obtain it slips through the hands of many due to various obstacles.
The plight of the pandemic has been one of those major obstacles for students at colleges across the country, especially for those at HBCUs like TSU. This is why getting those students who fell through the cracks to increase graduation rates is a priority for Dr. Crumpton-Young. Various programs are being created with the sole purpose of getting back those students who started taking college courses but didn't cross the finish line to graduation. The goal is to identify the trouble spots for those students and get them back on the path to graduation. She hopes to see the fruition of her plans starting as early as graduation season in May 2022.
Graduation rates are not the only priority
Dr. Crumpton-Young knows that being a university president in these times calls for more than just worrying about the usual problems of student retention, balancing the budget, working with the board, and such. In these crucial, keeping students and staff safe has shot to the top of the list. She wants to ensure that every student and faculty member feels safe while on campus.
"Health and safety is one of my top concerns," said Dr. Crumpton-Young who has been spending a lot of time and energy on the topic of student safety but even the safety beyond the student. Some TSU students live in multigenerational homes with individuals with underlining conditions, which means staying healthy is even more critical. Having various meetings and examining research has allowed university officials to develop some strong programs that are already in place to ensure that students are masked up. Furthermore, there are additional plans to incentivize students, faculty, and staff to get vaccinated.
TSU is fortunate to be one of eight HBCUs included in a partnership with Thermo Fisher Scientific Inc. that has provided free COVID-19 test kits through a $25 million donation. TSU is further benefiting from the sizable donation by becoming a testing hub to process samples from other HBCUs in Texas. This indicates Thermo Fisher's commitment to communities of color during the pandemic.

Partnerships are helping TSU tigers get COVID tested and vaccinated. Through another partnership with St. Luke's Health an on-site vaccination clinic was set up for students, faculty, staff, their families, and the community to make sure that all could return to campus as safe as possible.
The return to Tigerland
Students want to come back to campus. It has been a year of missing their friends and time treasured college experiences. Everyone is tired of zoom classes and misses the interaction gained from in-person learning. Dr. Crumpton-Young and officials at TSU are all putting all their energies into numerous measures to make sure that students, faculty, and staff will feel and be safe in their return to Tigerland.
With the fall semester starting up again something else is on the minds of students and some pretty excited alum...homecoming. The epic celebration where alum come back to relive their time of younger days and tell current students, "You don't know how good yall have it?" Followed by a confused look and laughter by current students at the older generation trying to prove they still got it. It is the ultimate family reunion to see how classmates have succeeded in life beyond their college years and to inspire the current generation with stories of "if I can do it, you can do it too."
Held annually, it is the one time when everyone gets a hall pass to go crazy with no questions answers asked. With it being canceled last year, alum as well as students, are anxiously awaiting to see what homecoming season 2021 will look like. For TSU, it is still not known. Dr. Crumpton-Young joking said she is hoping homecoming would look like Frankie Beverly and Maze was on her campus but she knows that is wishful thinking. However, she is hopeful that a successful outdoor homecoming can happen. Currently, she is in talks with the homecoming planning committee who are looking at ways to have a healthy and safe outdoor homecoming since there are fewer risks of spreading COVID at outdoor events. So fun is on the agenda for homecoming but health and safety trumps all. Their overall goal is to make sure the community is masked and vaccinated so herd immunity can be reached. Protecting generations of loved ones is just another aspect of understanding an HBCU's culture. When one tiger hurts, all tigers hurt so it is a huge undertaking to care for each one.
HBCUs were partly started on the principle of not leaving one behind. These intuitions became lifelines for the higher education of African Americans when white intuitions would not admit them. They stand today as vital resources of the nation's education system producing many of the best individuals in numerous professions. TSU's Thurgood Marshall School of Law is home to some of the nation's top lawyers and judges including Congressman Al Green, Congresswoman Sylvia Garcia, Senior United State Judge Kenneth M. Hoyt, State Rep. Senfronia Thompson, president and CEO of Martin Luther King, Jr. Memorial Project Memorial Foundation Harry E. Johnson, to name a few. TSU's College of Pharmacy & Health Sciences is the #1 producer of African American pharmacists in Texas and #3 in the U.S.
Taking TSU to the next level
It takes bold moves, forward thinking, and guts to go to the next level. Dr. Crumpton-Young has that. Calling this first year with TSU as the year of transformation, she has plans for TSU based on three principles - innovation, transformation, and disruption.
Part of her innovative thinking comes with making TSU a Research I university. According to Wikipedia, a R1 research intuition is a category set by the Carnegie Classification of Institutions of Higher Education for those universities that have "a very high level of both research activity and per capita in such research activity using aggregate data to determine both measurements." Dr. Crumpton-Young wants TSU to step away from the norm of having research focused on rural America and begin to use research to focus on helping urban America by addressing the social determinants of health and wellness to really respond to the needs of the community that TSU serves. More community partnerships are needed to accomplish this goal.
"It is usually a long process but I am hopeful that we can get there in about 5 years. What that means is that we have to take advantage of all the external funding opportunities and partnerships that will support research," said Dr. Crumpton-Young. "It is an encouraging time because the country is thinking about the fact that there are no HBCUs that are R1 institutions and so we are encouraged by the conversations happening nationally. We are encouraged that the Biden administration is saying that it is going to have external funding opportunities available for HBCUs."
Developing more opportunities for research to add to the important conversations is what Dr. Crumpton-Young is all about. As an engineer with a BS, MS, and Ph.D. in Industrial Engineering, her mind thinks in an organizational way so the more facts and data the better for her. She thinks research is also the key to add to the race relation conversation in Houston. TSU has a Center for Justice where Dr. Howard Henderson and his team are doing just that kind of work to arm people with good information and data to drum up new ideas and thought patterns to eliminate some of the injustices being done in this world.
Seizing the Day
Tigers are thought to be trustworthy and determined. They often stand with all power and authority. With less than 60 days on the job, Dr. Crumpton-Young has caught the eye of the tiger with grand plans to push the university forward. She is confident in her plans and dares not to doubt that any will fail. She knows she has the support of the tiger family with students, faculty, staff, alum, the board of regents, and the greater Houston community. With all these entities working together TSU is the perfect position to restart and reset for the new TSU.