Michael Strahan Return to Texas to Lift-Off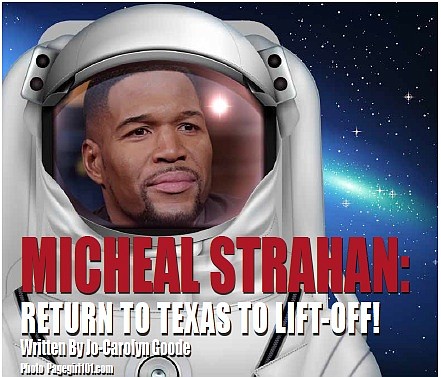 What's beyond the big blanket that covers the sky, sprinkled with the stars has always been a great mystery and a sense of wonderment for most Americans. More than 600 people have already gone on an adventure to the stars, and Michael Strahan is about to join that number.
He is a retired NFL star, sports analyst, a Good Morning America anchor, and soon will add astronaut to his list of accomplishments. Strahan made the big announcement on Good Morning. Jeff Bezos' Blue Origin's "Launch One Site" will launch Strahan into space with his crewmates Laura Shepard Churchley. She is the eldest daughter of Alan Shepard, the first American to fly to space, and the space shuttle is named after him. Joining them will be philanthropist Dylan Taylor, investor Evan Dick, and the first parent & child, Lane and Cameron Bess of Bess Ventures. The overall flight will be ten minutes.
Strahan had said that there would be no way that he would travel to space. However, that was before he saw a launch in-person while on a story assignment. It totally changed his mind. "You just can't help but in awe." Soon after that experience, Jeff Bezos' contacted him to ask if he wanted to go up. Without hesitation, he said yes. Strahan and Churchley will be honorary guests on the space flight being coordinator by Bezos' Blue Origin as neither had to purchase their ticket for the trip.
In a recent interview, Strahan said, "I believe that this is the way of being innovative, creative, pioneers in aviation, now space travel." And it's going to take a while, but I do believe that it will bring a lot of technological breakthroughs and also innovations to us here on Earth, and I just want to be a part of it."
Now Strahan and the crew are getting ready for their mission. At first there was a lot of concern due to Strahan build and height. Engineers weren't sure he would fit comfortably in the seat in the shuttle, but he does.
Blue Origin astronauts start off training with the basics of space flight to give them a feel of what it will be like once they are in orbit. From the lift-off until they touch down again, the astronauts are thoroughly trained to be prepared for the "what ifs." On their second day of training, it is like a dress rehearsal before the big day. They are no longer working simulators, but they are driving to the launch site to see the shuttle, practice walking on the tower and, most importantly, learn how to communicate with mission control. The crew of six will also get a taste of what it is feels like to be in zero gravity. In the final days, the astronauts are working on their confidence level by running through all the missions, making sure they are ready for every scenario, and that they are pumped. All while training, the astronauts live together in what is known as astronaut village, which is a group of refinished airstream trailers.
Strahan seems super stoked to go to outer space. In another interview, Strahan said that he felt safer doing this than he would flying in a plane going to LA.
New Shepard and crew are schedule to lift off on Thursday, December 9th at 9:00a.m. CST.