Megan Thee Graduate: Using Her Education to Give Back to Houston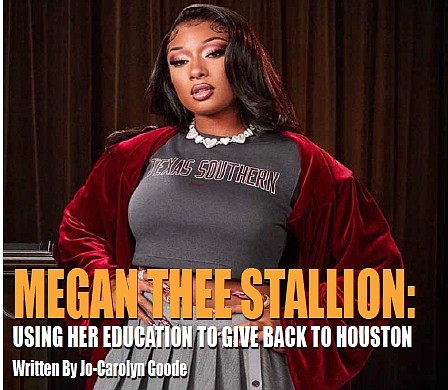 Having an education can help elevate you to heights unknown and take you places beyond your imagination. Gaining knowledge can be a dream achieved driven by many reasons. You may pursue your education to increase financial wealth, honor a family legacy, and/or support your community. Education has the potential to provide you with endless opportunities. The class of 2021 armed with their education can now take their chance to change the world.
Among the sea of graduates at Texas Southern University was Texas born, Houston raised, Grammy award winning rapper, and humanitarian Megan Thee Stallion but on her graduation day she was Megan Jovon Ruth Pete. With her signature tongue sticking ad-lib Megan took her walk across the stage to receive her Bachelor of Science degree from the smiling new Texas Southern University president Dr. Lesia Crumpton-Young. Posting photos in the traditional graduation regalia, Megan tweeted, "We did it hotties."
Earning this degree is extremely emotional and personal for the rapper as it was a goal she wanted for herself but also to honor the sacrifice of several family members. She vowed to never give up on her education despite her growing entertainment career. Her mother played a very influential role in her life and she made sure Megan knew how important it was for her to gain her education. It was one of the reasons why she said Megan could not pursue a rap career until she turned 21. Her grandmother was another influential person who was a teacher. She stayed on Megan as a constant reminder for her to stay the course until graduation day. Fortunately for Megan both women were able to see Megan pushing towards her dream of earning a degree even though they didn't physically see her to the finish line. Both women died in 2020. Her mother, Holly Thomas, passed first after a long fight with brain cancer and her grandmother followed some weeks later. Her father also died while she was still in high school when she was 15.
"I know my parents are looking down on me so proud. Thank you to everyone for all the love today," Megan posted on social media after walking the stage.
Unlike some celebrities who receive honorary degrees, Megan actually put in the work herself to earn her degree. Attending school part-time, she started her journey at the historical black college, Prairie View A&M University, and then went on to a few community colleges. After a hiatus, Megan later transferred to another HBCU, Texas Southern University, to finish out her education. She would study on the way to shows, after shows and even waking up early to get the work done.
The award winning rapper said in an interview, "School is hard and online classes are really hard too."
Megan said the pandemic helped her a lot. She was already attending classes online but being quarantine as a result of the pandemic helped her to stay focused with no distractions.
With her earned degree in health administration Megan hopes to open a senior living facility and let her classmates run it. She considers this her way of giving back to her community while also helping her fellow HBCU grads earn some money. Taking care of her hometown of Houston is something Megan treasures and considers her responsibility.
"I really wanted to be an administrator over a hospital, but I new I still wanted to be Megan Thee Stallion. I was like, "What can I do?" I was like, 'You know what, I'm gonna open an assisted living facility and use the money that I make from rapping to open it. Then I'm gonna let my classmates run it.'"
Megan has a heart for her city and looks for ways to support the citizens of one of the largest cities in the state of Texas. In the past, Megan has given over $15,000 to the Houston Food Bank Portwall Pantry to assist families with getting food during the holidays. Also she has committed herself to a six-figure donation to Houston Random Acts of Kindness charitable organization through her partnership with Popeye's, where she has her own hot sauce, franchise and co-branded merchandise.
Acts like the above show how much Megan cares for people and their welfare. Hence why Congresswoman Sheila Jackson Lee awarded Megan with the 18th Congressional District Humanitarian Award. Lee said the award is given only to a few people making it an award of special promise and special history.
"We are nothing in this nation if we don't help our fellow brothers and sisters," said Congresswoman Lee.
Taking care of Houstonian is one of Megan's passions. "It's my responsibility to take care of the city that took care of me." She continued, "My grandma always taught me to be kind and giving. I learned that from her.
Her grandma would no doubt be proud of her granddaughter and how she is using her education to help other achieve the same. A scholarship fund has been set up in Megan's name to provide a pathway to education for current and future Texas Southern University tigers. Visit tsu.edu/megan to donate.
The San Antonio born entertainer her numerous platinum single, Grammys, and other awards and honors. She is an ambassador for Revlon and Mielle Organics. She has marketing campaign with some amazing brands like CashApp. Nike, and Fashion Nova. All of that fails in comparison to her being a college graduate. Describing her experience as a roller coaster ride she encourages everyone to follow in her footsteps.
"Don't get discouraged. You can chase your dreams and your education at the same time," said Megan.
Truer words could even be spoken. To all the dream chasers we say go after for whatever you want to do whatever you to become whoever you want. This world is yours!
On behalf of Houston Style Magazine, congratulations Megan and the entire class of 2021 at Texas Southern University and colleges and universities everywhere!