Celebrate the New Year with a Plan Before You Drink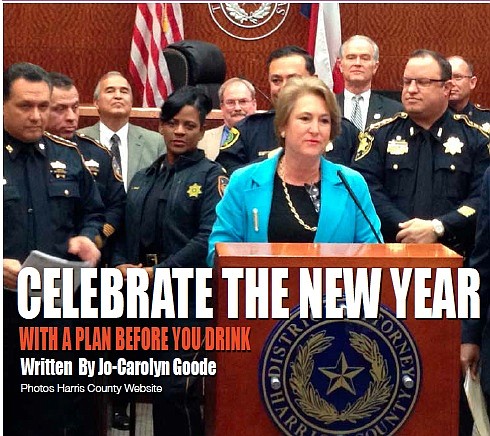 Damien House never imagined his 2021 would end with him being alone. His entire family was wiped out in an instant in a fiery car crash when a drunken Daniel Canada carelessly got behind the wheel of a vehicle after drinking. He then smashed his vehicle into the back of House's wife sedan. Canada hit the car so hard that the entire front end of House's wife vehicle was crushed and burst into flames. House's wife and three sons were all killed.
Happening at the intersection of FM 2920 near Gosling, Canada was driving at a rate of 115 miles per hour when he hit House's wife, Porsha and their three sons, causing a seven car pileup. Porsha and her seven month year old son, Drake, died on the scene while the other two boys, ages two and five years old, Messiah and King, died at the hospital. Additionally, there were others who were injured. All this devastation and Canada walked away from the crash with minor scrapes and bruises.
"One selfish act by Daniel Canada, who was drinking and driving drunk, devastated the House family," Harris County District Attorney Kim Ogg said at a press conference this week about the calamity that happened in March of this year.
"We are seeking maximum accountability in all four intoxication manslaughter cases," Ogg said of the suspect who has also been charged with one count of intoxication assault. Canada faces five years to life in prison on each count, and the judge can sentence them consecutively, according to Vehicular Crimes Division Chief Sean Teare. Canada is currently in jail with bond set at $1.1 million.
Alcohol and the holidays can go hand-in-hand for some people. And when the two mix people must choose to drink responsible to save their own life and the life of others. Smart drinkers must know their alcohol consumption limit and not over drink and anyone who serves alcohol must be responsible and not overserve. In any case, DA Ogg and other entitles are encouraging those who partake in drinking during the holidays to make a plan about how to get home before taking the first drink.
A statement on the DA's office Twitter account stated, "Friends don't let friends drink and drive. If you are hosting a party, plan on having ride share information available for your guests. Book a ride for them if they are unable to. You could just be saving a life." Followed by "In the age of ride shares, there is NO excuse for driving under the influence of alcohol. Make a plan BEFORE you plan to go out and celebrate."
City leaders have come to know the key to help stop drunk driving is tracing the steps of the suspect back to where they first started drinking. The Harris County District Attorney's Office has partnered with the Texas Alcoholic and Beverage Commission (TRACE) to support their TRACE initiative. TRACE stands for Target Responsibility for Alcohol-Connected Emergencies. It is an initiative where TABC peace officers assist law enforcement agencies in tracing the source of someone's alcohol consumption when they are connected to incidents where someone is seriously hurt. Incidents maybe anything like the DWI crash mentioned in this article or aggravated assaults and sexual assaults involving overserved customers at TABC-licensed locations. The initiative is a major statewide effort to prevent impaired driving and promote legal, safe, and responsible alcohol service.
The legal intoxication limit set by the Texas Department of Transportation is 0.08%. Canada's alcohol level was 0.15%.
House along with the families of the other victims of the Canada's crash are featured in a TABC promotional video for the TRACE campaign entitled "Living With the Pain: How Impaired Driving Changes Families Forever."
"You have to live with that pain. How am I going to move forward?" House asks at the opening of the video.
The way he has chosen to live with the pain is by fighting for this kind of tragedy to never happen again. He has joined DA Ogg in partnership with the Harris County constables and Madd Mothers Against Drunk Drivers (MADD) to encourage residents to celebrate responsibly this holiday season. DA Ogg made the announcement this week at a press conference with the backdrop of the crushed vehicle where House's family lost their lives.
"We're partnering with MADD to prevent drunken driving and provide support to victims of alcohol-related crashes. Especially during the holidays, we want to remind and warn the public to have a plan to get home safely," she said.
Ideas of a plan before one starts to drink includes having a designated driver or utilizing a ride share service or any other avenue to get home that does not involved the drunk person getting behind the wheel of a vehicle.
In this year alone, Ogg's office has accepted 15,000 DWI charges and 54 intoxication manslaughter charges. This number may become even higher since a number of wrecks have accused drivers that have not yet been identified or charged. The DA's office also has accepted 170 intoxication assault charges. Sean Teare, head of DA's Vehicular Crimes Division, added that law enforcement sadly might see 1,700 more crimes before 2022.
The DA's office is coming hard for drunk drivers because people are losing their lives for crimes that are not accidents but are preventable tragedies. The office showed their financial support of the initiative by presenting a check for $108, 349 to MADD to assist with the funding of victim services. The money for the donation was lawfully seized from criminals.
Nine months in the shadow of this nightmare that stole his family, House just wants justice. DA Ogg seeks to give him just that.