The Legendary Cicely Tyson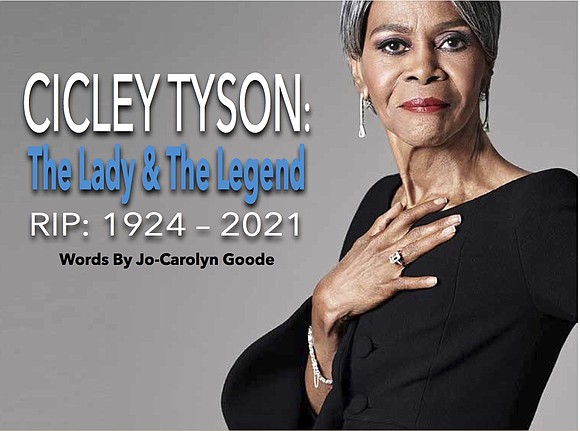 "We have to honor this blessed gift that we have. That's what keeps you going. Keeps your mind fluid -- your heart, your whole being," said the Hollywood legend Cicely Tyson five year ago in a Time magazine story. "You can't just stop, because that will be the end of you."
Stopping was not in her vocabulary. Since her first days as a fashion model being discovered by Ebony Magazine in the 1950s to her last days as an author releasing her memoir, Just As I Am, this year, Cicely Tyson was unstoppable for over 70 years in the entertainment industry.

Once describing her life and career using the words of Langston Hughes' Mother to Son, she said, "All the time, I've been climbing on, reaching landings, turning corners, and sometimes going in the dark where there ain't been no light."
It was pretty dark when Tyson stepped on the scene, especially for girls and women of color. There certainly wasn't any space for women who looked liked Tyson – a skinny, chocolate drop choosing to allow her unprocessed hair as her crown. Black was not quite beautiful then and Tyson challenged all thought of what beauty was with her natural look against the status quo. She went from the pages of Ebony magazine on American coffee tables to the screens in family living rooms on the series "East Side/West Side," Tyson would have a career that would earn her 14 Emmy, 1 Academy, and 1 Tony award nominations. She would end up earning her first Emmy for Actress of the Year in 1974 for "The Autobiography of Miss Jane Pittman," one Honorary Academy award for her body of work, a Tony for Best Actress in "The Trip to Bountiful," and countless other awards and honors.
Tyson was born on December 19, 1924, in New York to Theodosia and William Tyson. She was raised in a very religious household so her mother frowned on her beginning a career in entertainment. In fact, Tyson said her mother stopped speaking to her because of her career choice. However, after seeing her daughter on stage Tyson's mother changed her mind.

Soon Tyson became a mother at 17 giving birth to a baby girl. At 18, she married Kenneth Franklin and their marriage was dissolved after 18 months. In 1981, she tried love again marrying jazz musician Miles Davis in the home of comedian Bill Cosby. That marriage lasted seven years. She didn't have any children but she was the Godmother to several including singer Lenny Kravitz, Denzel Washington's daughter Katia; and Tyler Perry's son Aman.
Over 20 films, 70 television series, 15 stage plays, and one stint in radio, Tyson did it all her way. She was a member of the Black Filmmakers Hall of Fame, had a star on the Hollywood Walk of Fame, American Theater Hall of Fame, Television Academy Hall of Fame, and was the first Africa American woman to received an honorary Oscar. In addition to her honorary membership in Delta Sigma Theta Sorority, Incorporated, Tyson received honorary degrees from Clark Atlanta University, Columbia University; Howard University; and Morehouse College. Of all her achievements, she considered the greatest to be the Presidential Medal of Freedom she received in 2016 from President Barack Obama.
"To come from there to the White House with the first black President ... to put that medal around my neck: Where can you go from there?" she said on The Steve Harvey Show.
Whatever she did, she did it with excellence, grace, and style. Never did she accept roles that diminished African Americans or women. All of her portrayals had purpose behind them. Her respect for her craft, determination for excellence, and tenacious approach to every thing helped her to overcome numerous barriers and open the doors for those who are household names today and those who would follow in her footsteps. And what big shoes they have to fill.
Barack Obama said she "shaped the country." She removed the "cloak of invisibility" for Viola Davis. LeVar Burton called her mom, Shonda Rhimes called her teacher and Tyler James Williams called her Queen Mother. Tyson represented so much for many. She could never truly be gone. Although physically departed from this earth, her presence will still be seen in the skills of actresses today, her style will be copied in the not yet famous, and her legacy will inspire all from generation to generation. Cicely Tyson will live on.
Houston Style Magazine expresses its heartfelt sympathy for all those mourning the loss of the great legend Cicely Tyson.