Chaos at the Capitol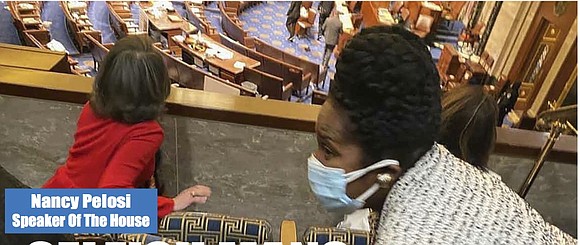 Wednesday, January 6, 2021, will go down as one of the darkest days in American History. A sitting U.S. President incited people for months with lies about how the election was stole from him and was unfair igniting the angry in people to the point that they became craze. That craze became insanity. And they did the unthinkable with the permission of these words:
"We will not take it any more," said Trump. " You'll never take back our country with weakness. You have to show strength, and you have to be strong…I know everyone here will soon be marching over to the Capitol building. To peacefully, patriotically make your voices heard."
Now when have we ever known the words peaceful and patriotic to be associated with anything that Trump and his supporters have done?
Following the instructions of their leader, the crowd marched to the Capitol in hopes to overturn the results of the 2020 presidential election and all pandemonium broke loose unlike anything Americans have witness in their lifetime.
The crown broke through barriers to cover the Capitol grounds. Some were seen scaling walls, breaking windows, and storming through the Capitol carrying Trump signs and wearing Make America Better caps.
All of this was happening as legislators were conducting the ceremonial counting of the votes to officially confirm Joe Biden as the next President of the United States of America. In the middle of all that a call to closed the doors happened as members of Congress heard the commotion followed by gunshots and all began to fear for their lives as they duck down underneath their desks and prayed for the best. Meanwhile Trumpsters wrecked havoc all over the Capitol going inside House Speaker Nancy Pelosi's office making themselves at home, sitting in her chair, propping their up on her desk, and leaving a warning note, "We won't back down." They destroyed other offices, historical pieces and even made it to the Chamber floor to stand in the Vice President to declare that Trump was the winner of the election. Thankfully, by the time this happened, the members of Congress had move to a safe undisclosed location.
Two of Texas Congressional leaders, Sheila Jackson Lee and Al Green, gave statements via social media about their status.
"I am currently safe and locked down in an undisclosed location as the Capitol has faced internal threat due to rogue protestors supporting President Trump. While I support peaceful protests, I vehemently oppose the seditious behavior, incited by the President that has occurred today. This is an abhorrently dangerous attempt to violate our democratic values and constitutional process. I encourage us all to stay safe and remain vigilant," said Congressman Al Green.
"I am in the US Capitol. I am safe and will not fear or leave because of this unwarranted and shameless violence. These actions are not serving well at all our precious Democracy, America. We will stay on the floor until every vote is counted and President-elect Biden and Vice President-elect Kamala Harris are again confirmed as President and Vice President of the United States of America. This is my pledge. No one will stop me! The majority of Americans are depending on us!" said Congresswoman Sheila Jackson Lee. She previously had been ducking under some chairs with House Speaker Nancy Pelosi.
This mayhem went on for quite some time. All the while Trump sat in the White House not uttering a word to calm the crowd down. And even more disturbing sight was the lack of law enforcement to control the situation. It was very clear that the DC police were overwhelmed by the strength and number of home grown terrorists (they were far from protestors). Finally, Vice President Mike Pence called on the National Guard but the destruction had already been done.

Beyond the lack of law enforcement that was shocking, was the response of law enforcement. Police could be seen just standing back patiently waiting for the crowd to calm down. It seemed that very little force was exerted until the terrorists made it inside the Capitol. No tear gas was set. Not a lot of gunfire happened. Not a lot of force at all. Comparing that scene to a far less chaotic Black Lives Matter rally and police would have exerted much more force and would have had far more arrests. The Capitol grounds would have been painted with a deep red as a result of all the Black lives that would have been lost. Yet, Trump supporters were treated with kid gloves. Let's say it together, "White privilege has benefits." You get to live when you act crazy when you are of a different hue.
Four people did lose their lives. One woman, Ashli Babbitt, was fatally shot and killed by the US Capitol Police. The DC Chief of the police Robert Contee also confirmed that three others died as a result of medical emergencies.
When things did calm down outside the Capitol Trumpsters could be seen smiling from ear-to-ear, clearly pleased at the destruction that they had done. At the end of the day, police arrested 52 people, 26 on the Capitol grounds.
Internationally, the image of America has been destroyed. Many world leaders called the acts disgraceful and shocking.
UK Prime Minister Boris Johnson
"On the United States and the election, I want to say that all my life America has stood for some very important things — an idea of freedom and an idea of democracy. And ... so far as he encouraged people to storm the Capitol and insofar as the President has consistently cast doubt on the outcome of a free and fair election, I believe that that was completely wrong."
Iranian President Hassan Rouhani
"What happened in the US shows how fragile Western democracy is," he said. "Despite all their scientific and industrial achievements, we see a huge influence of populism. When a sick person takes office, we see how he disgraces his country and creates troubles for the world."
Konstantin Kosachev, the chairman of the Russian upper house foreign affairs committee
"The celebration of democracy is over. Alas, this is rock bottom; I say this without a hint of gloating. America no longer defines the course, and therefore has lost all right to set it. And even more so to impose it on others."
US legislators were able to return to the Capitol later that night to finish the ceremonial counting of the vote. At 3am on January 7th Joe Biden was confirmed as the Nation's 46th President of the United States of America.