Break Free for Some Hot Fun in the Summertime
15 Fun Things to Do in the City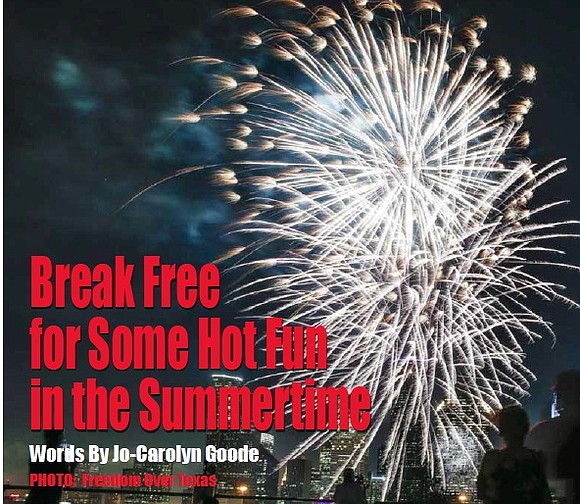 Break out this summer and have some well-deserved fun in the city! With relaxed restrictions in our city, Houstonians have now been given the green light to go outside to play. Get reacquainted with the fresh flowing air, the sight of people going here and there, and not feeling boxed in. As you unleash yourselves don't forget to do it in the safest and most respectable way. If you have not been vaccinated please do well by your fellow man by wearing your mask. All should still practice social distancing. Now is the time to get ready to go oooouuuuttttssssiiiidddeeee!!!!!!! And just to help you out we at Houston Style Magazine have a created a list of 15 things to do in and around the city.
1. Visit your local Farmer's Market
Farmers seem to have a very special relationship with the earth and the sun because fruit and vegetables from there taste the absolute best. Strawberries have more juice. Apples are crisper. Carrots pack a strong crunch. Green beans are tastier. It's the best from farm-to-table goodness. Sometimes you can find things there that you can't find in the big named grocery stores. Shopping there is just an experience that everyone needs to encounter.
2. Go up, up, up in the sky in a hot air balloon
Yes, you can take a hot air balloon ride in Houston. There are several places you can go to schedule a trip. Have an unbelievable experience soaring up above Houston trying to find your house. Be amongst the birds and see how beautiful our land truly is.
3. Go stargazing
Go to the dark side to see the stars and don't forget your telescope for a closer look. Try to find the Little Dipper or create as image of your own. One of the best places to go see the stars is on the rooftop of the George Observatory in Brazos Bend State Park operated by the Houston Museum of Natural Science. If you check this out, some pre-planning will need to be done. Tickets are $10 a pop.
4. Watch bats fly from the Waugh Drive Bridge
Bats are thought to be creepy and spooky and if that floats your boat go take a look. See an estimated 250,000 Mexican free-tailed bats that call the bridge home. We can thank the bats as they devour many area insects in Houston. This is thought to be one of the largest colonies of bats in the state and this is the closest you can come to bats. Before you go, look up the various safety precautions to keep you and the bats safe.
5. Check out a movie at the drive-in
An oldie but goodie is back, the American drive-in. Thank COVID-19 for the popularity of this classic form of entertainment. There are dozens of drive-ins across Houston. Just grab your snacks, load up the fam, and drive into your movie spot. This may also take time to prepare. If it is raining with thunder you may need to cancel your trip. Make sure you can get FM stations because you need that to hear the movie. Costs are affordable since most charge by the carload.
6. Take a swing at Top Golf
This is not a putt-putt golf type of experience. Make a reservation to take a shot at the semi-outdoor facility. Don't worry about food. Top Golf has an array of bite-sized sharable foods and larger entrees including drinks and desserts. This activity is best enjoyed with groups of people so bring all your vaccinated friends.
7. Feed the horses
Did you know the Houston Police Department has stables of horses that you could go touch? Well, they do. The mounted division of the department has plenty of gorgeous thoroughbreds that you can feed and touch. Please see the safety precautions of feeding the horses. Bring some apples, carrots, and peppermints to feed the horses at your own risk. Be careful of your fingers as you don't want to put your hand to close to the horse's mouth. All this fun can be had for free.
8. Go on a bike tour of the city
Your legs will go into overtime as you get them pumped for this activity. There are over 1,000 plus bikes that you can rent around the city. This is one of the most leisurely to see your city in an entirely different way. When renting a bike from any B-station around the city be prepared to pay $3 per 30 minutes. Members of Houston's B-cycle program get the first 60 minutes free for every ride.
9. See a performance at the Miller Outdoor Theater
Live entertainment is back at Miller Outdoor Theater. See stage plays and other forms of entertainment on top of the hill. Pick a seat in the theater or go up the hill to have a picnic. Bring your lawn chairs, blankets, and snacks. Free tickets are given away for covered seats each performance but trust me you have to get in that line super early. Get tickets beginning at 9 am one week prior to the performance date. Be aware some things have changed at the theater. Attendees are asked to wear a mask and adhere to other safety guidelines.
10. Fall into skydiving
Allow the adventurer in you to come out. Go freefalling from a height of 14,000 feet at a rate of 120 mph. Training is provided beforehand. After your jump, get an edited video and photos from your experience. Jumps start at $179 but you must be at least 18 years old and weigh less than 265 pounds. Athletic clothing is suggested. Check the website of any facility to see their frequently asked questions.
11. Wild times at the Houston Zoo
Have a wild time at the Houston Zoo with the animals. Reconnect with the lions, tigers, bears, and other animals. Look at the animals, feed the giraffes, watch the baby animals in the pool, and enjoy other experiences. There are indoor and outdoor viewing areas. Online reservations are required to help with capacity at the zoo. The zoo is opened 7 days a week and general admission tickets start at $22.95. However, once a month the zoo offers free daytime admissions on Tuesdays.
12. Get cool with the Underground Creamy
Your taste buds will thank you for this cool treat if you can solve the mystery. This activity makes you use your brain as you follow clues to find out the new mystery flavor served up by the Underground Creamy. Find it and you will be rewarded to buy your pint online before its official release to the public. The way this ice cream tastes, you will definitely want to have some. The creamery here sells out constantly because it is so good. This place has tons of mix-ins ice cream combinations that make it unique. Go on their Instagram account to check out when the next mystery flavor riddles will drop. This is such a fun way to get something cool.
13. Visit a nature center
The Houston Arboretum and Nature Center is a Houston treasure as you are allowed to connect with nature. Across 155-acres of land, the nonprofit offers the opportunity to explore the urban nature sanctuary. This arboretum has saved many native plants and animals. There are plenty of programs for all ages at this nation's oldest education facility in the state. On addition, there are several summer camps planned with a starting fee of $20 for members and $35 for nonmembers.
14. Take a drive the road to Galveston
Spend a day on the beach or on the boardwalk. Best known for their miles of beaches, which is great but don't limit your activity just to the beach. There is more to explore. Throw your reel in to catch a fish with many of the charters in the area. Go high above Galveston skydiving, Admire the beauty of dolphins. Even go on some water adventures. Finish your full-packed activity day by enjoying food from the local restaurants. Another option to consider is to rent a beach out for the weekend and cook your fish hall there. Galveston is always known as a fun place to go.
15. Go down the boardwalk in Kemah
Just like the song says, "Go down the board under the sea." Open daily, the boardwalk has restaurants, rides, amusement, retail stores, festivals, charter tours, and seaside shows. Add a trip to Pleasure Pier and you wont ever want to leave. This summer there are a number of concerts planned and the annual Texas Outlaw Challenge. Costs vary depending on the activity. Just a short drive away, heading there makes for a quick getaway.
These are just a few of the places in Houston that you can have fun outdoor fun with your mask off at certain times to prevent the spread of COVID. Families and friends can reconnect with smiles, laughter, and while making some new memories. Find out more information about each our 15 activities by looking up each organization online. You will find everything you need. So, Houston, what will you do to get out to play this summer? Break free and remember how times used to be.
Enjoy your summer, Houston!