There Is More to Life Than Gymnastics
Simone Biles puts her mental health first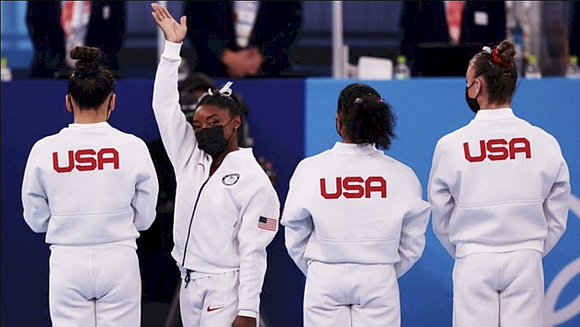 Four years ago, her name dominated headlines across the globe. News feeds on the television, radio, and all over the Internet boasted about her idiosyncratic skill level to complete stunts that no other gymnast could do while defying gravity in the process. The world stood in amazement at the young 4 foot 10 inch woman who appears tiny in stature with power beyond belief. She can take the most difficult routines and effortlessly execute them with flawless precision. As she garnered win after win, earning 5 Olympic gold medals and a myriad of world championship titles she became the greatest, most dominant, most decorated American gymnast of all time.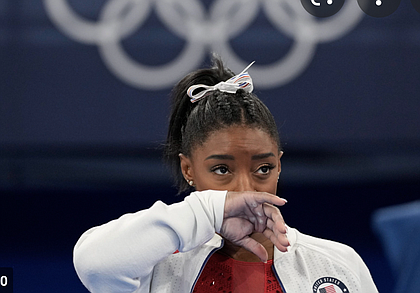 Becoming the GOAT (greatest of all time) was not something that came overnight for Simone Biles. What is now being viewed are the years of training, sacrifice, and focusing her mind on her goals. She invested in herself to condition her body to be in peak performance including shaping her mind, body, and spirit. This groundwork included taking care of her mental health. In a press conference, Biles spoke about how bad it feels to be "fighting with your own head." Biles has been in this fight to maintain her mental health for years from surviving a childhood with challenging experiences, being bullied in high school over muscular physique, living with ADHD, surviving abuse at the hand of gymnast trainer Larry Nassar, bouts of depression, fighting back thoughts of quitting, and other personal struggles. Biles was handling all of that with the added pressure of being a top Olympic athlete in the spotlight as the world followed her every move. Instrumental to her peace was the support of her family, treatment from a sports psychologist, and by Biles knowing and listening to her body.
Her usual mindset was not enough to help her cope with the stress of these Olympic games that brought on the added stress of her being expected to be better than she was four years ago. Biles was also expected to carry the entire US women's gymnastics team, inspire the next generation of gymnasts, and do it all with a positive attitude like she never experiences stress. That is a lot for one person. That's why Biles had to do her most shocking move yet this week when she decided not to compete with US women gymnasts team Tuesday and following that by withdrawing from the individual all-around competition citing the need to focus on her mental health.
"I have to put my pride aside. I have to do what's right for me and focus on my mental health and not jeopardize my health and well-being. That's why I decided to take a step back," said Biles.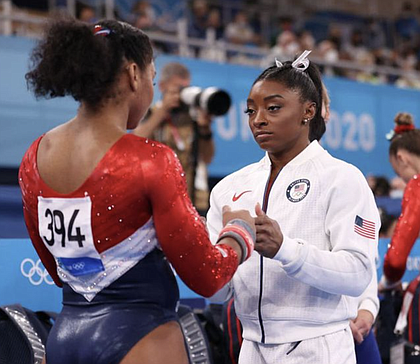 Biles follows a string of athletes that have taken a similar bold stance to make their mental health a priority. Naomi Osaka withdrew from the French Open and Wimbledon over mental health issues. US swimmer Erica Sullivan opened up about the help she received in 2018 for psychological issues. Michael Phelps had suicidal thoughts after the 2012 Olympics.
Their actions have shown no matter how the world may put them on these unreachable pedestals that they are human like every person in the world. Taking off their superhuman facade to show their most vulnerable side by sharing their personal struggles and advocating for mental health is something unseen in the sports world. The shake up has caused major changes to occur in the industry to better care for athletes.
As more and more attempt to come to grips with their mental health states, athletic organizations are embracing athletes with mental health resources. The NBA has a mandate that a mental health professional be on staff and launched a program called Mind Health. The NFL has a confidential hotline for athletes to have access to professional counselors. There is a program through the NCAA to help athletic staff recognize athletes' mental health issues. And more resources are being made available to these individuals who often are advised not to show any weaknesses.
Personal approach to mental health care
Taking care of one's mental health is not something just for athletes to observe but something every single person needs to hold dear. At any point in time, a person's mental health can be attacked. Death of a loved one, traumatic injury, living in a global pandemic, anything can be a trigger to one's mental health. Some people can easily come out of a mental health episode while others may take longer to recover. The point is everyone could benefit from some mental health help. What that help looks like is very individualistic and because of that there are several ways in which to manage it.
Mild cases can be helped with exercise, changing the diet, stopping the trigger if possible. More severe cases can be handled with medication and therapy from a psychologist or other mental health professional.
Mental health encompasses our emotional, psychological, and social health. Any problems affecting one's mental health determines how a person feels, thinks, and acts as well as how stress is handled and decisions made. With it having such a wide net, knowing the warning signs like usual sleep patterns, mood swings, withdrawal from friends & family, and feelings of hopelessness is important.
This past year has pushed more people beyond their usual scope and not them off their balance. These new feelings have left individuals at a loss on how to handle them properly. Beyond the helpful resources to address mental health the city already provides, Mayor Sylvester Turner and Congresswoman Sheila Jackson Lee in conjunction with the Houston Health Department established the Let's Beat COVID-19: Health Education, and Support Services that includes a mental health helpline and other resources to help people adjust mentally and emotionally.
Hiding behind a brave face does not make mental health issues go away. It is way more common affecting 1 in 5 adults and 1 in 5 teenagers according to the National Institute of Mental Health. And those were the numbers before the pandemic. It is important to deal with it and not let problems build up inside. Talk about it with a trusted person. Seek help from a mental health professional. Just don't let it fester and suffer alone in silence. In order to get better, one has to recognize the problem and seek help.
Helpful resources
Becoming mentally stable doesn't always mean talking with a mental health professional. Before life overwhelms an individual remember to regularly self-care to keep problems at a minimum. Self-care can be a viable first line of defense. Something as simple as taking a mental health break at work where one steps away from their desk to go outside to do some deep breathing. And it seems like incorporating a regular exercise routine and a balanced diet can help many conditions and mental health stability is yet another one. Other sources include having a girls' getaway or a boys' night. The endorphins raised by hanging with these groups of friends are something that is good for all involved. The important thing is to find out what works for the individual and intertwine it as part of the normal lifestyle. Always keep in mind professional resources if the above don't work.
"You know there's more to life than just gymnastics," Biles told reporters in Tokyo. Remembering the things that make life worth living are things to hold close to the heart. And Biles knowing that there is more to life than gymnastics is a giant step towards mental health stability.
Mental Health Resources in Houston
*Call 211
For help with local mental health care services 24/7.
*National Suicide Prevention Lifeline
1-800-273-TALK (8255)
Trained crisis workers are available to talk 24/7.
*SAMHSA Treatment Referral Helpline
1-877-SAMHSA7 (1-877-726-4727)