Boyce Family Values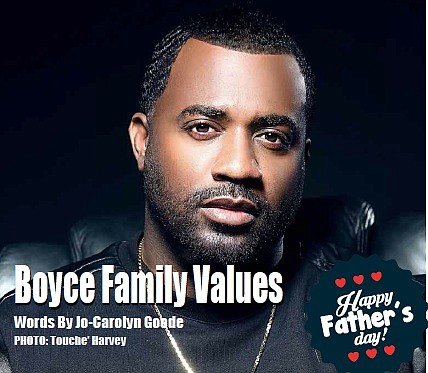 Nothing brings more excitement to people than the news of a couple having a baby. Between all the congratulations, gifts, and advice the couple stands in the middle of it all in complete fear with questions swirling in their head. Are they ready for a baby? Do they have everything they need? Will they do a good job? Their shoulders are heavy because molding and shaping the life of another human being is a huge responsibility.
"I went into it (fatherhood) knowing it was serious and scary. I wanted to be that perfect father but I learned there is no perfect parent. It's a journey," said entertainer, music producer singer, songwriter, director, producer, father, and manager for his children Thomas "TJ" Boyce.

It was by relying on his faith in God and truly believing in his prayers that he went from being scared to concern.
"You want the best for them," said TJ as he went on to speak about mistakes that will be made in parenting and in the lives of the children. "As a parent, I hope that those mistakes are things that won't be detrimental."
Tj has a 15-year-old son named Thomas "TJ" Boyce, III aka TJ Jr., and an 8-year-old daughter named London. These two are a blessing to him. What he finds the most rewarding about being a dad to his crew is being their #1 teacher.
"I love that. I love being able to take someone so innocent and totally open to learning and being able to tell them this is what this is. I love being able to give them a bit of my perspective, shape their mind, and seeing a little bit of myself in them," said TJ.
In his case, seeing himself in his children is a reality as they are following his lead to work in the entertainment field. When TJ saw the "it" factor in his children and they wanted to get in the industry he put his own career on pause so they could get their careers started. It is never too early to start working in his opinion.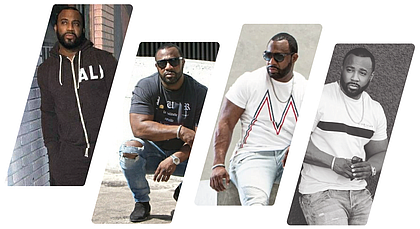 The decision to hit pause on his career has paid off big time. His youngest daughter, London, wrote a book entitled "Wonder London: I Hate My Curly Hair" that is now being turned into a movie with casting including Vivica A. Fox, Tichina Arnold, Nephew Tommy, and her big sis Asha and brother TJ Jr. The movie is based off London's experience of getting teased and bullied at her predominately White school about her naturally curly hair. In addition, she starred in the film "Antebellum" in which she plays the daughter of actress and entertainer Janelle Monae. Now for the big kicker, little Miss London has made history as being the first-ever African American model to be featured on a product for Blue Bell Ice Cream.
Equally as successful is London's brother TJ III, he is an actor, rapper, singer, entrepreneur, and, comedian. Comedy is a hard industry but it seems to be no sweat for TJ Jr. as he has already been labeled as one of the funniest teens in the country with the stamp of Wayne Brady himself.
Brady became one of TJ Jr.'s mentors after he was chosen to compete in the BYUTV series, "Wayne Brady's Comedy IQ. The young teen also claims Michael Colyar and Marcus Wiley as additional mentors. Young audiences can look for TJ Jr. on his upcoming film with Disney called "Crater" where TJ Jr. is the lead actor. Kid Cudi is also signed up for the film. Like his lil sis, he has written a book as well and has released a single. TJ Jr. stands by his personal motto, "You are not going to outwork me!"
TJ has a third who is also talented. TJ's oldest daughter Asha who has singing chops as well. She is currently working in the studio recording new music. However, all details can't be released as of yet. Just know fabulosity from her is on the way.
All of this talent right here in Houston. Not bad for a dad who didn't push his children in entertainment but push them towards their dreams voicing them to him. Need me knot forget that Tj's youngest and middle child have a super cool. The Boyce Kids Cream Machine dishes out sweet treats to beat the Texas' heat. Pouring his soul into his kids was TJ's mission. Safe to say mission accomplished. It is evident that the message of always grinding is ringing in the ears of Asha, TJ Jr., and London.
The Houston born and Midland raised man has 12 years in the entertainment industry working with such stars as Sean "P. Diddy/ Puffy" Combs, Dr. Dre, Scarface and, Trae tha Truth. In fact, he teamed up with Trae tha Truth to produce a new film "Mr. Officer" with another Houston legend Scarface and Tyrin Turner. The movie is about how officers see Black people in the eyes of the law. It is set to be released on July 1st.
Raising children is straining, especially when thinking about the dangers at every turn. It can be partially hard for African Americas as it seems there are always a set of unwritten rules that must be followed. TJ had to teach his children those rules, specifically the one surrounding what to do if an officer of the law pulls them over. He told his son his focus should be on one thing and one thing only. That is following exactly all instructions given by the officer with a calm attitude.
"Regardless if you have done something or if you haven't done anything it is not the time to be a tough guy or plead your case. Your job is to make sure you come home."
Creating moments to have purposeful dialogue with his children to talk about tough subjects as those above is something TJ credits for him being a good dad. He intentionally sets up time to go speak with his children to find how their day has gone and what is going on in their lives. It is in those conversations that he can teach his children about how to feel comfortable in their own skin and build confidence in them. Inasmuch as he is teaching them, he is learning from them about how different issues and things affect them personally and how they see their own life.
Being a hands-on type of dad is something TJ believes is so vital in raising children, especially Black children. Since a few bad examples of Black men tainted the race to cause a negative light for all Black men to walk through, TJ feels it is his mission to prove that there are some good Black men in the world handling their business, providing and being there for the children, and doing what's needed to be done.
The principles TJ is teaching his kids are ones he lives by himself. His strong work ethic has garnered him great success. Beyond the movie "Mr. Officer," Tj recently made a song and video called "Ghetto America" which is a spin on the George Floyd incident. That video stars Cuba Gooding's brother, Omar Gooding, and has been viewed millions of times. Another project in the mix is a new song that is an ode to Black women called "Black Woman."
"I just wanted to come out flat-footed and say I love you Black woman. I felt like it was timely. The Black woman has been the most underappreciated, mistreated, disrespected person in American history. I wanted to give the Black women her flowers so I created the record Black woman," commented TJ.
Often more is caught than taught and how you make one feel is remembered and treasured. With the way things are going for Tj Jr. and London, it is clear that TJ indeed put his fingerprint on them and they were watching and listening. They could not have a better example to follow than their dad. As he is a living daily blueprint of a God-fearing, hard-working, prayer-believing, lover of all things about his children kind of father.

This Father's Day TJ doesn't know what to expect in the form of a tangible gift. He shared about one gift that started out as a gag and turned into a pride builder for his son in the end. Calling it his worst and best gift, TJ Jr. gave his dad a handmade decorated shirt with balloons and everything on it. TJ Jr. was around seven and he thought he knew his dad well. So your TJ asked his father to wear the shirt thinking he would say no. But to TJ Jr.'s surprise his father wore the shirt. The gesture made TJ beam with pride knowing his dad wore a TJ Jr, original.
"I will do anything for my kids," a smiling TJ said.
Cheers to the fathers that do anything for their children. Here is to support for the fathers who know their role is more than being a provider for their children. It is being their counselor, teacher, fixer, saver, encourager, supporter, and whatever else that goes in the blank of "Dad, I need ."
Congratulations to the fathers who love and go beyond to do whatever is needed or it takes to earn the title World's Greatest Dad. You are essential in your child(ren)'s life.
Happy Father's Day TJ and all fathers everywhere!!!!!!!!!!!!!!