Houston Style Magazine Honors Women Who Did It First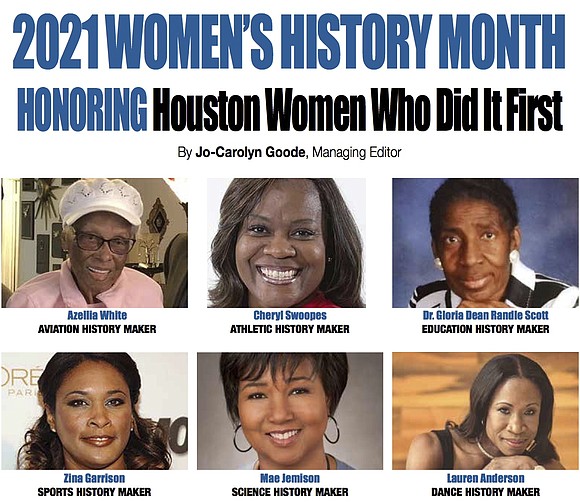 Houston is the place where giants are birth. Walking among us are history makers, trailblazers, and winners. We may not always know their names or what they did. This is why Women's History Month is so important. We get to recognize those among us who have achieved extraordinary fetes. Below we honor six legends that also have roots firmly planted in Houston. It also inspires us to think differently and go after our dreams because we know the impossible is possible.
Azellia White
Aviation History Maker
1st Black Female Pilot
Many know the name Bessie Coleman. She is the first African American female pilot to earn her license in the United States who trained at the France's Fédération Aéronautique Internationale. How many of you are familiar with the name Azellia White? She is the first African American woman to earn a pilot's license in the United States of America.
A Gonzales, Texas, native, White grew up looking at someone who looked like her flying high above the sky. It is not known if the spirit to fly sparked for her when she was just a child, however, it is known that former First Lady Eleanor Roosevelt did inspired her interest in aviation. First Lady Roosevelt visited the base where White's husband, Hulon "Pappy" White, worked as an airplane mechanic where the famed Tuskegee Airmen trained. During Roosevelt's visit, she was able to go for a ride with one of the Tuskegee Airmen and was so impressed that she demanded that her husband send them to fight in World War II.
After the battle, White and her husband made their home in Houston, TX, and created the Sky Ranch Flying Service, a flight school and airport, with some of the Tuskegee Airmen. Around that same time, White took flying lessons from one of the airmen to earn her pilot's license on March 26, 1946.
During her career, White was the recipient of several awards including being recognized with Trailblazer Award from the Black Pilots of America and being inducted into the Organization of Black Aerospace Professionals Hall of Fame and Texas Aviation Hall of Fame. There is even an aviation science lab housed on the campus of Houston ISD's R. S. Sterling that is named in her honor.
White died on September 15, 2019, at the age of 106. She is buried in a Houston area cemetery.
Sheryl Swoopes
Sports History Maker
1st Player Signed to WNBA
1st Woman with Signature Athletic Shoe
Swoosh, swish, nothing but net is all fans would hear or see when basketball legend Sheryl Swoopes was on the court. The unstoppable powerhouse basketball player showed no mercy to opponents when handling the ball and racking up points. Records that she set more than a decade ago still stand today. A legend among us, Swoopes is the first player to be signed to the WNBA and the first woman to have a signature athletic shoe – Nike Air Swoopes.
Born in a town with a population just under 10,000, Swoopes learn the game by playing it with her three older brothers. By age seven, she was skilled enough to begin competing locally and joined a youth league. Her name started to appear in headlines once she started playing on the collegiate level, Swoopes' name would start appearing in headlines. As a Texas Tech University red raider, she was a First Team All-America and named the Naismith College Player of the Year and the WBCA Player of the Year. Swoopes would make history for having the highest career scoring average and most points in a single season. The NCAA Final Four Most Outstanding Player's jersey was retired in 1994. She is one of three players that have had that distinct honor.
In 1997, Swoopes was recruited for the inaugural season of the WNBA. Swoopes would make history once again for winning both the regular season MVP award and the All-Star Game MVP award in the same season. She also holds the record for being the first player to record a triple-double in both the regular season and the playoffs. The three time MVP helped the Houston Comets win four straight championships. Her name would be forever etched in history as one of the 15 greatest players in the league. Before she hung up her sneakers would also win three Olympic gold medals and one FIBA World Championships gold medal.
Dr. Gloria D. Scott
1st African American President of Girl Scouts of the USA
Community History Maker
Dr. Gloria Dean Randle Scott helped to diversify one of the oldest organizations dedicated to the development of girls. She is a living example that girls can be anything they want and do anything they want to do. As a pioneering trailblazer, Scott has a couple of firsts under her belt. She was the first African American to serve as president of Girl Scouts of the USA. In addition, she is the first African American graduate from Indiana University. Scott also was the first African American instructor in biology at Marion College in Indiana.
It was in 1953 while a student at Jack Yates High School that Scott was first introduce to scouting as a Junior Girl Scout in Troop #155. At that time troops were segregated, despite some negativity she said her experience in scouting was "good and rich."
After graduation Scott would make history on the collegiate level at Indiana University as the first African American graduate earning an A.B. in zoology in 1959. Leadership skills gained from that experience helped her for her next first. Scott began her teaching career in 1961 as a biology instructor at Marion College in Indiana. She made history as the first African American instructor at the predominately white college.
Scott would not be done making history as she would do it again in 1975 when she became the first African American president of the Girl Scouts of the USA. During her tenure, she led the Girl Scouts in making policy changes especially regarding racial issues. Scott also served as President of the Negro Girl Scout Senior Planning Board where she was able to increase the diversity of scouting.
Today, Dr. Gloria Scott remains active in the 109-year-old organization as a life member of the Board of Directors. Her message continues to be that Girl Scouts is great for girls as they can learn from group dynamics how to negotiate in an interracial society to make the world a better place.
Lauren Anderson
1st African American Principal Dancer at the Houston Ballet
Dance History Maker
Light on her feet since she was a child, Lauren Anderson has always been one who has loved dance. She was given the choice to either take dance lessons or violin lessons and she selected dance thinking she could go back to violin later. Quickly dance took over her entire life as a student at the Houston Ballet's Ben Stevenson Academy. As she fell more and more in love with dance, Anderson wanted to do everything she could to make her a better dancer including changing her diet. When the then artistic director for the Houston Ballet, Ben Stevenson, told her that her body was too muscular for a dancer, Anderson became a vegetarian and took up Pilates to decrease her muscle mass.
In 1983, Anderson officially joined the Houston Ballet. She quickly rose to become a soloist in just four years. Following that, Anderson made history in 1990 to become the first African American principal dancer at the Houston Ballet. She was only the second African American ballerina in the nation to be promoted to principal dancer and the only African-American prima ballerina at the head of a major ballet company anywhere in the world.
After she had danced her last dance in 2006, Anderson took on a new role with the Houston Ballet's Education and Community Engagement program teaching classes and giving lectures to young dancers hoping to follow in her footsteps. Anderson received the ultimate honor for a dancer having her ballet shoes from her last performance displayed at the Smithsonian's National Museum of African American History and Culture.
Although she has retired, Anderson still dances sometimes with her home church's dance ministry, Holy Spirit Dancers. She also teaches at "The Link School of the Arts" in Michigan and to students all over.
Dr. Mae Jemison
1st African American Female in Space
Science History Maker
Space was a place that no other African American woman had gone before until September 12, 1992, when Mae Carol Jemison became the first African American woman to travel into space. Applying for the NASA program in 1987, she was chosen out of nearly 2,000 applicants to be one of fifteen in the NASA astronaut corps. She would orbit the Earth eight days as a mission specialist aboard the Space Shuttle Endeavour.
Jemison always loved science and grew to love it even more while watching the television show Star Trek. Her favorite character was an American actress Nichelle Nichols who played Lieutenant Uhura. However, it made her mad in real life that the show had so few female astronauts. One day she would change that.
Earlier on Jemison began preparing for a career in science by excelling in school. She entered high school at age 12 and college at age 16. In 1977, she graduated with a B.S. degree in chemical engineering and a B.A. in African and African-American studies. Jemison would continue her studies at Cornell Medical School. After graduation and working with the Peace Corps and the CDC, she took the needed steps to achieve her dream.
She would apply to be an astronaut twice. Once in 1985 but NASA paused their operations after the disaster of the Space Shuttle Challenger. Never letting anything stand in her way, she applied again. Jemison was chosen to serve for the STS-47 mission scheduled for September 12-20, 1992. During that mission, Jemison logged 190 hours, 30 minutes, 23 seconds in space and orbited the earth 127 times. She took a poster from the Alvin Ailey American Dance Theater, a photo of Bessie Coleman, a West African statuette, and a banner for her sorority, Alpha Kappa Alpha Sorority, Inc.
In the years following her retirement from NASA, Jemison would become an entrepreneur founding The Jemison Group Inc., a consulting firm, and the Dorothy Jemison Foundation for Excellence in honor for her mother.
The engineer, physician, and former astronaut continues to be an inspiration for all ages.
Zina Garrison
Sports History Maker
1st African American to reach a grand slam final since Althea Gibson in the 1958 U.S. Open
1st African American to become the 18th US Federal Cup captain
One never knows what can come from playing a game. Zina Garrison was ten-years-old when her brother first introduced her to the game of tennis. Early on she was considered a natural talent because of her hand-eye coordination. She would train at Houston's MacGregor Park with famed coach John Wilkerson. With his help, Garrison would go on to make tennis history as the first African American to reach a grand slam final since Althea Gibson in the 1958 U.S. Open and become the first African American 18th US Federal Cup captain in the history of the organization.
Two years after Garrison started taking tennis lessons she would become so good that she competed in her first tournament at 12. Two years after that Garrison would win the national girls' 18s title. Then at age 18 she shocked the nation with her performance at Wimbledon and the US Open to become the No. 1 junior player in the world. Of course, with success like this, there were plenty of sacrifices made by Garrison. One sacrifice was missing her graduation from R. S. Sterling High School.
As Garrison progressed from an amateur to a professional athlete, she would continue to rack up win after win. Over the course of 15 years, Garrison would have 14 single wins and 20 double wins. All throughout her career she was compared to tennis legend Althea Gibson so when she won Wimbledon in 1990, it was history making. Before she retired, Garrison would win 3 grand slams double titles in the 1987 Australian Open 1988 and 1990 Wimbledon tournaments. Her Olympic career would award her gold and bronze medals at the 1988 games in Seoul South Korea.
She retired as a pro athlete in 1997 but she didn't leave tennis. Garrison began to coach other tennis players and made history while she did it. Garrison would go on to be the women's coach in 2004 for the Olympic games in Athens, Greece and the Director-at-large for the US tennis association.