It Has Been A Long Three Months For The Houston Rockets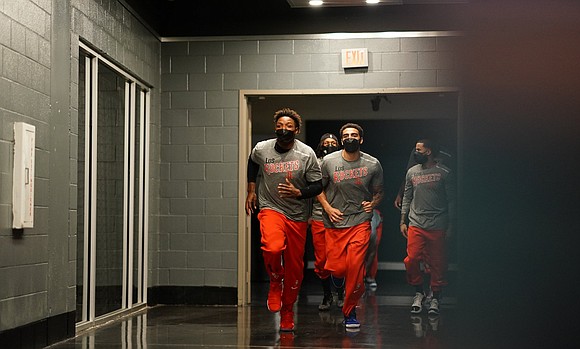 If I had to take an educated guess. I would say that this has probably been the longest three months of Rockets Head Coach Stephen Silas's career. Yet despite opening up the 2020-21 NBA Season three months ago to the day, coach Silas has to feel like Friday's game against the Minnesota Timberwolves is his team's season debut having finally being able to put all the season's turmoil behind him for now.
Silas, who has over 20 years of experience as an assistant coach in the NBA was hired by the Rockets this past offseason as was immediately met with adversity before he could hold one team practice. Former NBA MVP's James Harden and Russell Westbrook were not happy in Houston and went to the public about trade demands.
Houston was able to meet the demands of Westbrook before the start of the regular season by trading him to the Washington Wizards for former All-Star point guard John Wall and draft picks.
Harden was not as fortunate as his former teammate with Houston and Oklahoma City as the team wanted to see if they could work things out with the eight-time All-Star and six-time All-Pro. Despite his unhappiness, Harden started the season with the team, but was traded on January 14, 2021 to the Brooklyn Nets in a four-team deal that resulted in the Rockets receiving another former All-Star in shooting guard Victor Oladipo.
It is safe to say that the first month for coach Silas was not a great one. Although Harden played in the season opener against the Portland Trailblazers, the team was very shorthanded as six players missed the game due to Health and Safety Protocols associated with COVID-19.
Add the multiple injuries to key players such as Wall, Oladipo, Gordon and rising superstar Christian Wood that helped contribute to the Rockets 20-game losing streak. Plus, the mid-season departures of DeMarcus Cousins and P.J. Tucker, on top of rumblings that Victor Oladipo was unhappy before being traded to the Miami Heat on Thursday and you have the makings of a tumultuous three months.
"At some point we will be able to start over again, but not tonight," said coach Silas during his pregame press conference.
Houston will look to getting back on the winning track tonight after dropping a game to the Charlotte Hornets 122-97 on Wednesday.