Mental Health Is a Problem for All Not Just Some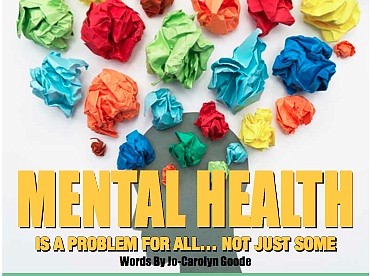 Being imbalanced is a problem that everyone has had to deal with at some point in their life more than once and will have to deal with it again. Life is stressful and can cause anyone anxiety. Mental health surveys indicate that 60% of the American population has experienced significant levels of mental and/or emotional unwellness since the onset of the global pandemic. A 2020 Kaiser family study indicated that Texans have had an increase in their levels of anxiety and depression from an average of 37.7% before the pandemic to 40.1% during the pandemic. Difficulties are with individuals owning this as their reality as a threat to their mental health can be an even bigger problem than dealing with stress and anxiety itself.
"I think everyone should admit that there are times when we get out of balance," Dr. Neal Sarahan, Executive Director of NAMI Greater Houston warned. However, just because one has issues with their mental health does not mean that they have mental illness.
Mental health is the way of thinking about how our emotional, psychological, and social behaviors are in balance when challenged. Mental illness comes into play with the response one gives when a crisis arises causing an imbalance affecting the above behaviors. If the person cannot return to a balanced state after a crisis that is mental illness. Dr. Sarahan says that some can be prepared for these types of stressors in life by having a mental health toolkit.
A mental health toolkit will look different for everybody depending on the level of imbalance. Before putting one's toolkit together, Dr. Sarahan advises knowing a few things first. One thing to note is what are the personal stressors/triggers for an individual that cause the imbalance. Use that information to develop coping mechanisms to get back in balance. This will be the foundation of one's toolkit. Some common treatments could be exercising, meeting with like minds (support peer groups), focusing on faith, meditating, staying connected socially, removing negative thoughts, and having schedules for activity and sleep. Individuals may also take personal clues to know if they are overworking themselves with too many responsibilities and commitments, overeating, forgetting, having a short fuse, less energy, and feeling a sense of being lost. Once a person is more in tune with their emotions they can be more specific with what is the needed in their toolkit. For example, Dr. Sarahan knows being around people, especially babies and kids, helps him stay in balance. When he thinks an attack is coming he immediately gets ahead of it by going to visit a family member who has small children. After all who can stay depressed while looking at the little face of a toothless smiling baby with drool coming out of their mouths. This is how to protect your mental health.
As a NAMI board member turned executive director, Dr. Sarahan is one of eight employees and 243 volunteers who work daily to advocate, educate, and support the ongoing building of better lives for individuals and families affected by mental illness. Having been in his current position for the past 2-½ years, he is proud of several accomplishments. Topping his list is how the organization has stuck to their strategic plan that includes several components such as increasing early innovation in a mental health crisis, increasing access to mental health resources, and decreasing law enforcement in mental health crisis.
"We have really been involved in capacity building in mental health in vocal community resources particularly communities of color. We do that by building up the capacity of local churches and community organizations to train up their staff and their community volunteers to operate their own programs of mental wellness," said Dr. Sarahan.
Also on his list of success is the way that his staff and volunteers had to transform their operations from in-person to virtual including the annual NAMI walk, classes, support groups, and all programs. The transition helped NAMI to grow as they expanded their services to address the needs of more individuals. In addition, they added a warmline center, which is a hotline to field calls, emails, and other communication coming from communities needing help with mental wellness. To date, NAMI has managed over 15,000 calls in the last year and half. The warmline center can be reached at 713-970-4483.
"I am proud of our outreach and depth of programming. I am proud of the fact that people are learning more and more about NAMI as a vital community health resource," said Dr. Sarahan about the organization that works at the grassroots level with information, education, and access to services. "That's our niche."
Every time around this part of the year, NAMI's excitement is heighten with activity in planning the NAMI walk. Last year, of course, was one of their most challenging since the walk had to be transitioned into a virtual event due to the pandemic. This year's walk will have its own set of challenges as changes are made to make it a hybrid walk. Instead of everyone gathering for one huge walk, there will be several multisite small gatherings connected by Facebook Live. The goal of the walk is to increase awareness of mental health, let the community know about education opportunities, celebrate the mental health community, and, to highlight community partners that work in mental wellness. The walk will occur on the National Day of Hope on May 22nd. Beyond actually being at one of the small gatherings, individuals can support the walk with funding. Dr. Sarahan said they have a goal to raise $250,000.
So far, they have raised $130,000. Individuals and/or communities wanting to donate may visit NAMIGreaterHouston.org to donate. It is important to know that 100% of all donations received will stay right here in Houston to help citizens in Houston and surrounding areas.
Dr. Neal Sarahan has committed his life to helping people who are often overlooked by building healthy learning communities. The mental health professional has over 45 years of experiences. Finding his passion for mental health in his own family dealing with two of his sisters who had severe neurological and physical difficulties. The former DC lobbyist holds a BA in Urban Government at Georgetown University, an MA in early childhood at Antioch University, and a PhD in Applied Developmental Psychology at Union Institute. Before being a NAMI board member, he was the first Executive Director and founding team member of the Monarch Institute for Neurological Differences. Dr. Sarahan is married and has two sons, a daughter, and a granddaughter.