Remembering Legendary Jazz Trumpeter, Burgess Gardner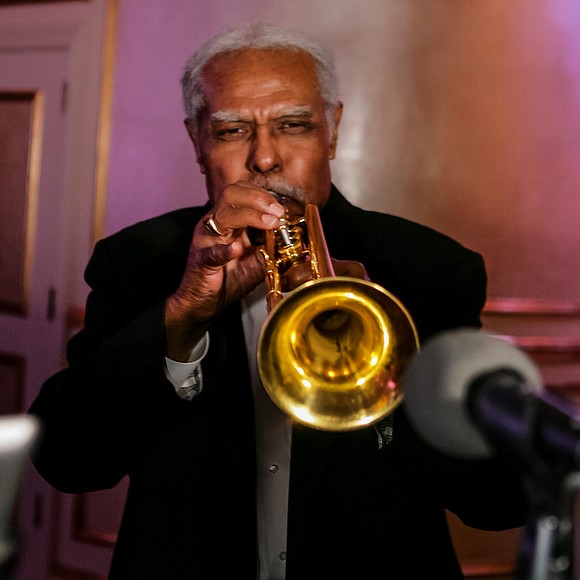 Legendary Trumpet Virtuoso Burgess Gardner, a composer and former educator, passed away peacefully on Saturday November 20, 2021 at the age of 85. Burgess was a longtime Chicagoan and retired principal in the Chicago Public school system. He made a name for himself in the 60s, 70s and 80s, playing with many bands including, Count Basie, Horace Silver, and Louis Belleson. He also toured with artists such as Ray Charles, Nancy Wilson, Sammie Davis Jr., Etta James, Lou Rawls, and Sarah Vaughn to name a few. In addition to his many years on the road, Burgess had a successful solo career, directing his very own 18-piece Orchestra and producing, arranging, and recording with artists on Chess and Cadet Records including, world renown artists, The Dells and Fontella Bass.
Dr. Gardner will be greatly missed and has left an imprint on the lives of everyone he encountered, but most importantly he left a legacy in his children, Lamarr, Marian, Derrick and Vincent. Derrick Gardner (trumpeter/composer/arranger/educator) has played with the Count Basie Orchestra, Frank Foster's Loud Minority Big Band and with Harry Connick Jr. He is currently the professor of jazz trumpet at the University of Manitoba in Canada. Vincent Gardner (trombonist/composer/arranger/educator) has played with The Duke Ellington Orchestra, Chaka Khan, and Lauryn Hill, to name a few. He is the lead trombonist in the Jazz at Lincoln Center Orchestra with Wynton Marsalis and the Co-Founder and Artistic Director of Jazz Houston.
Burgess is survived by his children Lamarr [Ora], Marian [Harry], Derrick and Vincent [Belinda], his brother Thurman [Sharon], his former wife Effie Gardner, former wife Barbara Gardner, and four grandchildren, Baron, Laila, Davin, and Kingston.
Rest well Burgess. The Soulful Heavenly Angels have called you home, but your legacy lives on.
Monday, November 29, 2021, 9 a.m. Viewing , 11 a.m., Memorial Service at Holy Temple Cathedral 15192 Lincoln Ave, Harvey, IL 60426
[Please note: In compliance with CDC, State, and local COVID guidelines, face masks are mandatory indoors regardless of vaccination status.] Interment, Mount Hope Cemetery, Chicago, IL. For funeral information: 708.206.0860 or www.leakandsonsfuneralhomes.com to sign guestbook and to leave a condolence message.