The Battles Is On: Stop COP Pitting Our Leaders Against Each Other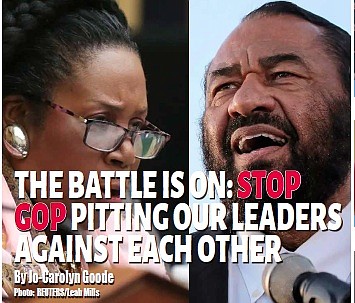 The Republicans already hold political power and they want to keep it that way by any means necessary. The first draft of redrawn district maps stacks everything in their favor despite the surge in the minority population in Texas, overlapping of districts, and Texas gaining two new seats. The Republicans are doing all sorts of things in their attempt to keep the power in their hands. If they are successful, they would retain political power for the next decade.
Texas is not alone in this redistricting process. Under the U.S. Constitution all states are required to redraw district maps every ten years after the Census. Our governing documents also enforce that the population of districts must be equal in number and not show prejudice based on race or ethnicity. Do the Republicans read this or just the Democrats?
The most current Census results show a rapid population growth in the state of Texas for Blacks, Hispanics, and Asians. It is growth where these minorities make up 95% if the growth in the state to the point that these same populations have now outpaced white Texans. The minority group with the greatest growth is the Hispanic population. One would think that now there would be Hispanic representation but there's not.

In the first draft of the proposed new congressional map, the growth of minorities is completely ignored as these populations actually loose districts instead of gaining them. Highly Hispanic populated areas decrease seats by one. The deal for highly Black populations is even worse as those districts are eliminated. Meanwhile highly white populated areas see an increase in the number districts they have. Currently, the breakdown is 22 districts for white populations, eight districts for Hispanic population, one for Black populations, and five districts where there is no majority of a particular population. The new map would change the breakdown to 23 districts for white populations, seven districts for Hispanic population, none for Black populations, and eight districts where there is no majority of a particular population.
The increase in the population in Texas will give the state two more seats allowing the state to have 38 seats and 40 electoral votes. The current breakdown of the 36 seats is 23 held by Republicans and 13 by Democrats. New map renderings increase the number of districts held by Republicans. It is beyond time for Democrats to stand up and push back.
Republicans need to understand Trump lost the election fair and square.

There was no election fraud or whatever he dreams up. They also need to accept 99% of what Trump said or says about the election is probably false. They need to understand so they would stop doing things to show their bias like decreasing the number of districts Joe Biden won over in the presidential election by one and increasing the number that Donald Trump won by three districts. This is what racism looks like in 2021 folks.
Even though most incumbent legislators are protected with the proposed new map, as it appears that the Republicans didn't try to takeover the position that Democrats hold. However, there are a few areas where the new lines have some districts overlapping meaning that some congressional leaders now have to go head-to-head in next year's election. Congresswoman Sheila Jackson Lee of the 18th district and Congressman Al Green of the 9th district will have to be opponents since their districts under the new plan overlap. Republican Representative Dan Crenshaw and Democratic Representative Sylvia Garcia will also have to face each other.
Other representatives will experience some threats. Like U.S. Rep Lizzie Fletcher who replaced a Republican incumbent in a surprise win. Instead of packing her district with Republican voters, they sprinkle some around her to Republican incumbents. The 23rd district held by Republican U.S. Rep. Tony Gonzales has been loaded with Republicans. If this had been the election year of Trump and Biden, Trump would have won the district instead of Biden.
Dallas residents are seeing similar moves by Republicans in their city. Hispanics are the largest population in Dallas and didn't even get a distinct. The Republicans did show mercy to Democratic U.S. Rep. Colin Allred by packing his with more Democrats. They did this by splitting the districts held U.S. Rep. Eddie Bernice Johnson of the 30th district and Rep. Marc Veasey to go into the 32nd These proposed new changes don't reflect the new population well. Most Republicans are accepting of the changes while most Democrats are fighting mad. Ethnic population are upset as the new map has it reflects no growth for minorities.
Statement from the Texas Coalition of Black Democrats:
"The proposed Congressional redistricting map released today by the Republican Texas State Senate is unacceptable because of the unconstitutional and illegal damage it has done to the historic 18th congressional district in Harris County and the dilution of Black, Hispanic and Asian voting strength in Fort Bend, Travis County and all across the state through the packing and cracking of Blacks, Hispanics and Asians voters into as few congressional districts as possible as a subterfuge for race-based gerrymandering to allow Republicans to steal the two new congressional seats in Texas."
Statement by Domingo Garcia, national president of the League of United Latin American Citizens as told to The Texas Tribune:
"LULAC has filed suit against the state of Texas every 10 years since 1970 and we've prevailed every 10 years. Unless there's new maps drawn, we expect we will wind up in federal court again."
Statement by Gary Bledsoe, president of the Texas NAACP as told to The Texas Tribune:
"The proposed map vastly diminishes the voting strength of minorities all around the state by either packing them into districts already electing minority candidates of choice or cracking them by pushing them into districts dominated by conservative white voters," he said. "As the state has garnered two new congressional seats on the backs of its minority population, it has sought to put forth a proposed congressional map that is clearly retrogressive."
Statement by Democratic Texas Rep. Lloyd Doggett
"Fearing voters, Republicans once again engage in extreme gerrymandering to carve up neighborhoods and communities of interest in Travis, Hays and Bexar Counties—aiming to dilute strong voices."
He added, "With lines shaped like snakes, tentacles, and dragons, parts of both Travis and Bexar are included in five different districts. San Antonio and Austin are connected by a sliver only slightly wider than I-35."
This is only the first draft of the new map. Changes are bound to one before it is officially signed.
Statement by Thomas Saenz of the Mexican American Legal Defense and Educational Fund
as told to the New York Times
"With Latinos accounting for nearly half of the total growth of the Texas population in the last decade, we would expect legally compliant redistricting maps to protect existing Latino-majority districts and potentially to expand the number of such districts."
Statement by Genevieve Van Cleve
"This map has clear signs of gerrymandering and is a complete disservice to the people of Texas. It ignores community input and the census data which shows Texas' population growth came from people of color and was centered in urban and suburban communities." Cleve said, "We must hold Republican legislators accountable and ensure they hold additional hearings that allow public input, and create a new Senate map that reflects community input and the census data."
Texans Democrats are not new to the trickery of Republicans.
Statement by State Sen. Beverly Powell
"The proposed State Senate map is a direct assault on the voting rights of minority citizens in Senate District 10 and, if adopted, it would be an act of intentional discrimination." Powell said, "The 2020 census revealed the population of Senate District 10 is nearly ideal. There is no need to make any changes to district lines. Moreover, since 2010, the minority population percentage within the district increased dramatically while the Anglo percentage has dropped. The changes now proposed are intended to silence and destroy the established and growing voting strength of minority voters in Tarrant County."
Although this is just the first draft, changes are highly likely. Democratic are expected to file lawsuits. Republicans will continue to push back. Put the petty aside and think of the voter. Level the playing field and so you can say I won fairly and not I won because we use all that we could to rig the election. The Battle lines have been drawn so the Battle is on is on until the final call.