Pack your bags, we're going to Knoxville, Tennessee!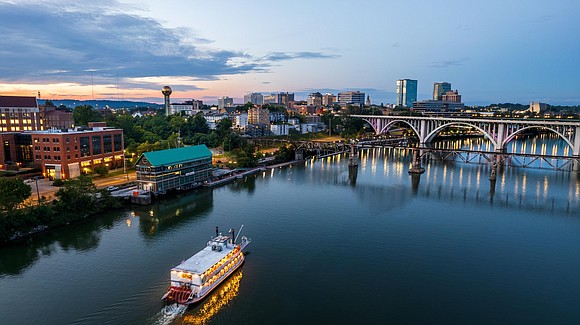 Often described as a hidden gem, as you descend upon the sweeping beauty of mountains and witness where art meets adventure and culture meets cuisine, you will undoubtably know that you are in for a great Tennessean treat when you arrive to Knoxville, Tennessee.

Knoxville has been a playground for arts and entertainment for hundreds of years. A big city with tons of fun, yet still considered a small town at heart, Knoxville has kept evolving throughout the years and in return that keep travelers and locals wanting more and more.
Located near the cross junctions of several major highways, the city is just a day's drive from more than half of the United States. McGhee Tyson Airport (TYS) offers more than 20 direct flights and Knoxville is just a short drive from the Nashville International Airport.

When you mention Knoxville, there are a number of things that can follow, but make sure you lead with the World's Fair Host! That's right, you had to be there in 1982 when more than 11 million people arrived to Knoxville to experience the hospitality of East Tennessee and cultures from around the world. After 40 years, it's still hard to believe that it happened, but the 1982 World's Fair, formally known as the Knoxville International Energy Exposition, ran May 1 through October 31 under the theme "Energy Turns Our World".
Downtown Knoxville Skyline 📸: By Visit Knoxville
Only a few American cities have hosted official world's fairs; however, Knoxville was one of the smallest cities that successful hosted the mega attraction and would become recognized as the last successful World's Fair held in America. Although many of structures are gone from the exposition, there are two still standing on site today; the amphitheater and the Sunsphere.
Serving as an iconic feature of the Knoxville skyline, the Sunsphere is a one-of-a-kind structure that stands 26 stories tall. Each pane of glass is made with 24-karat gold, giving the sphere its rich gold reflective color. Fun Fact: each pane cost around $1,000 each at the time of construction.
World's Fair Sunsphere 📸: By Visit Knoxville
The newly renovated 4th floor Observation Deck is open and available for visitors to explore. An elevator will lead you straight to the top and upon entry, you will see more World's Fair memorabilia, merchandise, interactive displays and of course, the 360-degree view of Knoxville and the Great Smokey Mountains.
Today, Knoxville still draws visitors from the Knoxville International Energy Exposition with history, music, food, culture and festivals that reflect many of the countries represented there years ago.
Located adjacent across the street from the Sunsphere is a flagship property in downtown Knoxville; The Tennessean Hotel. Iconically known as the only four Diamond hotel in Knoxville, The Tennessean sets the bar high when it comes to a luxurious stay. But, The Tennessean itself embodies a lot of old Knoxville hidden history behind its new world appeal. Located on the historic grounds of the World's Fair, this beautifully crafted boutique hotel was then an office building. Years later, it was transformed to its glorious, chic façade today.
The Tennessean Hotel 📸: The Mayfield Group
Paying attention to detail is The Tennessean's first and main priority. The hotel staff is prepared at all times to go over and beyond to accommodate their guest needs. The property features 82 luxurious guest rooms and a gracious front desk staff to serve you around the clock, allowing the property to offer personal luxury guest-by-guest needs. When walking, you may notice the plush carpets beneath your feet that depict the Tennessee River, the logo portrays the state flower, and the room finishing's have been designed with pride by Tennessee craftsmen. Whether you're enjoying a handcrafted cocktail at the Drawing Room or a Butler Service (upon request), The Tennessean invites you to relax in luxury as you receive a uniquely East Tennessean experience.
The Tennessean Hotel 📸: The Mayfield Group
Connected to The Tennessean is the brand-new Marriott Knoxville Downtown. Although the Marriott chain may be new to this location, the original property was developed for the 1982 World's Fair as well, and like it did back then, the new Marriott Knoxville Downtown is ready to welcome travelers from around the world. Ideally located, the property is just steps away from the Knoxville Convention Center, the University of Tennessee, and the downtown district.
Marriott Knoxville Downtown 📸: The Mayfield Group
Boasting 302 guest rooms, 18,000 square feet of transparent, multi-usable, meeting and event space, and a state-of-the art fitness center, the Marriott Knoxville Downtown is the place to retreat and recharge. Whether you are traveling with friends or taking a family trip with the kids, the Marriott Knoxville Downtown is a stylish hub that offers comfortable and modern accommodations for any traveler.
Marriott Knoxville Downtown 📸: The Mayfield Group
The beacon of this property is the Marker Exchange. Strategically placed in the middle as the heartbeat of the hotel, the Maker Exchange is essentially a gathering place to relax with cocktails and have great conversations. You almost feel as if you are in your own living room as you enter into the grand Hearth Room with an oversized wood burning fireplace to greet you. The 12,000-square-foot open floor plan is flexible enough to accommodate art exhibits, workshops and presentations and also includes a restaurant, social room and coffee shop.
Field of Dreams Cocktail at The Restaurant at Marker Exchange 📸: The Mayfield Group
Getting out and about to experience Knoxville's Urban Wilderness is all within the heart of the city. With over 50 miles of trails and greenways, the Urban Wilderness system connects an endless amount of beautiful nature centers, lakes and quarries, historic sites, Play Forest, parks and 500-acre wildlife areas. Whether you are a skilled hiker or like leisure strolls, the outdoor scene in Knoxville is a popular destination for outdoor goers.
Knoxville's Urban Wilderness 📸: Visit Knoxville
High Ground Park and Fort Dickerson Park is great way to get familiar with Knoxville's history. These historic grounds highlight the emerging Battlefield Loop, a popular destination for civil war buffs. Fort Dickerson is one of the best-preserved earthen forts from the Civil War era and features a quarry lake for swimming and paddling plus biking trails. Fort Higley in High Ground Park was the western anchor of the Federal line. Both Forts have spectacular views, walking trails and interpretive signs.
ljams Nature Center inspires people to protect and preserve the natural world through an amazing educational and outdoor experience. With 318 acres in the Urban Wilderness, liams offers hundreds of programs and events annually, as well as hiking, biking, swimming, paddling, climbing at the Crag, a gift shop, animal exhibits and the Navitat Zipline Adventure Park. All less than three miles from downtown Knoxville, this area is easily accessible and is ideal for a morning visit to get your day started.
ljams Nature Center 📸: Visit Knoxville
In addition to outdoor adventures, Knoxville offers a world-renowned art scene. The Knoxville Museum of Art is a forum for new art and ideas, focusing on contemporary art and highlighting artists living and working in East Tennessee. The museum offers fantastic displays of modern and traditional art with a wonderful sculpture garden and a fairly priced gift shop. Attractions include Richard Jolly's Cycle of Life and the world's largest figural glass installation. Admission is always free.
Knoxville Museum of Art 📸: Knoxville Museum of Art
There is no denying that Knoxville's history is a wild and often surprising tale. From log cabins to stoned mansions, these landmarks invite you into the past to experience the times and events that shaped them and the families who occupied them.
The Historic Westwood mansion is a perfect example of this. A direct connection to the rich, artistic history of Knoxville, this residence was built in 1890 for John Lutz and his wife, Ann Adelia Armstrong Lutz, a prominent Tennessee artist from one of Knoxville's founding families.
Today, visitor can enjoy tours of the main rooms led by trained volunteer docents. Upon entry you are warmly welcomed as you begin your rich tour of the mansion and learn more of the life and work of Adelia Armstrong Lutz. Adelia's grand studio space in which she could pursue and display her art is preserved virtually unchanged from the days when she painted there. Highly recommended, the Historic Westwood is a place for art lovers and those fascinated by history alike.
Historic Westwood 📸: Reggie Dominique
It's no wonder that Knoxville was recently named by Trip Advisor as a Top 10 Destination on the rise. For those who enjoy discovering new and exciting destinations, Knoxville is where you need to be. First time visitors will be amazed by all this city has to offer. With most of its most appealing attractions within walking distance of a very vibrant downtown, it doesn't take much to explore. Very few places offer the opportunity to experience live music, culture, outdoor adventure, eclectic shopping, and highly acclaimed cuisine in one unique location – which is why Knoxville is uniquely the place to be!