Harris County Flood Control District Marks Significant Progress On the Anniversary of Hurricane Harvey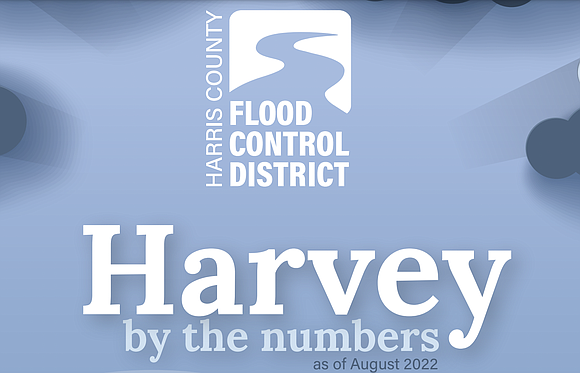 On the anniversary of Hurricane Harvey and nearing the anniversary of the 2018 Bond Program, the Harris County Flood Control District is marking significant progress on flood risk reduction efforts across the county.
Following Harvey, an overwhelming majority of Harris County voters placed their trust in the Flood Control District by collaborating on and approving a $2.5 billion bond to implement a nearly $5 billion program aimed at fortifying our future. This fundamentally transformed the work of our organization and accelerated flood risk reduction efforts across the county at an unprecedented pace.
Since Hurricane Harvey, teams from the Flood Control District have:
Completed 229 project components, reducing the risk of flooding for more than 14,000 homes and businesses
Removed an estimated 4.7 million cubic yards of sediment from channels across Harris County through maintenance efforts – the equivalent of approximately 335,000 dump truck loads – to ensure stormwater can move through channels efficiently
Completed 802 home buyouts to relocate more than 2,200 people out of harm's way and into safer living situations
Acquired more than 21,500 acres of land for projects, floodplain preservation and buyouts to ensure floodwaters can spread out safely without structures that can flood
Secured more than $1.35 billion in partnership funding to move projects forward while we continue to aggressively and urgently pursue additional funding opportunities at the federal, state and local levels
Worked with the Community Flood Resilience Task Force to update the prioritization framework to emphasize the people who benefit from the projects, ensuring current and future efforts prioritize the county's most vulnerable populations
In addition, the Flood Control District is continuing to grow the organization's presence in the community as a proactive partner. We have evolved and expanded our outreach efforts significantly since Harvey and the passage of the 2018 Bond Program and continue to implement new ways to engage all Harris County residents. Since Harvey, more than 14,000 attendees have provided input on projects through 180 community engagement meetings. This feedback is critical to the work of the Flood Control District and helps ensure projects reflect the lived experience of our community.
"Together, we're focused on making Harris County stronger and more resilient for generations to come," said Flood Control District executive director Dr. Tina Petersen. "We've made significant progress, and we know the need is still great, so we are treating each and every project with a sense of urgency. The projects included in the 2018 Bond Program are providing substantial and immediate benefits to residents, making our communities safer from flooding."
Click here to view the Harvey Timeline. Also, you can view our new infographic, showing our progress since Hurricane Harvey, by clicking here.