Dine Nashville: The Music City Way Restaurant Week Menus & Deals Available Now, Chef Collaboration Events Added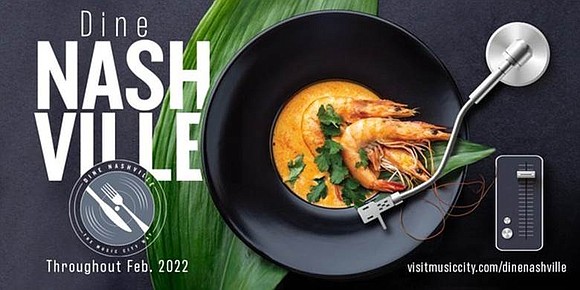 New creative collaborations include 404 Kitchen with Pennington Distilling Co., and Bourbon Steak with Nelson's Green Brier Distillery. New Restaurant Week additions include Pink Door Cookies, Acme Feed & Seed, Martin's Bar-B-Que Joint, Edessa, The Southern, Istanbul Shawarma and Jimmy Kelly's Steakhouse.
Jack Daniel's will be partnering with Dine Nashville and Assembly Food Hall to provide specialty cocktails February 21-25 at all Assembly Food Hall bars. On Thursday, February 24 and Friday, February 25 head to the Single Barrel bar inside the food hall for a can't-miss Jack Daniel's tasting experience from 6-8 p.m. Go for the drinks but stay for the exciting giveaways and live entertainment by artists Sara Spicer on Feb. 24 and Carl Wockner on Feb. 25. Assembly Food Hall will also be offering $20 lunch deals all Restaurant Week (Feb. 21-27) from more than 20 restaurants.
Additionally, Qwick, the leading on-demand labor marketplace for food and beverage Professionals, is partnering with Dine Nashville as they launch their services in Music City. Qwick provides a platform for F&B Professionals to connect directly with hotels, caterers, event venues and restaurants, providing them with the freedom and flexibility to work on their own schedules.
The full list of collaborative chef events and Restaurant Week participants can be found below:
Creative Collaboration Events
NEW! Chef Michael Mina (Bourbon Steak) X Charlie Nelson (Nelson's Green Brier Distillery)
Tuesday, February 15 | 7:30 p.m. | $260/person | at Bourbon Steak at JW Marriott Nashville (201 8th Avenue South)
NEW! Chef Matt Bolus (404 Kitchen) X Pennington Distilling Co.
Tuesday, February 22 | 6:30 p.m. | $85/person | at 404 Kitchen (507 12th Avenue South)
LOW TICKETS! Chef Kahlil Arnold (Arnold's Country Kitchen) X Chef Deb Paquette (Etch, Etc., Jasper's)
Thursday, February 24 | 6:30 p.m. | $110/person | at Arnold's Country Kitchen (605 8th Avenue South)
SOLD OUT! Chef Ryan Poli (Bobby Hotel) X Chef Rooney (Black Dynasty Secret Ramen House)
at Bobby Hotel on February 14
SOLD OUT! Chef Andrew Carmellini (The Dutch, Carne Mare) X
Chef Julia Sullivan (Henrietta Red) at Carne Mare on February 17
SOLD OUT! Chef Sean Brock (Joyland, The Continental, Audrey) X
Chef Tyler Brown (Southall) at Joyland on February 18
SOLD OUT! Chef Maneet Chauhan (Morph Hospitality) X
Chef Joshua Walker (Xiao Bao Biscuit) at Chaatable February 22
SOLD OUT! Chef RJ Cooper (Saint Stephen) X Chef Gerard Craft (Pastaria)
at Saint Stephen on February 23
SOLD OUT! Chef Trevor Moran (Locust) X Pitmaster Pat Martin
(Martin's Bar-B-Que Joint, Hugh Baby's) at Locust on February 28
Restaurant Week Participants (February 21-27)
$20 Prix Fixe Brunch
Anzie Blue
Central Bar + Kitchen
City Winery
Gray & Dudley
Jane's Hideaway
Jasper's
John A's
The Loveless Cafe (available all day)
NEW! The Southern (Friday-Sunday only)
$20 Prix Fixe Lunch
Denim
NEW! Edessa
Ella's on 2nd
Elliston Place Soda Shop
Jasper's
Kitchen Notes
Stompin' Grounds
Tennessee Brew Works
The Gumbo Bros
$20 Lunch Deals from
Assembly Food Hall Restaurants
Chilangos
Cocos Café
Cocos Pasta
Cotton & Snow
DeSanos Pizza
Donut Distillery
Hattie Janes
Horu Sushi
NEW! Istanbul Shawarma
Liege Waffle
No Baked
Pharmacy Burger
Pharmacy Wurst
Philly Special
Poke Nash
Prince's Hot Chicken
Saffron Kitchen
Smokin Chickin
SteamBoys
Thai Esane
Velvet Taco
Whisk Crêpes Café
$35 Prix Fixe Dinner
NEW! Acme Feed & Seed
Central Bar + Kitchen
Church & Union
Ella's on 2nd
Gray & Dudley
Härth
Jasper's
John A's
Kitchen Notes
NEW! Martin's Bar-B-Que Joint
Nicky's Coal Fired
Puckett's Grocery & Restaurant (Downtown Nashville only)
Sadie's
The Gumbo Bros
The Loveless Cafe
The Nashville Palace
Zeppelin
$50 Prix Fixe Dinner
Adele's
City Winery
Common's Club
Denim
Fable Lounge
Härth
Henley
Jane's Hideaway
Kitchen Notes
NEW! Jimmy Kelly's Steakhouse
JWB Grill
Kona Grill
Nashville Taphouse
Saint Stephen
Sinema
Stationairy
TENN Restaurant
The Hart
The Nashville Grange
Urban Grub
Deals & Discounts
6th & Peabody
Café at Bobby
Diskin Cider
Goo Goo Clusters
Hattie B's (all Nashville locations)
Pie Town Tacos
NEW! Pink Door Cookies
Tennessee Brew Works