It's Getting Nasty: How Sickness Is Spreading Across Houston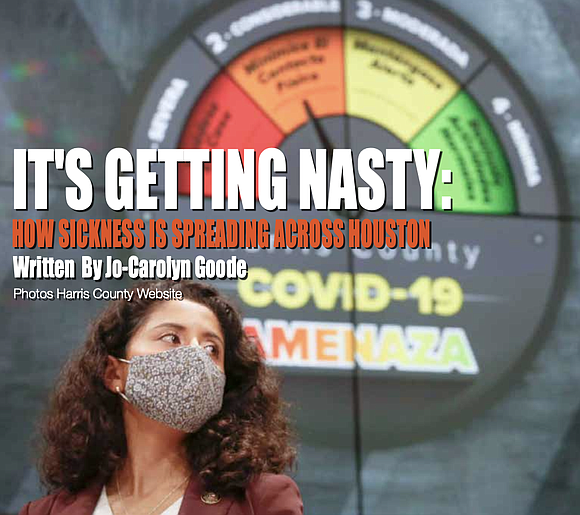 Today, a simple cough can clear a room. With the rise of positive COVID cases, Houston streets are getting nasty. People have become less concerned about wearing masks and social distancing. Many Houstonians have a false sense of security that the COVID vaccine is the ultimate protection against the coronavirus. Although the vaccine does provide protection against getting the virus, it does not mean a vaccinated individual can't get COVID. The vaccine can lessen the severity of symptoms. People must continue practicing safety precautions, especially in a population where there are so many unvaccinated individuals.
Data from the US Department of Health and Human Services has a record of more than 103,000 people currently being hospitalized with COVID. It was 71,000 in December and 45,000 in November. We are eerily climbing to the record that was set on January 14, 2021, of 142,000 hospitalized cases of COVID. The omicron variant is infecting people at a rate unlike any other variant, but with less severity than the delta variant.
The Houston Factor
Positive cases of COVID are rising rapidly in Houston. Harris County Judge Lina Hildago is watching the numbers ever so carefully. With the way COVID has overtaken Houston, it has been an up and down roller coaster of peaks and valleys. Right now, Houston is on the wrong side of the curve. A little over 15 days ago, Harris County Judge Lina Hildago had to raise the county's threat level from Level 3 to the orange Level 2. According to readyharris.gov, Level 2 is a significant and uncontrolled level of COVID-19 in the county. There is an ongoing transmission of the virus. Unvaccinated residents should minimize their contact with others, avoid large gatherings, and only visit permissible businesses that follow public health guidance. But data indicates this advice is falling on deaf ears among the unvaccinated, as they are making up most of the new cases of COVID in Houston. Right now, COVID positive patients occupy 12% of the county's ICU beds. If the rate reaches 20%, Judge Hildago will raise the threat level to the highest it can be Level 1 – red. Level 1 suggests everyone stay home and work safe.
Medical officials expect numbers to rise as people return home from large gatherings over the holidays and start returning to daily life. Getting tested and quarantining is highly suggested for all those who did travel outside the Houston area.
The concern over COVID combined with the rapid spread of the omicron variant has caused a demand for COVID testing. However, finding a test is hard to find. Places that regularly would carry at-home test kits are out and there weren't many testing facilities. In response to the demand, the city of Houston approved the opening of testing mega sites. This increased in testing sites caused a new concern. Getting the results of tests became increasingly hard. Usually results that would come in 1-2days is now taking 3-4 days or longer. Facilities that process test have said that their workload has increased by 500% and making matters worse for them is the number of employees who are contracting COVID shrinking their staff.
"The increased demand for testing has led to longer than usual lines and wait times for some. The new site will help meet the demand and expand capacity for testing," said Mayor Turner in a statement.
Curative, United Memorial Medical Center, and multi-service center sites can provide approximately 27,000 daily tests according to a media release. People can visit HoustonHealth.org or call 832-393-4220 to find nearby free health department-affiliated testing sites and schedules.
"With Omicron being much more contagious than previous strains and causing more breakthrough infections, testing is an important tool to slow the spread," said Dr. David Persse, chief medical officer for the City of Houston. He further added that getting tested is a good idea if you recently participated in a gathering with people who do not live in your home as many did over the holiday season.
Children and COVID
A new factor in the fight against COVID is the number of children being diagnosed with the corona virus in light of omicron's dominance. The American Academy of Pediatrics said a record number of new cases for children topped over 325,000 in one week. While the Centers for Disease Control and Prevention reports an average of close 700 children being hospitalized with COVID a day.
Good news for children is that now all those ages 12 and up can get the booster shot. Following the endorsement of the Advisory Committee on Immunization Practices, the CDC is now endorsing the booster shot for children who are 12-15 years old to be received 5 months after their initial Pfizer-BioNTech vaccination series. Only the Pfizer-BioNTech COVID-19 vaccine is recommended for adolescents aged 12-17.
"It is critical that we protect our children and teens from COVID-19 infection and the complications of severe disease. Today, I endorsed ACIP's vote to expand eligibility and strengthen our recommendations for booster doses. We now recommend that all adolescents aged 12-17 years should receive a booster shot 5 months after their primary series. This booster dose will provide optimized protection against COVID-19 and the Omicron variant. I encourage all parents to keep their children up to date with CDC's COVID-19 vaccine recommendations," said CDC Director, Dr. Rochelle Walensky in a statement.
This is welcoming news as hospitals prepare for the likely increase of COVID cases in children as they return to in-person education.
Support from the Biden administration
Houston is getting national support from the President Joe Biden administration. Just this week it was announce that the more federally run free testing sites would open in six states and Texas was one of them.
CNN reports the White House Covid-19 response coordinator Jeff Zients said, the White House "is deploying every available measure to help states communities and hospitals confront this Omicron challenge. Military doctors, nurses, and EMTs are now in place assisting local hospital staff and states across the country, with additional teams ready to deploy as needed."
In addition to these measures, the administration is increasing the availability of at-home testing kits, shipping millions of pieces of personal protective equipment, and they area work with Pfizer on their antiviral pill.
The omicron variant maybe less threating, it still causes great concern with its rapid spread. Dr. Anthony Facui, the nation's top infectious disease expert, who warned Americans to brace for difficult weeks ahead on CNN's State of the Union in December, hinted that these dangers may stress the medical system. Others have echoed his sentiments saying that we have not seen the worst of it yet.
There are 180 million people in the US and data indicates that only a 5th of the population is vaccinated. People have to get vaccinated in order for COVID to get behind us so we can all start to move forward in a more normal fashion. Get vaxxed. Get tested. Wear a mask. Social distance. Stay healthy. Stay safe.