Discover Highland Lakes, TX: A Hill Country Crown Jewel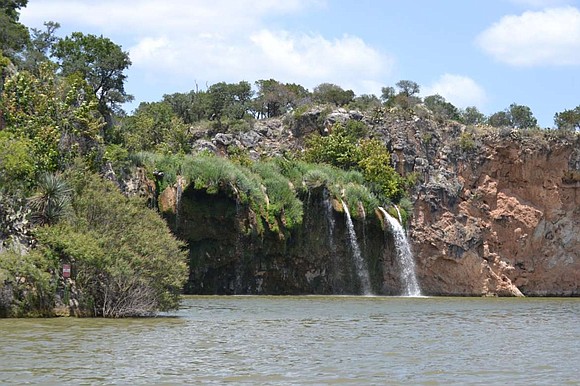 Just when you thought you have discovered all of the fun and trendy destinations in Texas to visit, you then stumble upon a new treasure that is remarkable in its own right.
Located in the northern part of Hill County Texas, an hour northwest of Austin, Highland Lakes is a place that has something for everyone. From shopping, recreational activities (that are endless) to wine, wine and more wine – you are in for a treat. Highland Lakes, located in Burnet County is defined by Lake Buchanan, Lake LBJ and Inks Lake which are the crown jewels of this region, attracting majority of its visitors from around the world.
So, whether you want to spend your days on the water, touring one of the many wineries in the area, hiking or biking throughout the limestone outcroppings or shopping at a fabulous boutique, there's plenty to do and explore in Highland Lakes.
DRIVE ON IN
On a scenic highway drive while following the Colorado River, it will lead you directly into the heart of the Texas Hill Country. Here you will find yourself in Marble Falls. Founded in 1887, this small town with a big heart is a welcoming destination for adventures on land and lake alike. The charming and walkable downtown boasts an inspired and independent array of culinary and retail surprises. Start your morning off by taking an opportunity to experience breakfast at Blue Bonnet Café. This 1929 landmark is a famous classic comfort and has even hosted presidents for Pie Happy! Get there early and make an order for the pancakes along with cup of coffee and a perfect slice of pie to start your day.
📸: Blue Bonnet Cafe
GET COMFY
The days of checking into a hotel, getting your bellhop and being escorted to your room are becoming more and more less ideal. Now, it's all about thinking outside of hotel four walls and that's exactly what the Container City is doing in Highland Lakes TX. A super cool concept that recently opened in Burnet County. The property has six cabins that are available for short term rentals during a visit. All of the cabins are constructed from shipping containers with full kitchens, beds, bathrooms, showers, patios, balconies, living rooms, television, internet and picnic area which all make the living experience a unique one. The Container City also includes RV slips, food, drinks and live music at Templeton's Tavern and bike-in/bike-out access to Spider Mountain.
📸: The Container City
GET A THRILL
For those of you all who may be explorers, you'll find that the Longhorn Cavern State Park is a unique Hill Country destination full of natural beauty and Texas-sized tales. Developed in the 1930s by the Civilian Conservation Corps (CCC), the park's star attraction is Longhorn Cavern. Here you'll be able to venture miles into an underground wonder created by the dissolving and cutting action of an ancient river that once flowed through the area. Enjoy a guided cave tour, hike a trail, and admire some of Texas' best examples of historic architecture.
📸: Longhorn Cavern State Park
Whether you are an expert or beginner mountain biker, Spider Mountain is a must do while in Burnet County. Even if you're going just to experience Texas' first and only chair lift, Spider Mountain offers bikers 350 vertical feet of gravity filled fun from the top. With a variety of trails for all abilities, you have a vast choice ranging from beginner to expert bringing you back to the bottom of the lift.
📸: Reggie Dominique - Spider Mountain
WINE & DINE
You can't speak of Texas Hill Country without mentioning wine. Burnet County may be easygoing, but don't sleep on their wine scene. A bounty of wineries calls the area home including Torr Na Lochs Vineyard and Winery. Located high above the Colorado River Valley overlooking both Inks and Buchanan lakes at Torr Na Lochs you can enjoy a tasting of wines that are made with only 100% Texas fruit. Savor great Texas wines and gorgeous views at Torr Na Lochs.
📸: Torr Na Lochs Vineyard and Winery
Let your palate wander at Perissos Vineyard and Winery. This 16-acre estate vineyard offers tastings, tours, and an abundance of award-winning varietals. Their tasting room is very nice and the surrounding vineyards are truly exceptional - healthy looking, well-tended with vines full of grapes. Enjoy a 5-wine tasting which included two of their award-winning wines.
📸: Perissos Vineyard and Winery
With everything going on in Highland Lakes, TX, everyone from everywhere can come and make memorable memories. Whether you're wanting to embark on one of your next camping adventures or sip on some of the nation's best wines, your Hill Country experience will be as stress-free as possible. Have fun! Almost every trip is calculated, but what's great about Highland Lakes (Burnet County) is that it's not to be expected and that's the fun part of the adventure. Get a fire going, roast some marshmallows, get on the water, rent a mountain bike or just relax… but regardless, just have some fun!