Elegance and Luxury awaits you at the Windsor Court Hotel New Orleans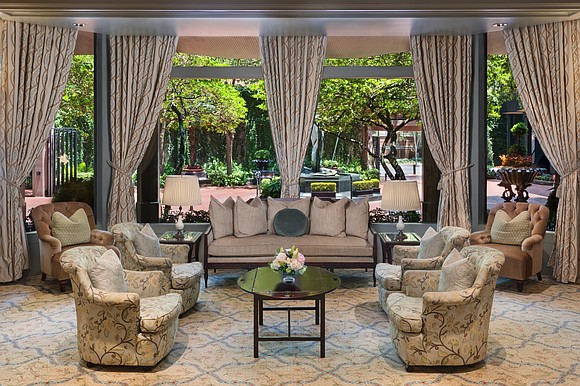 When you hear the name Windsor Court, you immediately think of Royalty and as you walk through the doors of the Windsor Court Hotel in New Orleans, Royalty is what you become.
Distinctly different from any other property in NOLA, the Windsor Court Hotel is known as the crown jewel of New Orleans. The property is iconic for providing unmatched service, luxury and grace that is fitted to treat its guest as if they are a member of the Royal Family.
Developed by New Orleans businessman James "Jimmy" Coleman, Jr., his concept for the property would first start during his time at Oxford University in England. The Windsor Court opened in 1984 to accolades, and was widely considered one of the best hotels in the world. In 1975, the British government named Jimmy as its honorary consul in New Orleans and for his dedication, Queen Elizabeth II made him one of few Americans appointed as both a member of the Order of the British Empire (OBE) in 1986 and Commander of the British Empire (CBE) in 2015.
Since opening, the 23-story landmark hotel and all 316 guest rooms (260 being suites) have undergone millions of dollars in renovation that has elevated its luxury with a modern refresh. As a member of the Preferred Hotels & Resorts Legend Collection, the service is what sets this property apart. During my three-night stay, from the moment I exited my vehicle, the staff was incredible at making me feel more at home versus like a guest.
After I checked in, I entered my large king suite which was a wonderful bonus. The Deluxe Suites offers 600 square feet making the Windsor Court Hotel rooms the largest per capital in the city. Inside you will find ample seating areas complete with a fully stocked wet bar, circular marble topped dining table, lush sofa and a solid oak wood desk.
Separated by beautiful white French doors, the airy bedroom and separate dressing areas ensure plenty of privacy, whether it's to prepare for a busy day ahead or wind down for a restful night's sleep. You will find your king bed to be extremely comfy and the towels so plush that they nearly feel like memory foam. The housekeeping was outstanding - extremely meticulous, and the turn down service is impeccable.
The hotel previously underwent other renovations, including a $22 million project in 2011-2012 that restored the Club Level Lounge; re-conceptualized the renowned Le Salon; revitalized The Grill Room, Polo Club Lounge, pool area and meeting spaces; and added The Spa at Windsor Court.
Although the property is just walking distance from the historic French Quarter, the quiet sanctuary is just far enough away from Bourbon Street's liveliness but close enough to enjoy the city when needed.
If relaxation is your priority, a remarkable experience awaits you at The Spa at Windsor Court. Opened in 2012 and has been hotel specific since 2018, The Spa at Windsor Court welcomes you to slow down and relax. Offering a fresh approach to spa services while maintaining the tranquility of its old-world charm when you enter, you are welcomed to unwind while the devoted staff makes sure you leave feeling rejuvenated.
The full-service spa offers luxurious treatment rooms and an inviting spa boutique with the highest quality product ingredients available. Offering many different services for all needs, I'd highly recommend the Lord Jones CBD Massage. Pain reliving and sleep induced; the Lord Jones CBD Massage is described as revolutionary. The Lord Jones craft is magic, crafting the world's finest CBD product with best-in-class formulas and finest ingredients. This service utilizes all Lord Jones CBD products for a renewing experience, allowing you to drift away in a place of relaxation. My masseuse was Jo and she comes highly recommended and is very knowledgeable about the CBD world and all it has to offer.
Windsor Court's British influence is undeniable, and it's apparent in every aspect of the hotel, from carrying over $10 million of museum-quality art to staying true to its traditional English origins. The Windsor Court Hotel is also known for its afternoon tea in New Orleans. Perhaps the most obvious tip of the crown to the British inspiration is the traditional pastime of afternoon tea, served every Friday thru Sunday in Le Salon.
Offering a large selection of the finest loose-leaf variety brews, each seating begins with a signature cocktail or sparkling beverage, followed by a properly brewed pot of tea, gourmet tea sandwiches, house-made scones and delicious desserts. A harpist or pianist also accompanies each teatime, creating a wonderful high tea British experience.
For dining with an ambiance that reminds you of a royal palace, The Grill Room at Windsor Court will satisfy your appetite. Seated at a beautiful round table overlooking the hotel's entrance, the interior design of The Grill Room won't let you forget that you're in an establishment called the Windsor Court.
You're invited to enjoy a remarkable breakfast, lunch or dinner at one of the finest restaurants in the world - and one of only three four-star/four-diamond restaurants in all of Louisiana. The restaurant is known for its contemporary American cuisine, offering a menu that changes monthly.
The bar and lounge area resembles that of a traditional English country club, with deep leather couches and chairs, rich dark woods and regal seating found throughout the dining room. I would highly recommend trying the blueberry cheesecake for dessert. Described a luscious, rich and sweet dessert, the texture is light and airy and is rich, smooth and creamy.
Everything about the Windsor Court leaves its guest with a unique and lasting impression. The property's spacious accommodations create the ideal home away from home feel and the inviting yet sophisticated décor and staff offers endless ways for couples, friends, and families to connect with one another and with the local culture.
With amazing views of both the mighty Mississippi River and New Orleans' skyline, on-site world-class fine dining, a rooftop pool, a full-service spa, a proper tea service, spacious suites and executive club levels, the hotel is sure to create a memorable experience. For more information and to book your stay, visit www.windsorcourthotel.com