The Ceremonia Holiday Edit Is Here!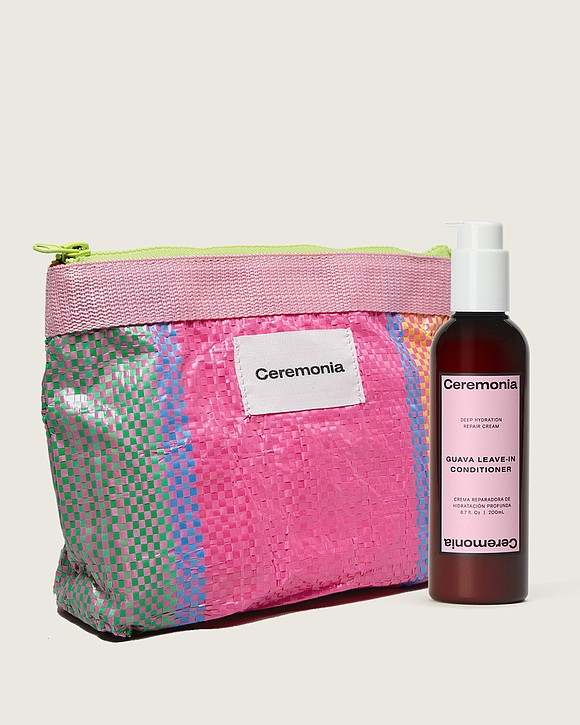 Ceremonia, the clean hair care brand rooted in Latinx heritage, introduces its Holiday Edit for 2022! From festive and expressive Peinetas hair clips to some of your favorites now available bundled together, there is something for everyone on your wish list - including yourself!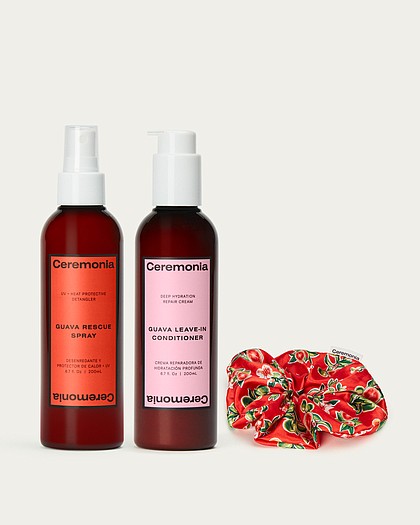 $75 and Under
The Home Spa Set - $75 ($90 value) - Everything you need to give a spa ritual at home. Combine the deep-cleaning powers of the Papaya Scalp Scrub with the damage-fighting oils of the Mascarilla de Babassu, then wrap hair up luxuriously in Ceremonia's beloved Anti-Frizz Hair Towel, for the ultimate hair wellness treat.
$50 and Under
The Gift of Guava Set - $50 ($58 value) - For the Guava-obsessed, give the Gifts of Guava Set! Ceremonia paired their best-selling Guava Rescue Spray and Guava Leave-In Conditioner with your favorite accessory—the Satin Scrunchie.
The Scalp Ritual Set - $42 ($50 value) - Just in time for the holiday season, meet the Scalp Ritual Set. Your secret to hair wellness is now bundled into an unstoppable trio. The Scalp Ritual Set includes the award-winning scalp remedy oil, Aceite de Moska, the bestselling Scalp Masajeador, and the plush spa headband in white.
Candle de Ceremonia - $42 - Formulated with Coconut Apricot wax, this candle is crafted with intentional ingredients and flat braid technology (with a wick made of cotton and paper), manifesting a cleaner burning experience, because what we put out into the air, we breathe back in. The signature Ceremonia essence provokes the duality between nostalgia and modernity, featuring a scent that blooms of soft woody notes and a delicate hint of lemon zest. South American tonka beans offer a nostalgic sense of familiarity, yet uniqueness, alongside subtle whispers of violet, black tea, vetiver and brown sugar. The layered scent opens up and blossoms in its entirety, offering the woodiness of a vibrant, humid rainforest - perfect for burning this holiday season!
$35 and Under
The Curl Manifest Kit - $35 ($58 value) - Give the gift of curls! This defining duo pairs Ceremonia's beloved weightless milky serum, the Pequi Curl Activator, with its award-winning collapsible curl enhancing diffuser, the Diffuser de Rizos.
Hair Towel - $32 - A luxuriously soft microfiber towel that absorbs excess water without creating frizz or breakage. Hair dries faster than when using a traditional towel, and hair is left frizz-free, shiny and soft.
The Guava On The Go Kit - $30 ($38 value) - For your favorite travel lover, gift the Guava On The Go Kit! Ceremonia paired their best-selling Guava Leave-In Conditioner with the upcycled Pouch de Mercado to take your favorite Ceremonia products with you anywhere.
$25 and Under (Perfect Stocking Stuffers!)
The Peinetas Duo - $16 - Like an ornament for your hair, meet The Peinetas. These elevated hair combs are a modern take on the traditional Latinx peineta. In mood-boosting hues and fun Latinx phrases, these acrylic combs easily clip in (and stay in) all hair types.
Scalp Masajeador - $16 - This miracle-tool invigorates blood flow to the scalp to help promote healthy hair, exfoliates the scalp by gently yet effectively lifting sebum and product buildup that accumulates between washes, helps distribute natural oils to boost hair's luster and helps to control flakiness. Your spa just came home with you!
The Ceremonia Scrunchie - $15 - Meet the Satin Scrunchie, an oversized, fluffy scrunchie made from 100% satin that reduces hair breakage and minimizes dents and creases.
Pouch de Mercado - $14 - The Ceremonia Pouch de Mercado is handmade in Bogotá at a family-run workshop, using up-cycled materials from the local farmers market. This durable material was originally used for transporting goods at the market, now repurposed into these iconic Ceremonia Mercado Pouches. Made partially with woven, repurposed polypropylene. Because of the nature of up-cycled materials, each pouch is unique.