Dope Moms With Natural Hair Love The Doux, Mother's Day Gifts Under $100.00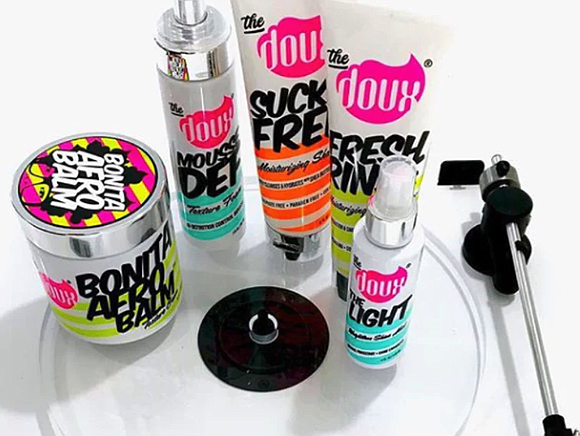 The Doux is a line of hair care (created by a mother of 5) getting attention for bold packaging, clever product names inspired by 90's hip hop and being a go-to option for natural curls, wavy, loose, or super tight. Available at select Target stores and at Thedoux.com All 5 products below are available for under $75.00!!
*SUCKA FREE™ Moisturizing Shampoo
Sulphate & Paraben-free Shampoo with Shea Butter & Sea Silk. A gentle cleansing shampoo for thick, dry, or color-treated hair. A one-of-a-kind shampoo that cleanses hair while providing the ultimate hydration. Safe for color-treated and chemically treated hair, as well as all hair types, this moisturizing shampoo also protects hair from heat and sun damage with Shea Butter and Sea Silk to leave your curls feeling clean and soft.
MSRP: $12.99.
*FRESH RINSE™ Moisturizing Conditioner
Ultra-hydrating conditioner has amazing slip for easy detangling. Sea silk smooths the cuticle, leaving hair frizz-free and full of body. Sulfate-free and paraben-free hydrating conditioner formulated with the perfect combination of Shea Butter and Sea Silk. This ultra-moisturizing conditioner hydrates hair and provide thermal and environmental protection.
MSRP: $12.99.
*BONITA AFRO BALM™
Shine Enhancing Texture Cream is a must for girls who crave that sexy, wavy, beachy, mermaid hair. Just a nickel sized amount in damp long hair achieves the look when letting it air dry or blowdryer on low. Bonita Afro Balm is a salon-quality multi-purpose styling cream for different styles and textures. With the power of the Goji Berry and other organic botanicals, it improves overall hair shine, softness, and moisture. It reduces frizz and fly-aways and lengthen curls for more manageability and control for natural curls, twists, braids, or anything in between. Certified organic botanicals, alcohol & paraben free. MSRP: $15.99.
*MOUSSE DEF™
Texture Foam Non-flaking mousse gives touchable definition to curly styles free of stiffness, cloudiness, or crunch and provides the perfect amount of hold to define your curls or control your sleek look. Soy proteins and natural humectants make this humidity-resistant styling aid ideal for thermal styling as well. The Doux Mousse Def Texture Foam gives definition, shine, and volume to every hair type and curl pattern. MSRP: $14.99
*THE LIGHT™ Is a multi-purpose Shine Mist which preserves color and protects hair from heat styling and environmental damage. It reduces drying time when used prior to blow drying and delivers weightless shine to finished looks. Adds natural luster to natural styles. Infused with Black Cacao, Passion Fruit, and Palm Oil. MSRP: $14.99.