Join the Dance for a Cause: Sipping PositiviTea's Online Fundraiser for Breast Cancer Awareness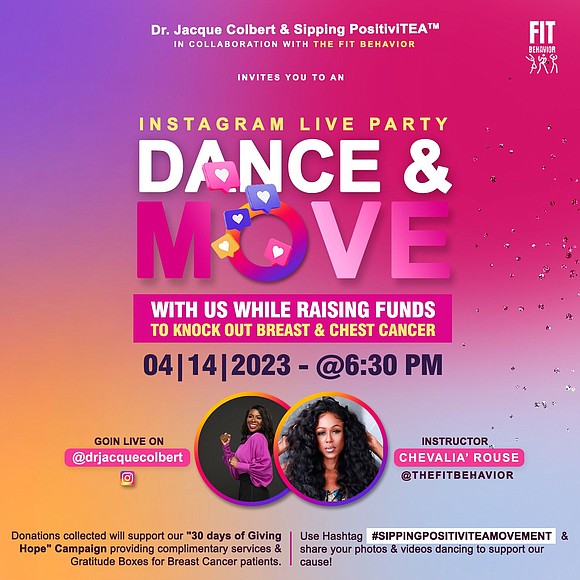 Houston, TX – Sipping PositiviTea, a 501c3 nonprofit organization dedicated to informing, educating, and empowering women, men, and families impacted by breast cancer and related illnesses, has successfully concluded the Big Energy Brunch. This event was designed to raise awareness and funds for those struggling with mental health challenges related to Breast and Chest Cancer. Along with the event, the organization also provided information about getting tested and supported current Breast Cancer patients and survivors. Sipping PositiviTea remains committed to promoting breast cancer awareness and supporting those impacted by the disease.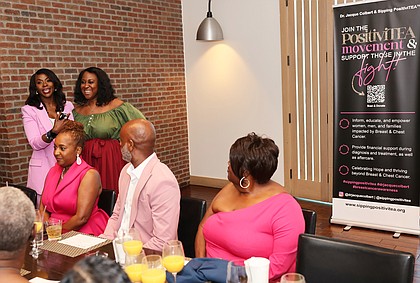 Sipping PositiviTEA's current 30 Days of Hope initiative celebrates Breast Cancer patients and survivors during International Women's Month and National Hope Month. The campaign continues through April to include providing complimentary lymphatic drainage massages, cleaning services, Sipping PositiviTEA gratitude boxes, and meal vouchers.
The series of events kicked off with the Big Energy Brunch, where attendees had the opportunity to connect, share stories, and network while learning more about the organization's mission. Sipping PositiviTEA made a positive impact by gifting a breast cancer patient flowers at the event.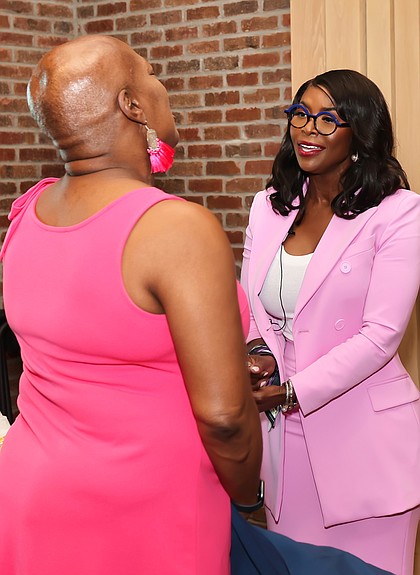 "Flowers are not just beautiful objects to admire; they serve as a reminder to appreciate and celebrate the people in our lives while they are still with us."
The campaign continues with an online dance segment in partnership with Heels Out and The Fit Behavior. The upcoming online dance segment is not only a fun and exciting way to get involved with the Sipping PositiviTEA community, but it's also a fundraiser aimed at raising funds to support the 30 days of Hope Campaign. By participating in this virtual dance event, attendees will be able to contribute to a worthy cause while enjoying a high-energy dance experience from the comfort of their own homes. This event is an excellent opportunity to have some fun, stay active, and make a positive impact on the lives of those fighting breast cancer and related illnesses.
Dr. Jacque Colbert, Founder of Sipping PositiviTea recognizes the tremendous emotional toll a breast cancer diagnosis can have on the patient and their loved ones. "We want to create a community where people can find support and information," she explains. "We encourage early detection and provide resources for patients and survivors to thrive in their daily lives." By fostering a supportive environment and promoting healthy habits, Sipping PositiviTea empowers those impacted by breast cancer to face their challenges with strength and resilience.
If you want to support Sipping PositiviTea's cause, visit their website at www.sippingpositivitea.org for more information about upcoming events. It's an opportunity to have fun, meet new people, and make a difference in the community.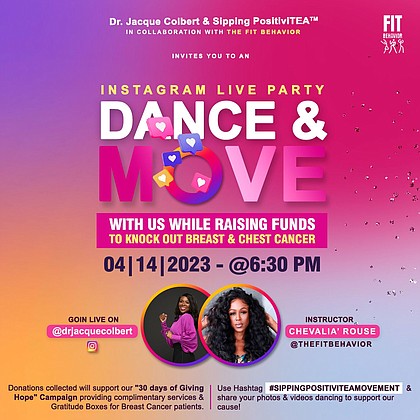 To inquire about Zoom/Skype interviews, email info@innovatingmarketinggroup.com or contact Sr. Publicist LaToya Hurley at 346-980-9062.