2022 Houston Food Things List!
Alex Jack | 1/3/2023, 4:14 p.m.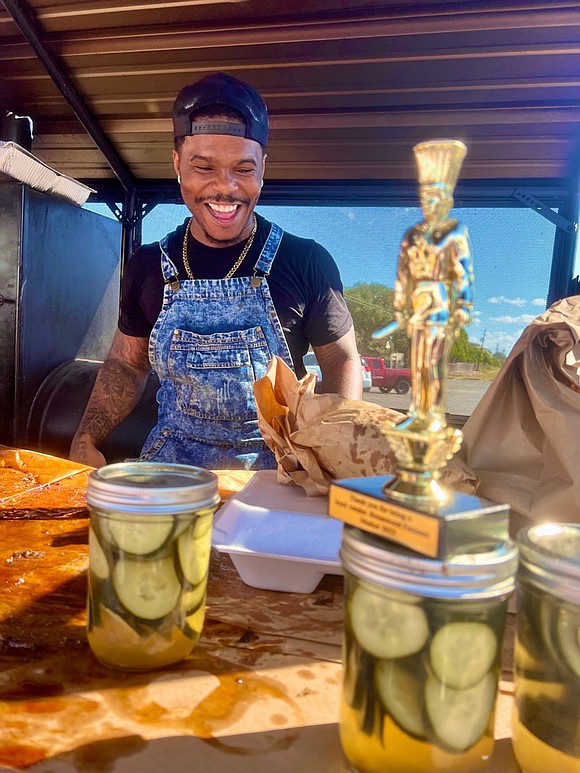 Hey Houston! 2022 has been a great year in culinary for Houston. What better way to end the year than with the Food Things List 2022! This list showcases some of the best food experiences that include restaurants, amazing dishes, chefs, foodie must-haves and more to take you into 2023! So let's get into it…
Favorite Food People:
Flavor! Passion! Skill! This year we would like to recognize three chefs that have created dishes or had dinners that included some of the best dishes. These chefs not only throw down in the kitchen but they have created communities around their missions.
- 2022 Favorite Chef: Chef Reginald Scott of The Smoke:
One of our most memorable dishes from Chef Reginald Scott has to be "Chlorophyll", sweet beet cornbread salad with pickled rainbow beets and collard green puree presented at Black Chef Table. Chef Reginald is also known for his skills on the pit! Be sure to check out his new restaurant, The Smoke located in Finn Hall, where he showcases a smoked meat experience. From his journey and advocacy in mental health to his beautiful collaboration with his daughter Payton with Payton's Pickles, we are looking forward to seeing even more success in the new year.
- Chef to Watch Out for in 2023:Chef Mason Leverett of B.I.T.E Kitchen
We met Chef Mason towards the end of the year but we have been watching for a while. Our palates were changed with his Cauliflower Steak with Romesco, King Trumpets, and Chimichurri. Chef Mason is the Owner and Executive Chef of B.I.T.E Kitchen and graduate of Lenotre Culinary Institute. His skills are impeccable and we are excited for what is to come for him in the new year not only as a chef but as an entrepreneur.
- 2022 Innovative Chefs: Chef Onyi & Chef Webster of The Kitchen Finesser
Chef Onyi of the Kitchen Finesser was the first chef that we profiled with Houston Style. Since that article we have seen nothing but growth and innovation from her and Chef Webster! We love how they bring flavor by way of culture and heritage. Our favorite dishes include Beef Suya, Cajun Suppli, Jerk Chicken, and Braised Oxtails! We love experiencing their pop up restaurants at The Flat and watching their beautiful dishes and travels on Instagram. In 2023, we are expecting even more innovations from them in the new year.
Favorite Food Change Makers:
Our Favorite Food Change Makers include three entities that are built on advocacy for food insecurity, food availability, Black farmers and Black businesses. As a reader we hope that you help spread the word of all of these Change Makers amazing work and SUPPORT!
Ivy Leaf Farms/Fresh Houwse: Ivy Walls and Jeremy Peaches are Black Farmers that are making change by bringing awareness and building a road to food accessibility in Sunnyside. Ivy Leaf Farms is also one of the many Black farmers in partnership with Black Chef Table.
District Market Green Grocers: We met Robert Thomas when he was getting ready to open this nightclub turned grocery store on Cypress Creek Parkway. The grocery store is unique because it has a growing number of carefully curated Black-owned products on the shelves as well as a juice bar which brings awareness to health consciousness to the community.
Freedmen's Town Farmers Market: In the heart of Houston's historic Fourth Ward, Freedmen's Town Farmers Market brings history and food accessibility to the community. They showcase Black owned businesses and they are changing the game by being a farmer's market that accepts EBT!
Favorite Food Things to Experience in Houston: Events
Black Chef Table: Created by Houston Restaurateur Marcus Davis and Chef Keisha Griggs, Black Chef Table is an on-going dinner series that showcases Black chefs from across the nation as they tell their story across a multicourse meal. Black Chef Table bridges the gap between Black Chefs and Black farmers and purveyors. Chefs that have been showcased include, Chef Jeffrey Taylor, Chef Reginald Scott, Chef Salimah Muhumad, Ghetto Gastro, and so many more!
Oxtail Mashup: Oxtail Mashup brought together chefs from all over the world to compete in this world renowned oxtail competition at Project Row Houses. This year they featured 17 chefs, 6 bartenders, and 3 DJs that showed up and showed out with their BEST. From the minds of Chef Shakti Baum of AssemblyHTX and Warren Luckett of Black Restaurant Weeks, this event is not only a culinary event but it's an event where you find your people and have a great time!
Houston Host: Chef Vicky V aka The Queen of Yum had a vision to host influencers from around the country in a curated fun weekend with her influencer friends to showcase all the things they love about Houston through the eyes of Black businesses and cultural experiences. They had two public events, Brunch on the Block at Stuff'd Wings and All the Smoke Dinner + Fashion Show.

Favorite Food Things to Eat in Houston: Restaurants/Dishes
BrunchBox (3513 Tierwester): Located in the heart of 3rd Ward BrunchBox is Home of the famous Fried Chicken and French Toast! Ms. Kimberly Hewitt started BrunchBox as a way to give back to her community and be a positive influence after the passing of her son. Be sure to try the French Toast Breakfast Sandwich, Juicy 3rd Ward Burger, Hot Lemon Pepper Wings and Fries along with the delicious Red Kool-Aid!
Jamaica Pon di Road (2213 S Victory Drive): Located in the historical Black neighborhood of Acres Home, husband and wife team Danielle and Gareth "Chef G" Powell are making innovative moves with bringing Jamaican traditional dishes with a modern twist. Expect to have the delicious classic dishes like Oxtails and Curry Chicken but also check out their Oxtail Cheesesteak and Oxtail Eggrolls! Please don't leave without a bottle of their signature jerk sauce so you can put on everything at home!
Daiquriland: Located in 3rd Ward, Daiquriland is not only instagrammable but it's delicious. Restaurateur Crystal and Clayton bring vibes across the board with the best daiquiris to have along with their Seafood Burger stuffed with crawfish tails and topped with shrimp. Be sure to also try their Fried Lobster, Boudin Balls, Pork Chops, Pineapple Bowl and Wings!
Favorite Food Things for Your Home: Products
Cognac Butter Pecan Syrup: Chef Cassi's of Chef Cassi's Table is blessing all of the waffles, french toast, fried chicken, sundaes, and anything else you can think of with this must have item for your cabinet, the soul warming Cognac Butter Pecan Syrup! Stop by H-E-B Central Market to pick up a few bottles for your cabinet but this is also a gift for your best foodie friend.
Avocado Crack: Like Beyonce suggests hot sauce in your bag, we are suggesting Avocado Crack! Yolanda Plear of Avocado Crack didn't become acquainted with avocados until she was an adult and her passion for avocados is extremely contagious. Prescribed to have an amazing avocado experience but Avocado Crack is great on everything. Add it to dips, margaritas, salads and more. I love it when making Baked Chicken. If you ever find yourself in a situation with bland food, pull this out. Avocado Crack is available in Original, Low Sodium and No Sodium which accommodates every lifestyle. Available at your local farmers market or order at avocadocrack.com
Kula Nola: Granola has been elevated to another level with Kula Nola. Handcrafted and curated by owner Yasha, he is "artisanally crafting guiltless pleasures" for your cabinet. Experience flavors like Banana Nut, Mokha Vanille, Salted Caramel Apple, and Blueberry Lemon. This is a great snack or topper for your yogurt or ice cream. Kula Nola is a multisensory experience from the taste and smell. Pick up all of the Kula Nola flavors at kulanola.com
Thank you all so much for joining us for an AMAZING FOOD YEAR! We are looking forward to an even more GRAND 2023! Please join us in making it your mission to support these amazing FOOD THINGS!