Ruth E. Carter: Shining the Light on Superheroes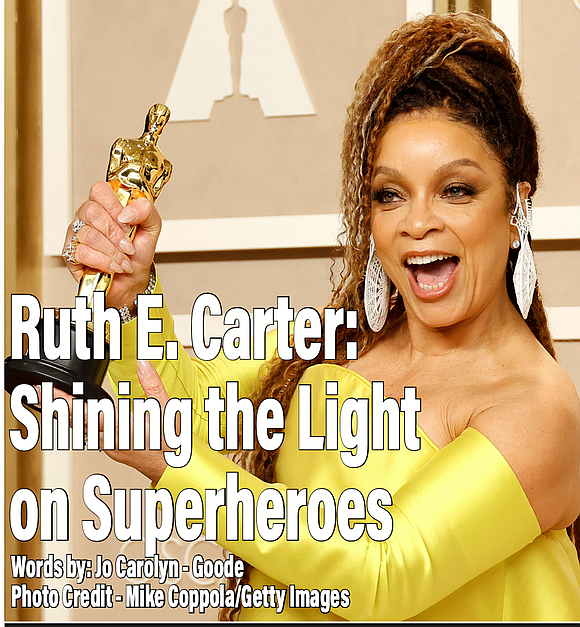 Imagination would have us believe that superheroes are fictional characters in capes, masks, and elaborate costumes with superhuman powers that either come to destroy or save life.
However, living in this world, some people have come to know that superheroes are indeed very real. We can call them by name and say how we have been rescued by them because they live among us.
Mabel Carter is costume designer Ruth E. Carter's superhero. Mabel Carter is Ruth E. Carter's 101-year-old mother, who recently passed away. Carter now calls her mother an ancestor and has asked that the late "Black Panther" actor Chadwick Boseman, who died in 2020 from cancer, take care of her mother,
Ruth E. Carter made history at the Academy Awards on Sunday night when she became the first Black woman to win two Oscars. Her first win was in 2019, when she became the first Black woman to win an Oscar for Best Costume Design for "Black Panther." Then she did a repeat this year, winning an Oscar for costume design for "Black Panther: Wakanda Forever." She is now the first Black woman to win two Oscars in any category.
In her acceptance speech, she thanked the Academy for "recognizing the superhero that is a Black woman." She went on to say, "She endures. She loves. She overcomes. She is every woman in this film."
Carter has become a superhero for many young girls because she knows the impossible is always possible if you just keep pushing and doing what you love.
Carter came to the 95th Academy Awards looking like she knew she would take home an Oscar, wearing a striking yellow gown that, when flipped, showed a vibrant hot pink, possibly giving a nod to her membership in Alpha Kappa Alpha Sorority, Inc. Carter became an honorary member in July 2021.
After graduating from what is now known as Hampton University in 1982, Carter began her career as an intern at the Santa Fe Opera. That gave way to a move to Los Angeles, CA, to work at the Los Angeles Theater Center. This move was key to her career as it opened the door for her to cross paths with Spike Lee. He would then hire Carter to work on eight of his films. One of those films, his biographical film Malcolm X (1992), got her first Oscar nomination. In her career, she has also worked with acclaimed directors such as John Singleton, Lee Daniels, Ava DuVernay, Steven Spielberg, and, of course, Ryan Coogler and Nate Moore. She received her second Oscar nomination for Steven Spielberg's 1997 drama film Amistad. Carter's career has spanned 30 years, with her work being featured in over 40 films.
On her Instagram account, Carter talks about how Shuri's costume came about. "Shuri's rise from baby sister to Black Panther was very unexpected, but she embraced it. Her conflict with her new role as Black Panther is seen within the gold and silver in her suit. Her brother, T'Challa wore silver vibranium, while the nemesis, Kilmonger wore gold. Swipe to see the process of creating Shuri's black panther costume design."
This is the artistry of a costume designer. When Carter got her star on the Hollywood Walk of Fame She said that a true costume designer has to like people and want to explore the "why" in their clothing choices. That also helps you build character in the future.
It was clear when it came to her designs in the "Black Panther" films that she wanted to reshape how the culture was represented in the Marvel and film universe.
Carter's work made us all believe in the impossible. It allowed us to know that superheroes can look just like us. She also reminded me that superheroes are not just on the big screen. Superheroes are those who help us to dream the impossible, do the impossible, and achieve the impossible.
Congratulations, Ruth E. Carter, for continuing to make what seemed impossible and possible if you just follow your dreams and do what you love.