The Highlands Community Donates $10,000 to Local Charities Following Home Tour
Montgomery County Food Bank and Sleep in Heavenly Peace Receive Charitable Contributions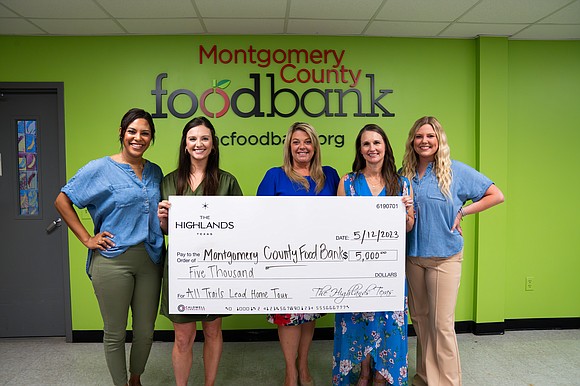 In April, The Highlands by Caldwell Communities hosted the "All Trails Lead Home" tour to showcase the community's abundant amenities and home design offerings. In addition to seventeen model homes, the tour highlighted the unique national park ambiance, miles of trails, Highland Pines Golf Course, recreational lakes and dozens of additional offerings for residents to enjoy.
While providing an opportunity for the public to experience life in the community, The Highlands also partnered with two local charities to give back to the greater Montgomery County area. The community donated $200 for each home sold in April to the Montgomery County Food Bank or Sleep in Heavenly Peace—an organization dedicated to building and assembling bunk beds for children and families in need in Montgomery County. In total, the All Trails Lead Home tour raised $5,000 for each of these charities, $10,000 in total, emphasizing Caldwell Communities' dedication to Living Well and loving others.

"Caldwell Communities generous donation from their home sales in April will help us in a lot of ways," said Mike Fortner, Co-President of Sleep in Heavenly Peace. "This will allow us to not only plan ahead but also buy the materials we need each time. The ability to fill that means a lot and without The Highlands help we couldn't do it. We are very grateful."
This philanthropic effort mirrors The Highlands' desire for residents to LiveWell—physically, mentally and spiritually—and feel connected to their community. In addition to dozens of active offerings, a full-time lifestyle director plans events year-round for residents to help them meet neighbors and engage with those around them. In the month of April, residents enjoyed Sunset Yoga, an Easter celebration with an egg hunt and a visit from the Easter Bunny and a National Park Week themed event with fishing, crafts and a scavenger hunt. The future fitness center will also have equipment for cardio and strength training as well as space for group classes such as yoga.
"Thank you to The Highlands by Caldwell Communities for supporting our neighbors in need and partnering with the Montgomery County Food Bank to fight hunger," said Kathy Rifaat, Director of Development for Montgomery County Food Bank.

Throughout April, in addition to the charitable donations, The Highlands team helped assemble and deliver beds to families in need with Sleep in Heavenly Peace, hosted a food drive with residents with the Montgomery County Food Bank and volunteered to help pack boxes of food.
"We believe in a higher calling to love our neighbor and help enrich the lives of those around us," said Peter Barnhart, President of Caldwell Communities. "We are incredibly grateful for the resources that allow us to partner with Sleep in Heavenly Peace and Montgomery County Food Bank as we look forward to making a lasting impact in the lives of these families."
For more information on The Highlands and the Spring Home Tour, visit www.TheHighlands.com.