Keeping Houston's Future Bright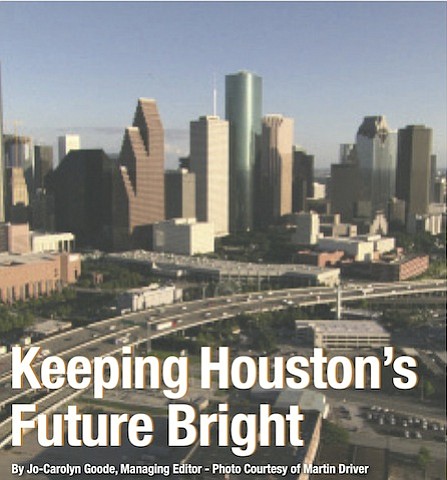 Houston is a great city because of the people that pour into daily to make it so. From the many residents that have chosen this as the place to raise their families to those who make and uphold our laws to those who put the city on the map for forward thinking, Houston's people are our best kept secrets. Two people contributing greatly to keeping Houston's future bright are Vera Bumpers and Carlecia D. Wright who enhance Houston's safety and economic growth.
Bumpers came to Houston in 1981 straight out of college after a friend asked her if she wanted to work at METRO. Initially, Bumpers' first job in Houston was only supposed to be for short while. Well, forty years later she is still here.
Before her heart fell in love with law enforcement, her goal was to have a career in social work. She just really wanted to help people. But life worked out in that she would help people in a different capacity. Throughout her career, she held multiple positions and have advanced to be the current METRO Chief of Police. In this role, she is still following her passion of helping others and really pours into those who wear the badge as she does by making sure they are doing the job that they were called to do with professionalism and respect. "I want to make sure I have an impact on those who wear this badge," said Chief Bumpers.
As a woman in leadership, Chief Bumpers thinks she and women in general as natural nurturers bring sensitivity to the workforce that man don't bring. "We understand that you don't have to be heavy handed or hard to get your point across," said Chief Bumpers. "We look at the big picture and are not narrowed focused. And we understand it goes beyond what you see."
What the general public might not see is that METRO PD does. The department is very similar to that of the Houston Police Department in that they go through the same training and they have the same state requirements. The real line in the sand between the two is based on jurisdiction. METRO PD makes anywhere METRO travels safe. That includes 1300 square miles, 4 counties, and 10,000 bus stops, "We go wherever METRO goes. If there is a crime committed, that is where we go," said Chief Bumpers. On any typical day at work, one can find Chief Bumpers multitasking. Whether she is addressing some of many complaints and concerns that make it to her desk, answering countless emails or just interacting with her staff, Chief Bumpers is always communicating to ensure everything is running smoothly.
Keeping all the moving parts in line seems like a huge job but is not something too tough for Chief Bumpers to handle. However, what she finds difficult might shock you. The most difficult part of her job is the very thing she is doing with me…speaking with the media. "I don't like the media spotlight," said Chief Bumpers. "I am just not an out front person. I have never been." She does admit the best part of her job is when she touches someone in a positive way. And that is the goal for all of METRO PD. They want to support the community in a positive way and make an impact. That is why you see them hosting backpack drives, speaking at schools, partnering with the Salvation Army and really giving back to the community they love to protect and serve.