Cleaning Service Helps Cancer Patients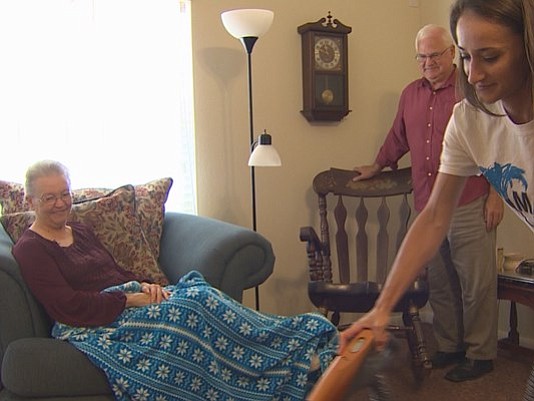 CONROE, Texas -- It looks like a typical morning for the cleaning crew from Maids And Moore Cleaning Services of Conroe.
But today's job at the home of Brenda Yuengel is far from typical.
They're doing it free of charge, and they couldn't be happier about it.
"Awesome. It really is awesome," said Shirley Kiser, who works for Maids And Moore.
"I'm so glad that y'all did this," Yuengel said.
Yuengel has been battling cancer since last October. It's left her so weak, at times any simple task is impossible.
Having her house cleaned for free, so she and her husband can concentrate on her recovery, well, it's priceless.
"When my daughter said she found this company, I was like, even one day will help. It'll help me physically and it will help me mentally," Yuengel said.
Maids and Moore teams up with the non-profit group Cleaning For A Reason to offer free house cleaning to women battling cancer.
"It's not only helping the patient, but it actually helps our morale. Our staff love it. They really like to come in, and they feel like they're helping somebody," said Holly Moore, the owner of Maids and Moore.
"Everybody has somebody with cancer. I've got several people I know that have that same cancer. You know, I can't help my people, but it always feels good to help other people," said worker Shirley Kiser, as she wipes the counters in the kitchen.
Yuengel is feeling better these days, and is optimistic about someday being cancer free.
To apply for free house cleaning or to help out, visit cleaningforareason.org.
If you know of someone who is Standing For Houston, email us here.
For more information go to http://www.khou.com