Introducing America's Next Iconic Restaurant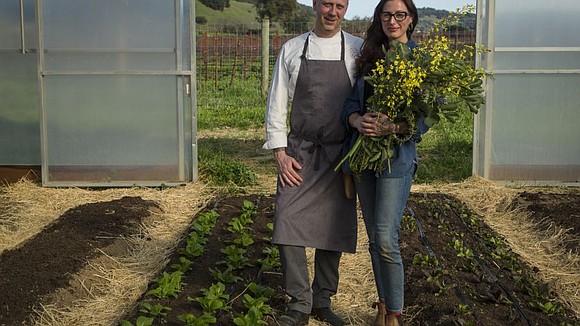 These dishes showcase the technique and precision Kyle learned during his stint running the experimental kitchen at The Fat Duck in Bray, England, as well as some of the training he picked up working at restaurants in Japan. One of Kyle's favorite methods of preparing proteins is in Japanese earthenware pots called "donabe," with some lining the back wall of the open kitchen.
A different approach
Food isn't the only thing that makes SingleThread stand out; the restaurant is blazing trails in a handful of other areas, too.
The way you pay is different. The 11-course adventure, now available for dinner six nights a week and lunch on weekends, costs $293 per person, and the only way to reserve a table is to buy a nonrefundable ticket, much like you would for a Broadway show or a professional sporting event. (Wine, including a pairing option, is extra.)
What you eat is different. About a week before every reservation, diners receive an email inquiring about dietary restrictions and personal preferences. Armed with this information, Kyle and his team prepare customized meals for every member of your party.
And SingleThread has reinvented the flow of a traditional meal. After check-in on the ground level, a host whisks you on an elevator to the rooftop garden with bird's-eye views of downtown Healdsburg. Servers pour sparkling wine and pass hors d'oeuvres up there until you say you're ready to head back downstairs and eat. Think of it as a complimentary cocktail hour.
If it's a nice night, you can opt to return to the roof for dessert courses such as frozen peach with buttermilk and blackberry consommé and hojicha ice cream with brown butter, puffed amaranth and apricot compote.
Selfless hospitality
After dinner, you can spend the night. Above the restaurant and below the roof are five sumptuous rooms with high ceilings, exposed brick, custom-designed paper lanterns and deep soaking tubs. Other amenities include breakfast with eggs from the farm and minibars stocked with local treats.
According to Kyle, these overnight accommodations, much like the rest of SingleThread, are modeled on the Japanese idea of selfless hospitality, a concept known as "omotenashi."
"When you come here, whether you're dining in our restaurant or spending the night upstairs, we want you to feel like a guest in our home," Kyle says. "For us, that above all else gives a sense of who we are and what we're about. That is authenticity."
SingleThread serves dinner Tuesday through Sunday from 5:30 to 11 p.m., and lunch Saturday and Sunday from 11:30 a.m. to 12:30 p.m.