Nationally Recognized Artists to Unveil Newly Created "Turtle Soup" Mural in East End Houston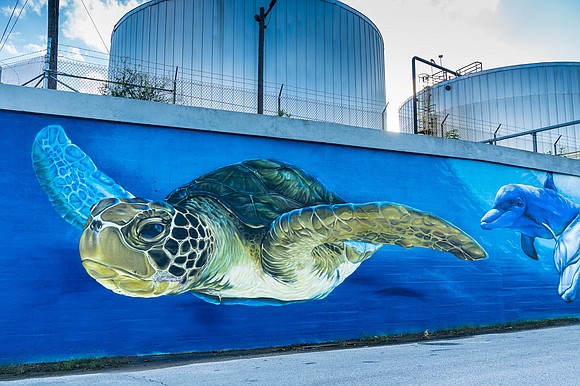 A 260-foot long concrete wall on JW Peavy Drive has been transformed by a colorful mural, "Turtle Soup," recently commissioned by the Greater East End Management District (GEEMD). The mural was painted by world-renowned graffiti artist Pilot FX (Adam Socie) with UP Art Studio. The initial design was created by local East End artist, "Magnolia Grown" Jesse Rodriguez. The GEEMD's beautification efforts have received recognition from Keep Houston Beautiful as well as being awarded the 2017 Mayor's Proud Partner Award.
The mural is also the result of a coalition of community groups in the East End. During a two-week period, more than 300 individual veteran and student volunteers cleared a 15-foot wide swath of overgrown foliage along a third linear mile of JW Peavy Drive to reveal an abandoned railroad spur. The spur was converted into a walking trail with 48 yards of mulch created from the trees and shrubs. The mural wall was cleaned and primed during the volunteer weekend.
This major undertaking was completed through generous sponsorships and in-kind labor from: The Mission Continues; HOBY; YES Prep East End; Keep Houston Beautiful; UP Art Studio; Pilot FX; City of Houston Department of Neighborhoods and Maria Bolanos; City of Houston Solid Waste; Council Member Robert Gallegos; Houston Police Department; Harris County Constable Precinct 6; East End Businesses: NuStar Energy, L.P.; Shell Oil; Frost Bank; Space City Credit Union; Sesco Cement; and Port of Houston; with support from TIRZ 23.
Unveiling Ceremony of "Turtle Soup", a large-scale mural in East End Houston's Magnolia Park, created in partnership with artist Pilot FX and UP Art Studio.
The Greater East End Management District, Council Member Robert Gallegos, District I, Artist Pilot FX and UP Art Studio, "Magnolia Grown" Jesse Rodriguez, The Mission Continues
7400 JW Peavy Drive, Houston, Texas 77011
Monday, December 11, 2017, 11:00AM