Steelers LB Ryan Shazier Suffers Back Injury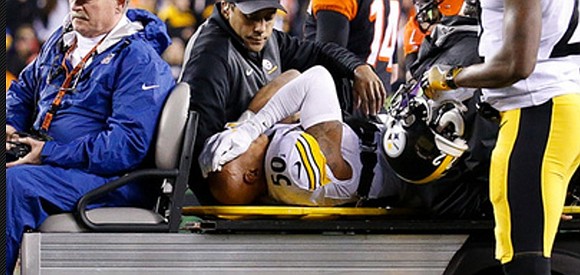 Pittsburgh Steelers linebacker Ryan Shazier was hospitalized after suffering a back injury during the first quarter of Monday's 23-20 victory over the Cincinnati Bengals, multiple team sources told NFL Network's Aditi Kinkhabwala.
In a statement released by the team, Steelers general manager Kevin Colbert said Shazier underwent a CT scan and an MRI at the hospital and that he will not need surgery at this time. He said Shazier will remain in the hospital overnight for further evaluation with "hopes of returning to Pittsburgh on Tuesday."
Doctors will know more about Shazier's injury once some of the injury's swelling recedes, Kinkhabwala reported. Steelers owner Art Rooney II, coach Mike Tomlin and Colbert visited Shazier in the hospital after the game.
Shazier was strapped to a backboard and carted off the field after he rammed his helmet into receiver Josh Malone's thigh. He immediately reached for his back and wiggled both arms into the air. His legs did not appear to move after the hit.