Bah Humbug: Texans Lose On Christmas Day to the Pittsburg Steelers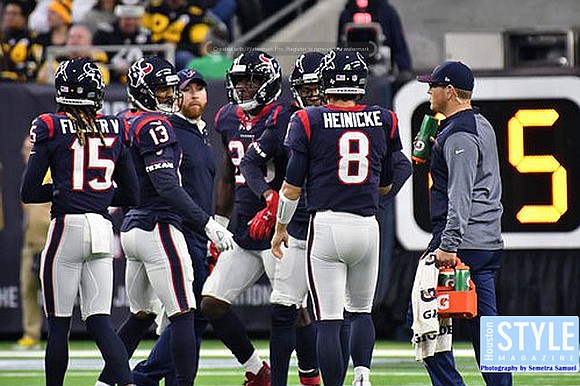 Naughty or Nice? That is the question every child is asked before they name a million and one gifts they want for Christmas. Well, the Houston Texans must have been naughty because they didn't get the present they so desired from Saint Nick, a victory. The Texans lost to the potential AFC representatives in Super Bowl 52, Pittsburg Steelers 34-6 to fall to 4-11 for the season.
"It's horrible. It's horrible. It's a terrible feeling, and it's beyond embarrassing," said Inside LB Brian Cushing when asked about losing in NRG Stadium on Christmas Day. Houston's defense had their work cut out for them early and often.
The Steelers took the opening drive right down the field and scored on a Chris Boswell 34-yard field goal and never looked back. Playing without 2017 Pro Bowl WR Antonio Brown didn't seem to be an issue for Pittsburg on offense either. "It felt good. You know it just kind of shows how many weapons we actually have in our offense. Guys like JuJu (Smith-Schuster) and Martavis (Bryant) and, you know, Eli (Rogers), and Jesse (James). Everybody played well. Ben (Roethlisberger) made the plays when he needed to," Steelers RB Le'Veon Bell said after the victory.
It has been well chronicled about the injuries the Texans have suffered this year, and this game was no different. Third string QB T.J. Yates went down and was placed into the NFL's concussion protocol. He was able to return but was ineffective only completing 7 passes for 83 yards. Houston brought in their fourth QB option in Taylor Heinicke while Yates was being evaluated and lost him in the game due to a concussion. Texans Head Coach Bill O'Brien has remained positive and upbeat during this five-game losing streak but knows that injuries took away what was supposed to have been at least a shot at the AFC Championship game. "It's brutal. Not good. (It's) been a tough year," O'Brien expressed after the game.
Despite being held scoreless through three quarters, the Texans offense did display that they could move the ball up the field with their running game. Backup RB Alfred Blue recorded the most rushing yards by a Texans player in a game this season (108) and most since Week 6 of the 2016 season. The Steelers defense had only given up three 100-yard rushing games this season.
There has been one constant for the Houston Texans football team this year. WR DeAndre Hopkins. "Mr. Consistency," showed once again why he is the highest paid WR in the league and a 2017 Pro Bowl choice at that position. Hopkins made arguably the NFL catch of the season in the fourth quarter to lead to its Houston's only score.
Steelers CB Joe Hayden was amazed by the reception as well. "He just made a great play, tapped it with the one hand as I'm trying to pull down his other arm. He was able to tap both feet in. It was just an amazing catch. At the end of the day, he's one of the best receivers in the league."