M.A.S.H.: Texans Lose the Game and Key Players In the Loss to Philadelphia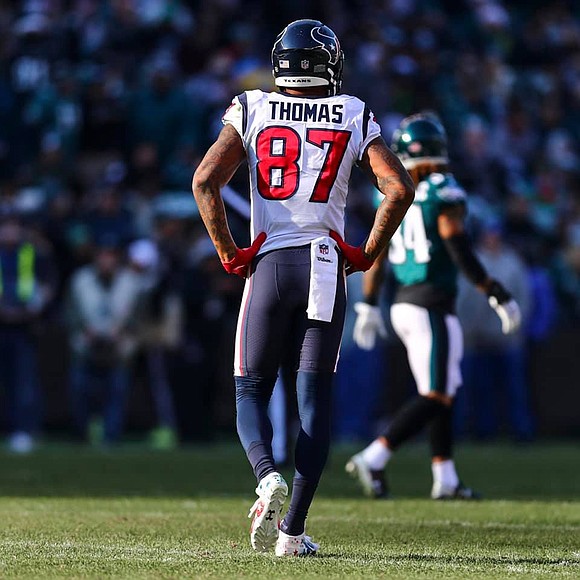 From 1972 until 1983, CBS aired a television show based off of the 1968 novel written by Richard Hooker. M.A.S.H told the weekly stories about the 4077th Mobile Army Surgical Hospital that was based out of Uijeonebu, South Korea during the Korean War. The soldiers stationed there were in charge of taking care of the wounded soldiers who were wounded during the battle.
I imagine that's what the Houston Texans medical staff must have felt like in Sunday's game versus the Philadelphia Eagles. The Texans lost a heartbreaker to the Eagles 32 – 30 on a game winning field goal by Jake Elliott. That loss moved Houston from the 2nd seed in the AFC playoffs to the 3rd seed and hindered them from wrapping up the AFC South division title. To add injury to insult (no pun intended), the Texans lost a host of key players to injuries that will have a huge impact on their 2018 playoff run including S/CB Kareem Jackson and CB Keyvon Webster. But it was the loss of WR Demaryius Thomas who was carted off the field in the fourth quarter after suffering a season ending Achilles injury where Houston will really feel the pain. Thomas was brought over in a mid-season trade to replace another injured Texan WR (Will Fuller) who also suffered a season ending lower leg injury.
"He has not been here that long, but everyone looks up to him. Everyone asks him questions, not just about football but life questions. So, for him to go out the way that he did, I hated that for him. I know that he loves football and he just wants to play football," said DeAndre Hopkins when asked about the impact that will be felt in the locker room by the Thomas' injury.
The defending Super Bowl champions took advantage of a depleted Texans secondary as QB Nick Foles passed for a franchise high 471 yards and 4 touchdowns. Foles, who also was the MVP of Super Bowl LII looked like he had not missed a beat from last year's playoff run when he replaced starting QB Carson Wentz. He orchestrated that final scoring drive after taking a massive hit from Texans DE Jadaveon Clowney which resulted in a roughing the passer penalty and caused him to miss one play.
"It was a great hit. [Texans DE Jadeveon Clowney] got a good one on me. Our trainers got out there and I was able to get my breath back. My ribs are a little sore, but all in all, I feel great," Foles told reporters after the game.
Houston was still able to secure a playoff berth even with the loss when the New Orleans defeated the Pittsburg Steelers later on that day. The Texans will host the Jacksonville Jaguars this Sunday at NRG. If Houston wins they wrap up the division title and a home playoff game, but if they lose and the Colts win it will have them traveling on Wild-Card weekend. Either way, the Texans just want to prevent their player from having to go to the M.A.S.H unit again.
"That's the NFL. I mean, that's what you have a roster for, you have a 46-man roster, so it's just the next guy has to step in. That's kind of the way it is. Every team is dealing with all kinds of things," Houston's head coach Bill O'Brien reiterated to the media on Sunday.
Kickoff is at 12:00 pm cst.