American Heart Association Hosts Free, Workout-Chic Health Symposium
Event will feature health screenings, education sessions and fun, interactive activities to combat heart disease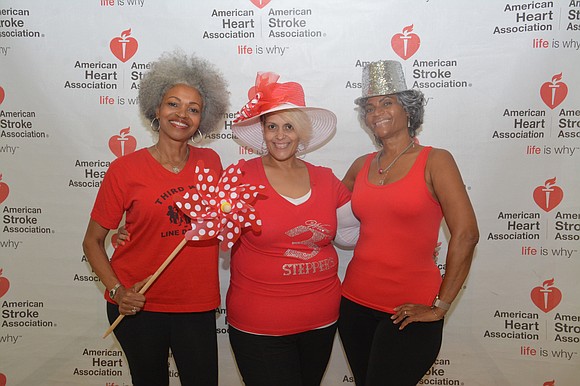 (HOUSTON) June 23, 2017 – It's time to put our hearts into fighting heart disease and Go Red for Women during Go Red Girlfriend weekend. An estimated 44 million women in the U.S. are affected by heart disease and stroke – the No.1 and No.5 killers of all women. In fact, 90 percent of all women have one or more risk factors for cardiovascular diseases and stroke. African-American women, however, are at a greater risk for cardiovascular disease than Caucasians and are less aware of their risk factors, according to the American Heart Association (AHA). The good news is that 80 percent of cardiac events may be prevented with education and lifestyle changes. Go Red Girlfriend was created to elevate awareness and education specifically in the African-American community and to celebrate the energy, passion and power of women united in the fight against heart disease and stroke.
The Go Red Girlfriend Health Symposium will take place on Saturday July 22 at Brentwood Baptist Church located at 13033 Landmark Street in Houston. This free, community event will feature heart-healthy cooking demonstrations, a Zumba class, education sessions, survivor stories and much more! Attendees will also hear from special guests, including Dr. Ijeoma Ekeruo and Registered Nurse LaQuisha Hervey, on various healthy living topics and will enjoy an up-close performance from Toni Hickman, Hip Hop Artist and Stroke Survivor. Guests are encouraged to wear their best "workout chic" outfit and come ready to move!
The fun will continue the very next day at "Bringing Our Hearts to the Altar" on Sunday, July 23 at New Mount Calvary Missionary Baptist Church located at 4711 Kelly Street in Houston. Church leaders will bring together faith and heart-healthy living for a day of worship, inspiration and community. Church service will begin at 8:30 a.m. and AHA staff and volunteers will be present to share information and answer questions.
The American Heart Association's Go Red For Women movement and Go Red Girlfriend event are making an impact on the health of women. In fact, the AHA reached more than 27,000 women in Houston with lifesaving information in 2016. Now is the time to shout louder, stand stronger and demand change. It's time to come together in a movement that is not just FOR women, but BY women. Go Red Girlfriend is free and open to the public. Registration is required. For more information or to register, visit: heart.org/GRGF or call (832) 918-4039.