Oldest African-American Sorority Works To Combat Heart Disease in the African-American Community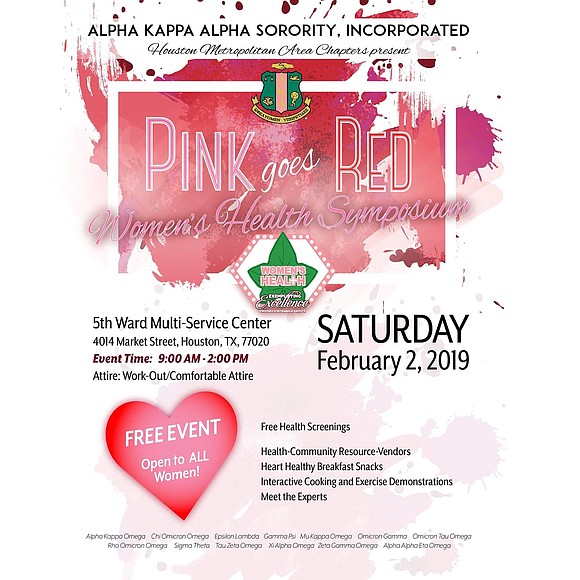 Heart disease is the number one cause of both death and disability in women in the U.S. African-American women have an even higher chance of dying from heart disease—and at a younger age—compared to white women, according to the National Heart, Lung, and Blood Institute.
The first African-American sorority is taking action to help lower women's chances of developing heart disease and its risk factors. On Saturday, February 2, Alpha Kappa Alpha Sorority, Incorporated - Houston Metropolitan Area Chapters (HMAC) will host a Women's Health Symposium for their globally-launched initiative "Pink Goes Red for Heart Health."
"The goal of the event is to provide our community with the necessary tools to survive heart disease and dispel some of the common myths. We will be encouraging everyone to make lifestyle changes, providing important information, and a bit of motivation," states Pink Goes Red Event Chairman, Monica Green of the Mu Kappa Omega Chapter in Missouri City, Texas.
The event will take place at the 5th Ward Multi-Service Center, 4014 Market Street, Houston, TX 77020 from 9:00 am – 2:00 pm. Over 200 women are expected to attend this free event. Guests will be provided with a wealth of knowledge and information from experts in diverse disciplines of the healthcare arena. The event includes an "Ask the Expert" discussion, free health screenings, interactive exercise classes, heart healthy breakfast snacks and community resource vendors.
Social Media: @akasorority1908, #GoRed #GoRedHouston #pinkgoesred #AKAImpactDay #AKA1908. www.goredforwomen.org
Alpha Kappa Alpha Sorority, Incorporated - HMAC participating chapters in this effort are comprised of the following chapters: Alpha Alpha Eta Omega (Cypress, TX), Alpha Kappa Omega (Houston, TX), Chi Omicron Omega (Katy, Texas), Epsilon Lambda (Houston, TX ), Gamma Psi (Houston, TX), Mu Kappa Omega (Missouri City, TX), Omicron Gamma (Houston, TX), Omicron Tau Omega (Spring, TX), Rho Omicron Omega (Baytown, TX), Sigma Theta (Houston, TX), Tau Zeta Omega (Webster, TX), Xi Alpha Omega (Houston, TX) and Zeta Gamma (Prairie View, TX), Zeta Gamma Omega (Prairie View, TX)