Kiehl's Since 1851 Unifies Men's Routine With New Grooming Solutions Line
Six-Piece Line Offers Every Man the Ultimate Grooming Regimen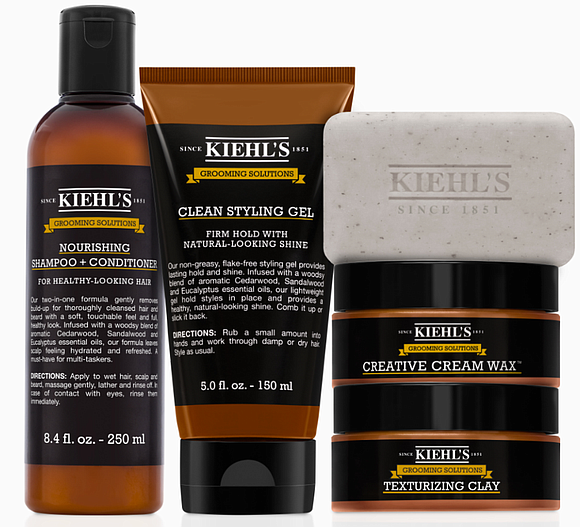 June 2017, New York, NY – As male grooming trends have evolved in recent years, so has the need for efficacious products to groom and style beards and hair. Kiehl's Since 1851 – a longtime leader in men's skincare – is proud to offer men an essential toolkit to achieve their desired look, whether it's perfectly polished or deliberately wild.
Grooming Solutions, a line of expertly crafted men's grooming products, provides the optimal grooming experience, all the way from the preparatory stages to the finishing touches. There is truly something for everyone: The complete six-piece range offers essential innovation to meet a man's unique grooming needs.
· multitasking Nourishing Shampoo + Conditioner
· matte finish Texturizing Clay
· moldable no-shine Creative Cream Wax
· firm holding but natural looking Clean Styling Gel
· softening power of Nourishing Beard Grooming Oil
· skin buffing efficacy of Exfoliating Body Soap
HARNESSING NATURE FOR GROOMED LOOK
True to Kiehl's heritage of sourcing the most efficacious, natural ingredients from around the globe, the Grooming Solutions line incorporates two very special ingredients: Pracaxi oil from the Amazon rainforest and Moroccan Lava Clay, mined from the Atlas Mountains. While the Pracaxi oil is found in each of the six products, the Moroccan Lava Clay is unique to the Texturizing Clay, where its mattifying properties truly shine.
Pracaxi oil is used in the products as a smoothing and conditioning agent, and is derived from the seeds of Pentaclethra Macroloba tree found in the Amazon rainforest of Northern Brazil. The oil is rich in unsaturated fatty acids oleic acid and linoleic acid, but what makes it unique is the high concentration of very long chain saturated fatty acids (VLSFA) such as behenic acid,[1] which coats the hair, providing a nourishing effect.[2]
Moroccan Lava Clay is sourced from the Atlas Mountains in Morocco, where it formed during the Jurassic Period in the Mesozoic era, 208 to 144 million years ago. The clay was originally mined by North African civilizations who extracted the brown, chunky soap-like clay and poured it on the ground, where it was dried by the sun and the desert breeze blowing in from the Sahara.[3],[4] The clay's purifying properties resulted in its long history of use in skincare in order to pull out oil and debris. People from North African and Middle-Eastern countries have used Moroccan Lava Clay has for more than 1,400 years as a soap, shampoo and skin conditioner for its ability to absorb excess oil and give a matte look.
The range also offers an aromatic experience, achieved through an infusion of sandalwood, cedarwood and eucalyptus essential oils, which provide a fresh feel upon application and dry down to reveal woodsy notes.
THE COLLECTION
Nourishing Shampoo + Conditioner (cleanses and softens hair and beards): The two-in-one shampoo and conditioner generates a creamy lather to gently clean hair and remove build-up, and is suitable to all hair types. In the formula, Pracaxi oil smoothes and conditions the hair, leaving it with a soft, touchable feel and full, healthy look, while the plant-derived amino acid arginine nourishes the scalp, leaving it feeling hydrated and refreshed. The formula is paraben and sulfate free, with a natural blend of essential oils. SRP: $8 2.5oz; $20 8oz; $30 16.9oz; $50 1L