CurlDaze Hair Care Launches its Silky Hydration Line
Influencer-Founded Brand CurlDaze adds another product to its hair care collection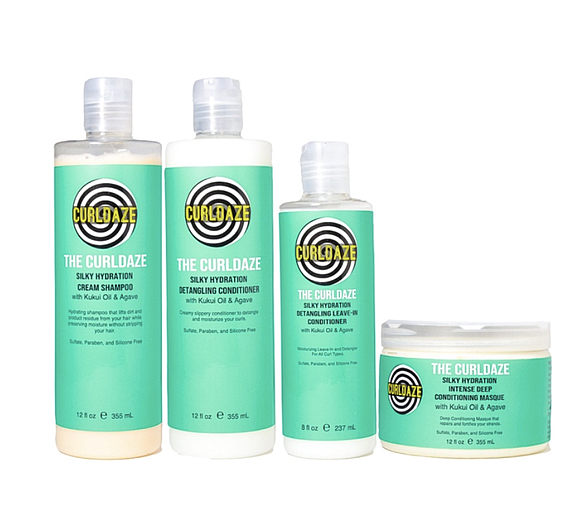 This month sees the highly anticipated release of CurlDaze Hair Care's Silky Hydration Line. The line includes a Cream Shampoo, Detangling Conditioner, Detangling Leave-In Conditioner, and the highly anticipated Deep Conditioner Detangling Masque, which has been developed to ensure hair is cleansed and ready to style. These items will join the brand's three signature products: Glossy Shine Gel, Ultra Moisture Creme with Kukui Oil, and Creamy Curl Styler with Kukui Oil. The initial product selection of stylers has sold out several times via the brand's E-commerce resulting in a growing cult following since the 2020 launch.
The addition of the Silky Hydration Line will allow a start to finish styling regimen for people with curly hair.
Product Descriptions:
Silky Hydration Cream Shampoo
Welcome to your best wash day! The Silky Hydration Cream Shampoo is the first step in cleansing your crown, while caring for it at the same time. Without stripping your curls, the Silky Hydration Cream Shampoo uses vitamin A, C, & E from Kukui Oil to fortify your strands, while the Agave adds an illustrious shine, all while giving you soft clean hair.
Silky Hydration Detangling Conditioner
Once you've washed your hair, conditioning is a must! With the Silky Hydration Detangling Conditioner, you can kiss those tangles goodbye! Our tangle taming conditioner locks in moisture while helping prevent breakage and split ends. Give your curls a fighting chance with fortifying-vitamin rich Kukui Oil and Agave to bring you the shine you've been looking for!
Silky Hydration Detangling Leave-In Conditioner
The Silky Hydration Detangling Leave-In Conditioner has the slip you've been searching for! Our super moisturizing must- have Leave-In is the perfect foundation for any style and will leave your curls shiny, smooth, hydrated, and ready to style! This Detangling Leave-In features Kukui Oil, rich in Omega-3 and vitamins A, C, & E, to strengthen, and Agave adding lustrous shine for DAZE!
Silky Hydration Intense Deep Conditioning Masque
The Silky Hydration is specifically for dry, and dull curls. Our nourishing masque has a thick buttery texture to deliver intense moisture without weighing down your hair. This effect leaves your hair shiny, silky soft, and completely transformed!