Introducing the New Eminence Organic Skincare Gemstone Collection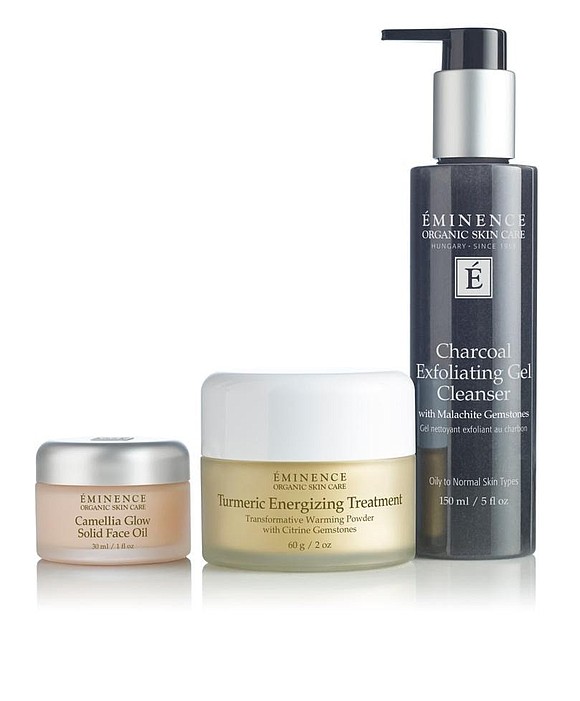 Eminence Organic Skin Care has expertly formulated some of the industry's most effective natural, organic and Biodynamic® products for years. This Fall, they reveal their most energizing formulas to date, harnessing the uplifting and balancing benefits of gemstones!
This collection actually contains gemstones in the formulas! The Gemstone Collection features the valuable properties of Malachite, Citrine, and Pink Tourmaline and is comprised of three products. Launching today, September 1st.
Charcoal Exfoliating Gel Cleanser ($52) Formulated with charcoal, malachite gemstones, peppermint and blue matcha, this supercharged purifying cleanser transforms from a gel to a soft exfoliating lather to wash away impurities, help control oil and reveal a balanced complexion. A picture containing toiletry, indoor, table, sitting Description automatically generated.
Turmeric Energizing Treatment ($78) combines the powers of turmeric, citrine gemstones, paprika, kaolin clay and zeolite, for a spicy golden powder-to-mousse formula that is as stimulating as it appears. Zeolite, a naturally occurring mineral and detox extraordinaire —activates when mixed with water, warming the skin with added heat from the paprika, binding to toxins, and drawing out impurities from the skin. This purifying treatment helps calm inflammation and reveal silky, invigorated, and luminous skin.
Camellia Glow Solid Face Oil ($76) A blend of luxurious camellia oil, pink tourmaline gemstones, hemp seed oil and marula oil, this solid face oil will soften and deeply nourish the skin, delivering a boost of vitamins, essential fatty acids, and protective antioxidants. In clinical trials 87% of users reported healthier-looking, glowing skin.*
*Associated with a significant decrease in transepidermal water loss after 21 days of twice-daily application