From the Bottom to the Top: Houston Astros Are World Series Champions
The Houston Astros are the 2017 World Series Champions. Ok. For Houston Astros fans, I know you don't believe what you just read, so I will say it again. The best team in baseball for 2017 is your Houston Astros. This is the same team that at one point during the regular season in 2013 had a 14-million-dollar payroll on the field. They were the running joke of Major League Baseball for losing more than 100 games for three straight seasons and were nicknamed the "Lastros" by some fans. A team that had been swept 4-0 by the Chicago White Sox the last time they appeared in a World Series (2005) and defeated three of the most storied franchises in Major League Baseball in the Boston Red Sox, New York Yankees, and Los Angeles Dodgers.
The Houston Astros defeated the Los Angeles Dodgers 5 -1 in Game 7 of one of the most exciting World Series ever to win the first title in franchise history. For those counting, that's a 55-year drought dating back to 1962 when they were the Colt .45s. In this game, the Astros went back to doing what made them a 100-plus win team in 2017. They used a combination of small ball and good pitching to stifle the Dodgers who had the best record in MLB with 104 wins.
"We held down a really tough lineup," said Houston pitcher Charlie Morton, who gave up the game's only run in the sixth inning. Normally a starter, Morton came in and pitched four innings in relief to end the game. That help saves an Astros' bullpen that was having problems holding on to late inning leads.
Starting pitcher Lance McCullers Jr. struggled with his command and hit a game high four batters before being pulled out by Astros manager A.J. Hinch. "I knew yesterday that I didn't have much," McCullers told reporters after the game.
Having a short-term memory will get you very far in major league baseball and that's just what 2017 World Series Most Valuable Player Astros center fielder George Springer had in this series. He went 0-4 in Game 1 with four strikeouts, which prompted most MLB analysts and fans to say he should have been moved out of the leadoff spot in the lineup. But just as the Astros organization has been doing since they made him a first-round draft pick in 2011, they trusted the process and the 2017 All-Star. They knew he would make the necessary adjustments to get himself back on track. And he did while making history in the process. Springer tied a major league record by hitting a total of five home runs in the World Series. He hit four home runs in each of the last four games and set a record with eight extra base hits, as well as 29 total bases. "We're coming home a champion, Houston," Springer said with enthusiasm as his teammates watched him receive his MVP trophy.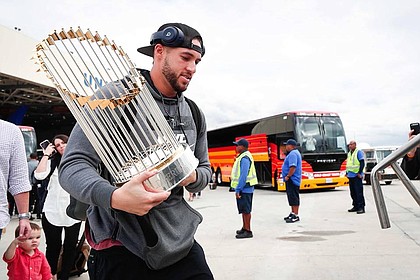 The Commissioner's Trophy holds a special place in the heart of four Astros players on the current roster. All-Star second baseman Jose Altuve, DH/ outfielder Marwin Gonzalez, superstar pitcher Dallas Keuchel, and right-handed pitcher Brad Peacock, all were with the franchise during those tumultuous 100 plus loss seasons. The last being in 2013 when they lost 111 games after making the transition from the National League to the American League. "You always picture yourself being in the World Series, but to actually be here with the players that we had back then. I never thought we would be here," said Keuchel when asked about playing in the World Series earlier in the week.