Bharara: 'Odd and unusual' that Rosenstein Oversees And Is a Witness in Mueller Probe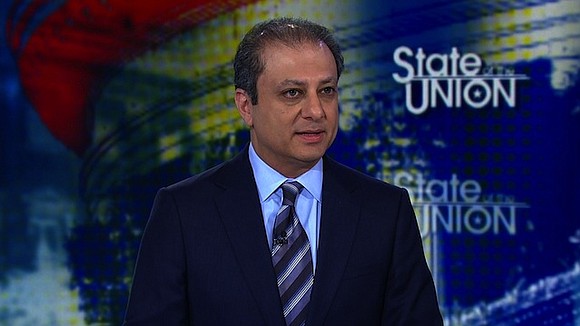 By Sophie Tatum
(CNN) -- Former US attorney Preet Bharara said Sunday that Deputy Attorney General Rod Rosenstein might have a conflict of interest over special counsel Robert Mueller's investigation into Russian meddling in the 2016 election.
Speaking with Jake Tapper on CNN's "State of the Union" Sunday, Bharara called it "odd and unusual" that Rosenstein could serve as a witness in the investigation while also while overseeing it, adding, "It would seem that there's a conflict."
As part of the Russia investigation, Mueller's team is looking into allegations of potential collusion by Donald Trump's campaign in Moscow's effort to influence last year's election and reportedly is investigating whether the President has obstructed justice, which could include an examination of the circumstances surrounding Trump's firing of former FBI Director James Comey in May.
CNN reported last week that Rosenstein was interviewed by Mueller's office over the summer about his role in the firing of Comey.
Trump has branded the investigation the "single greatest witch hunt" in political history, and well into his presidency has consistently questioned the intelligence community's findings on Russia's efforts to influence the election outcome.
"We do know that (Rosenstein) had some role in putting forth what I think most people think was a pre-textual basis for the firing of Jim Comey, and to the extent that an obstruction investigation relies a little bit on the facts relating to the firing of Jim Comey, it would seem that there's a conflict," Bharara, a CNN senior legal analyst, said.
The Justice Department did not immediately return CNN's request for comment on Bharara's remarks.
A source familiar with Mueller's interview of Rosenstein has told CNN that Rosenstein has no plans to immediately recuse himself.
Ian Prior, a spokesman for the Justice Department, said in a statement last week: "As the deputy attorney general has said numerous times, if there comes a time when he needs to recuse, he will. However, nothing has changed."
On Sunday, Bharara discussed the recusal issue: "What I think people should want to know is whether or not, like (Attorney General) Jeff Sessions, the deputy attorney general, Rod Rosenstein, has consulted with the top ethics advisers in the department and gotten clearance to continue, and, if not, he shouldn't."
Bharara, who served as the US attorney for the Southern District of New York, was fired in March after refusing to resign when the Trump administration requested the resignation of 46 US attorneys.