Salute to Houston's Own Slim Thug
By Keandra "Ke'Ke" Scott-Tatum and Jo-Carolyn Goode
Photography By Ausha Wallace and Motif N' Volume
Slim Thug has been running things like a "Boss" for the past twenty years. Coming on the scene in 1998 to catch the ear and eye of DJ Michael "5000" Watts and joining the "Swisha House" family, Slim's legacy was set to become one of the most well known and respected rappers in the game. From that date to the present, he has dominated the rap game in Houston from his first freestyle to birth a clothing collection, beer line, e-Cigar, construction company, foundation, and constantly give back to the community that helped him rise to the top. He credits Houston for giving him that entrepreneurial spirit. The city stands to salute this Houston legend with all the rights and privileges thereof.
"It's a blessing. Honestly, I never thought that I would do what I love to do for 20 years straight. So you know I am just thankful to be able to still do it," said Slim as he looked over his career that has spanned two decades.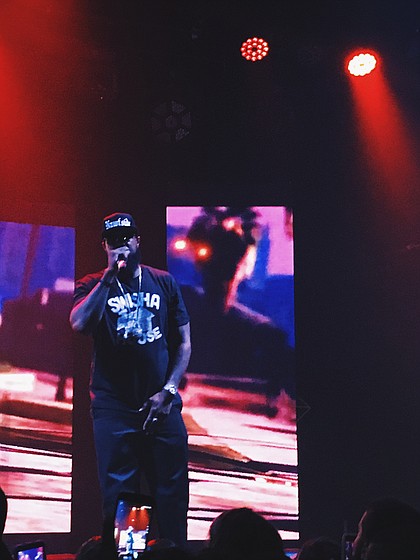 Fans of young and old got to celebrate the icon and his 20-year music career at a concert hosted by Slim and Boss Life Worldwide. Before Slim hit the stage, he set the atmosphere for the night with a dose of Sugar Daddy Slim 2018 in a short movie introduction. In true boss mode, he then proceeded to prove why he was the "boss of da Nawf," kicking it off into the Swisha House era as he performed "Rolling" Strapped" and "Nawfside." An all-star line-up of legendary acts followed with opening performances by rising rap stars from the "nawf to the souf." OG Lil' Mario was first up with "B*es Ain't S." Next Slim did an epic performance with 97.9 The Box's Madd Hatta on "Down South!" As the show progressed fans witnessed performances from legends Mike D ("So Real"), Big Pokey ("Maan"), and the turn of eras leading to SUC, ESG, Already Platinum, and Boss Hogg Outlawz to the Boss of All Bosses period. Music breaks were given to keep the crowd going by popular local stand-up acts Darrell The Comedian and Dat Damn Monty.
So, who else graced the stage? With over 47 artists performing, let's see, hol' up, whoosh! O G Ron C and DJ Michael 5000 Watts did a set. Appearances were also made by DJ Young Samm who brought Slim out, Yung Pooda, Killa Kyleon, Dough Beezy, Sauce Walka, OTB Fastlane, Z-Ro, Willie D, Lil' Flip, EMG Santana, Propaine, J -Dawg, Mr. Lee, KentheMan (only female rapper to grace the stage), and many others.

Slim Thug 20th year anniversary concert was sponsored by Remy Martin US (who gave smooth notes of cognac cocktails), Parkway Family (who gave one fan a chance to save money on a future vehicle purchase), and MetroPCS spoiled music lovers throughout the event. The event was presented by Boss Life and 97.9 The Box. Media and press partnership was with Eden James of The Starting Line Up.
Boss Life made sure to include Acres Homes own Burn's BBQ as one of the food vendors along with Kaki Ladi as an in-kind sponsor. Cravin' It food truck was parked outside for those who wanted an alternative to BBQ.
It was a concert that this music aficionado will not soon forget. Each song performed sparked memories in me (KeKe) from that time period of infamous Kappa Beach Parties to the rivalry football games of Aldine High School against, Slim's alma mater, Eisenhower High School. No matter what time period you represented, Slim had everyone feeling nostalgic trying to "break them boys off" reminiscing about their younger days when time was spent beating out the bass line to one of his songs with a pencil on their class desk in homeroom.
Towards the very end of the concert, 97.9 The Box presented a plaque to Slim Thug for his 20 year anniversary. That was not the only award Slim would receive this month. After 13 years, Slim's "Already Platinum" officially was certified RIAA Gold. His first solo 2005 full-length debut album was No. 2 on the Billboard 200 album chart and No. 1 on Top Rap Albums selling 500,000 units.
A proud Slim laughed when asked about the honor stating how weird it was to receive it. "I tell people all the time that I just get the reward, not the award. So that to me was another form of that. You know, I got my gold plaque but it's like 10, 15 years later." He continued, "But I am happy. I am blessed. I am thankful."
He is also not selfish. Being a boss that has been blessed and favor, he highly believes in doing God's work and sharing the blessings that He has bestowed on him. In the manner that DJ "5000" Watts helped him, he reached out to help shine the light on some new faces to the industry with his label Boss Hogg Outlawz propelling the careers of Dre Day, J-Dawg. Killa Kyleon, and L.E.$. But Slim's outreach was not just limited to those in the entertainment industry but to those who supported him throughout his career, the Houston community. Annually, Slim hosts toy drives and turkey give-a-ways for the underserved in Houston during the Thanksgiving and Christmas season. His charitable endeavors were recognized by then Mayor Annise Parker in 2014 when February 25th was officially declared Slim Thug Day in the city of Houston.
That was just the start of his good works. Two years later he established his construction company, Boss Life Construction, and teamed up with Burns BBQ and the city of Houston to build a community of houses in Houston's Acres Homes. Ten families were the benefactors of a brand new home.
Now Slim is doing it again in response to the devastation caused by Hurricane Harvey. He partnered with IJustHit.com attorneys Justin Martin and David Godsey to bless a family with a new home. The trio previously joined forces with JG Hollins Builders to restore the home of a family affected by Harvey right after the hurricane struck and also gave truckloads of food and supplies to aid relief efforts. A year later to the date of Hurricane Harvey, the guys are collaborating again with the Radio One family to donate a home with the "Back in a Home Giveaway - Harvey Didn't Win" Contest. IJustGotHit.com purchased the home and Boss Life Construction as Slim says will put that "boss life" touch on the home with a major renovation.

Families with extreme needs had to apply for the home by the August 8th deadline to be evaluated by a panel of judges to make the semifinal round. The field of semifinalists will then be narrowed down to ten finalists by a random drawing. One grand prize winner will be selected from the finalists and be given the keys to their new 3-bedroom mortgage-free home on Wednesday, September 26th. The nine other finalists will receive $1,000 to help them in getting back on their feet.
Slim knows in life everyone needs help. He is happy to be in the position to offer assistance. He knows if it were not for God's hand on his own life he would not be as successful as he is. He just wants to share his blessings and do his part to help others.
Congratulations to Slim Thug and his 20-year commitment in giving the world a dose of Screwston. To still remain consistently relevant reflects largely on Slim's ingenious ability as a BOSS. And a boss never forgets where he came from or who got him there. Continue to be blessed and chart your legacy for others to follow.