The GO DJs Bring their Annual Star-Studded Red Carpet & Awards Show Back For It's 5-Year Anniversary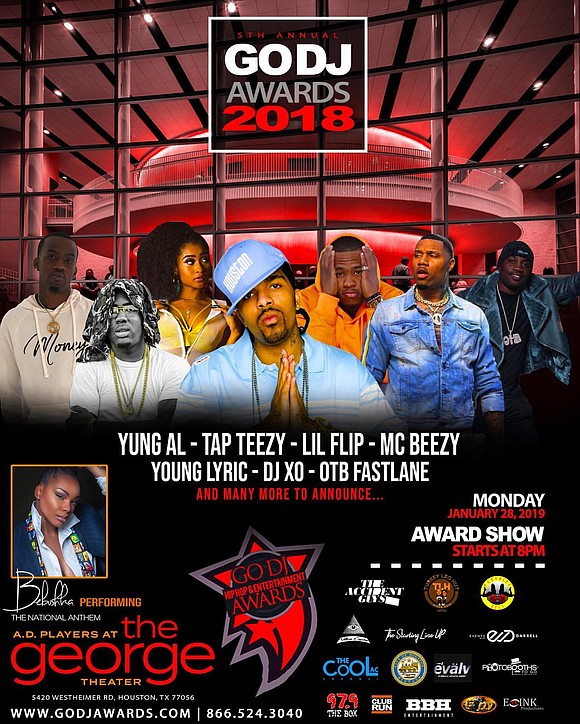 For the love of DJs! Craig Williams better known as GO DJ Hi-C has put in 'werk' from "Spain to Maine" as he would say. Over 250 plus GO DJs, hip-hop artists, Houston A-listers and supporters will flood the A.D. Players at the George Theatre (5420 Westheimer Rd., Houston, TX 77056) Monday, January 28, 2019. The ultimate Red Carpet experience will run from 5:00pm to 7:30pm and the award ceremony commences at 8:00 pm. Of course, with it being a star-studded event, be sure to not be caught slippin', it's a Formal Attire event—step out clean on the scene. This year is very special for the I AM A GO DJ team because it's their 5 year anniversary.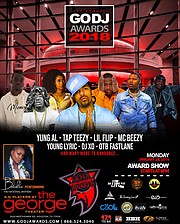 ​
In 2017, Houston's largest award show, Go DJ Awards, was held at MATCH Houston, hosted by the city's own Comedian Ali Siddiq. The Master of Ceremony was MC Kane, founder of the Frontline Tour, alongside as Mistress of Ceremony, TV Host and producer of Lala's World and Tu Musica, Lala. There seems to always be "you've had to have been there" experiences with the GO DJ Awards. 1501 Certified Ent. Artist, Psyco Sid, did a surprise engagement proposal after his performance on last year. Z-RO received 'Album of the Year', 97.9 The Box's own Kiotti received 'DJ of the Year' and many other awards were given out. In addition, small business owners, philanthropists and other entities were recognized for making a difference in the community.
Special awardees included Mayor Sylvester Turner, Entertainment Mogul Matthew Knowles, The Breakfast Klub Owner and Entrepreneur Marcus Davis and Rapper Legend Lil Ke'Ke 'The Don'. The award show was powered by major past and present media sponsor 97.9 The Box. GO DJ GT Mayne held it down on through out the special main stage performances, GO DJ J-Boss kept the spins going during the pre-show performances and GO DJ Bobby Bandz was the Red Carpet.
It all started in 2008, when GO DJ Hi-C the vision of the first-ever DJ Awards came to life. The show awards consisted of GO DJ, GO MC and GO Hustler of the year from his DJ coalition. As the years and entertainment industry progressed with-in Houston, GO DJ Hi-C took notice of how all the hard work laid out by artist and talents in Texas, Houston especially. H-Town was overlooked and not given any recognition. In 2014, GO DJ Hi-C set out to make a difference by re-introducing the GO DJ awards. By adding categories that recognized the hard work and dedication of talents, such as Best Female and Male Artist of the Year, Album of the Year, Song of the Year and many more, the annual GO DJ Awards began to take a life of its own. Year after year honing the brand that was being built, overcoming challenges and maintaining dedication to the purpose GO DJ Hi-C began the platform, the GO DJ Awards has become the most anticipated grandeur event of the year and is respected as a pillar of Houston's entertainment sector.

"I started this out in 2014 as a platform, and to give the city something fun to do. Now, in year V, I've realized that it has become so much more. Not just to the city of Houston, but to me as well. I want nothing more than to continuously raise the level of expectation and standard for the GO DJ AWARDS. I believe that the GO DJ AWARDS will continue to grow and include talents outside of Houston and Texas, similar to the platform that the MTV MUSIC AWARDS and BET AWARDS now have. Houston and the south are known to set trends in music. I do not anticipate the GO DJ AWARDS being any different as an influential force to reckon with in the Awards show sector of Events and Entertainment. GDA V WILL BE LIVE!"
Craig "GO DJ HiC" Williams, CEO, I AM A GO DJ MUSIC GROUP, LLC.
There will be appearances and performances by Lil' Flip, MC Beezy, Yung Al, Tap Teezy, DJ XO and many more. The National Anthem will be sung by Singer/Songwriter Bebushka.
This year's sponsors include: Turkey Leg Hut, 1501 Certified Entertainment, BIG BANK HANK, Shortstop Phodeos, Paradise City, Law Office of Jermaine Hayden with Accident Guys
For more information on The GO DJ Awards please visit: www.godjawards.com