Houston's TCWF Empowers a Community of Women Entrepreneurs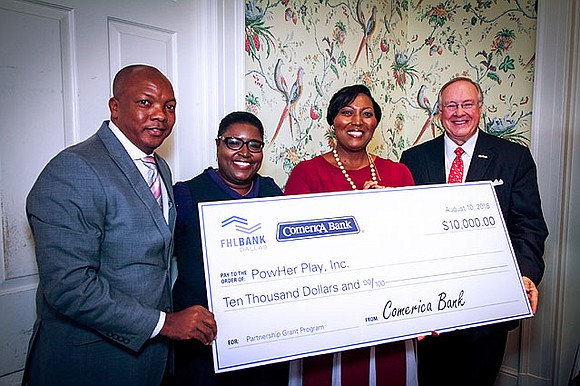 Shantera Chatman, founder of The Chatman Women's Foundation (TCWF) held an incredible, enterprising event titled the PowHER Breakfast. This year's breakfast was special since it commemorated the organization's tenth year of helping others. That's ten years of inspiration, professional growth and empowering women of Houston to be future business owners.
"We help ladies grow and indulge in whatever she likes to do so we want to PowHER," said Chatman.
Sponsored by Comerica, and facilitated by ABC13's Erica Simon, the event was a unique idea that really energized the room because every single attendee was allowed to engage and spark great conversations with the event's panelists, advocates, and PowHer designated coaches. Some of the topics during the PowHer Breakfast included: Social Media Branding, connections, responsibility and postings, Women Equality in the workplace, and the truth regarding equal pay and the unfair wage gap. The coaches and advocates helped encourage healthy discussions and offered their expertise to many of the perils facing women in the workplace today.
The Chatman's Women's Foundation PowHer coaches and male advocates included: Alla Thomas, owner of Thomas Transformation; Archana Shah, Executive and Business Coach; Vanessa Reed, Assistant Vice President of Comerica Bank and Community Reinvestment Act Manager; Colleen Banks, Senior Associate of Wealth Development Strategies LLC; Kimberly Williams, Office of Innovation for METRO; Kim Roxie, founder of Lamik Cosmetics; Tai Dillard, Asst Basketball Coach for University of Houston; Jocelyn Rodriguez, Business Process Transformation Executive; and Natalie Arceneaux, Managing Partner at C+A Global Group. Male Advocates included Andrew Hamilton, Associate Dean for Student Success at University of Houston; Dwayne Morrow, Executive Director of IPPP Community Health Fairs; Bruce Hatton, Vice President of Federal Loan Home Bank & Director of Community Investment; and J Downey Bridgewater, President of Comerica Bank Houston Market.
Other notable entrepreneurs in the room were Margaret Farabullah, owner of the FAB Salon; and Marcus Bowers, owner of She's Happy Hair.
For more information regarding The Chatman Women's Foundation and how to donate or volunteer visit

chatmanwomensfoundation.org/donations
In the end, the event was a wonderful event for a great cause and I implore you to become involved with this incredible organization. Because of the Foundation's success at helping so many others, Comerica Bank also presented Chatman with a $10,000 check to continue her efforts with TCWF. The Foundation helps struggling entrepreneurs start their businesses. Its an amazing resource for beginner entrepreneurs and I believe this is the type of aide that is needed to reenergize our community and help foster a climate of African American entrepreneurship in Houston that many feel has been lacking.
I commend Shantera Chatman for the brilliant work The Chatman Women's Foundation is doing.
If you are a women entrepreneur and is currently enrolled in school would like to apply to receive TCWF aid award visit chatmanwomensfoundation.org/awards